Is this the Worst Hotel in San Diego?
You would have to see it to believe it.  It sits on the worst real estate in San Diego, it was recently subjected to a police raid for a suspected meth lab and the entire surrounding neighborhood appears be crawling with drug addicts.  It's called the EZ8 Motel and while EZ8's are not known for luxury this one takes the cake.
I like to cruise San Diego looking for interesting pictures and I just happened upon the EZ8 Motel in Old Town.  It sits directly under a major interchange where 3 of the busiest freeways in North America intersect (The 5,  the 8 and the Pacific Coast Highway).  Now that is the freeways but if you look closely you will also notice that there are train tracks right next to the hotel too.  Well that is because the Amtrak train as well as freight trains run right through this motel too.  What a gem!
To truly grasp the ludicrous location of this hotel take a look at in the google map below.  You can see traffic is merging from the East, North, West and South.   It is a crazy snarling mess of a place and the hotel sits smack dab under it all.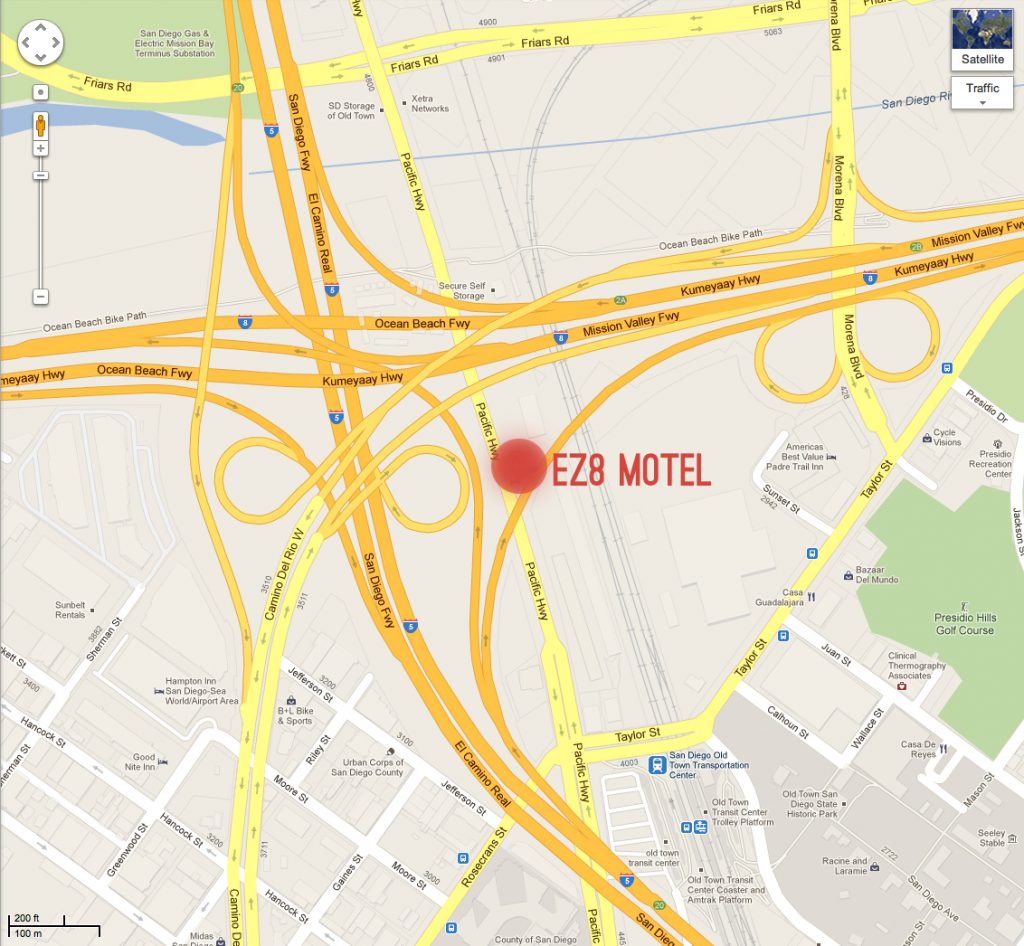 I cruised in the EZ8 Motel not sure of what to find.  But as I expected it appeared to be crawling with drug zombies.  A few of them were raiding the Ice Machine and others appeared to be wandering around peeking in windows.  Holy crap this place got a 1 star on Yelp which is about the worst I have ever seen but somehow they stay in business.
They built this huge tall sign so that people rushing by on the freeway can see the hotel.  Perhaps they think that the crusty old sign will entice people into this wonderful place.  I don't think so.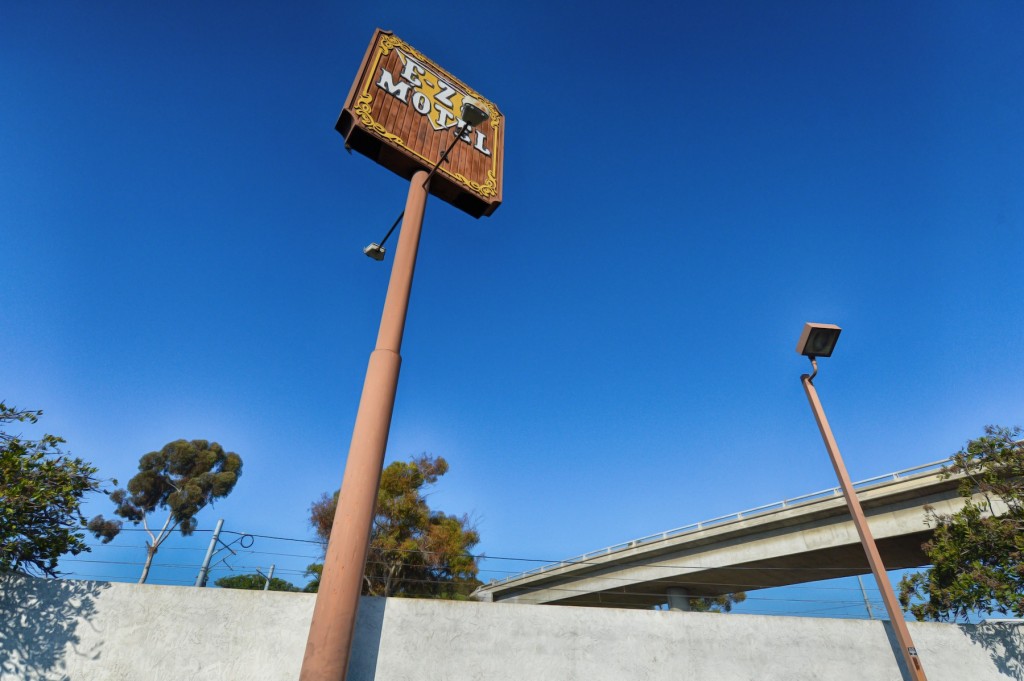 Drugs
I was doing a little research on this place and discovered that just a couple of months ago the Fire Department raided the hotel and found a meth drug lab operating out of one of the rooms.  Why does this not surprise me?  You can read about here.  EZ8 Motel is a Drug Lab.
Stabbings.
I posted this update because I was reading the paper and I saw that there was another stabbing at this hotel.  I can't believe this place is still open.  Its a haven for all sorts of crime.  Read the article here – Stabbing at EZ 8 Motel.
Reviews
When someone headlines their review, "Feared for my Life" you know it's going to be bad.  Here is what one review on Trip Advisor had to say about the motel.
"NO STARS!!THIS SHOULD BE CLOSED DOWN!!!Please RUN! This was a complete farce. This is a very very scary Motel.NOT in OLD TOWn at all. We pulled in to find a frightening, filthy dump under the freeway. The photos on the ez 8 website are a lie. It is not near a trolly.. there is no restauraunt across the street. The room was disgusting and had blankets with cigarette burns all over and thru them. There are full time tenants living there with animals and sitting all over the place smoking.. The smoke smell is so pungent i couldn't breathe in.. People hanging on the corners soliciting and selling.. We got our bags.. cut our losses and saved our lives and left.. ( oh and my room was 80 bux)"
And another reviewed which was titled "Episode out of Cops" tells the woes of another inhabitant that got stuck in a room next to a drug dealer.
Unbeknownst to us our neighbor was a recovering drug addict that stayed up late at night. First night was okay, but second night she got in a fight with her boyfriend over $40 and she called the cops on him. The boyfriend had left by the time to cops arrived, but we got to listen to her tell her life story and embellish her boyfriends misdeeds to cops for about an hour. The next night she spent on her phone yelling at her boyfriend and then of course he finally returned to her place so they could continue to argue the final night we were there. Why didn't we leave, well we only had one day left before returning home.
But Mostly its the Location
But the real reason I vote this the worst hotel in San Diego is the location.  And here is the picture to prove it.  These rooms are all located directly under the freeway.  I mean cars and trucks are whizzing by just 20 feet over your head when you stay in this hotel.