The Abandoned Homes of HellHole Canyon are the Devils Den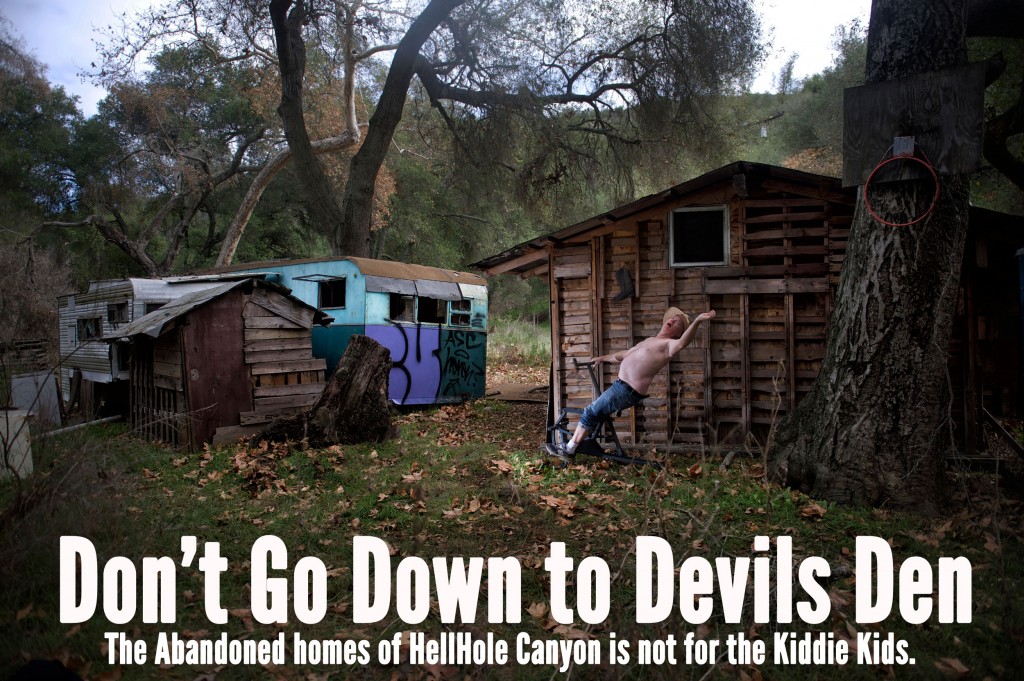 "You don't want to go down that road there" she advised us as we rolled down our window of the truck, "the guy down there has a shotgun and you'll find yourselves in trouble".  "You best stick to the main roads".  When we inquired about the "abandoned and derelict" homes that we had read about in Hidden San Diego, she claimed to have "never heard of any such place" even though we suspected it was less than a mile away and she appeared to be a long-time local.
30 minutes later we were heading up Calle De Encinas Ct when we rolled down our window to ask a couple walking by about this mysterious old commune that we heard was in the area. We asked if there were "Abandoned Homes" in the area one of them quickly spoke up, "Oh No.  You haven't heard?  That was a big scam.  There are no abandoned homes.  Whatever you read on the internet or the San Diego Reader was a lie".
We ended up leaving Calle De Encinas Ct against our own hunches and drove all the way to HellHole Canyon Preserve thinking that was the best trail to start our exploration.  The Rangers there had never heard of any such place at all.
I certainly was getting more intrigued by the minute.  Whatever was around here, the locals really didn't want us exploring the area but these were public trails so we were determined to keep up our search.
What the Hell is HellHole?
You can read the whole story of the Bloody Massacre of HellHole Canyon right here, but as legend has it HellHole got its name in 1870.  Maria Sutter, a woman of German descent, who lived on Paradise Mountain, reportedly gave Hell Hole its name when she looked down from her home at the top of the mountain and said of the canyon below, "It's good for nothing, and in the summer it's hot as you know where!"
HellHole is not a particular canyon,  rather it is a geographic location and its hot. Hot as Hell in the summer as far as I can tell from everything I had read about it.
HellHole is located in Valley Center, east of Escondido. If you're going to venture out there, you best do it in the winter like we did when it was actually quite pleasant and spring like.    The people there like their privacy and they move there to get away from the city as far as I can tell.
HellHole Canyon is actually a pretty nice place to hike and explore but its very hot in the summer.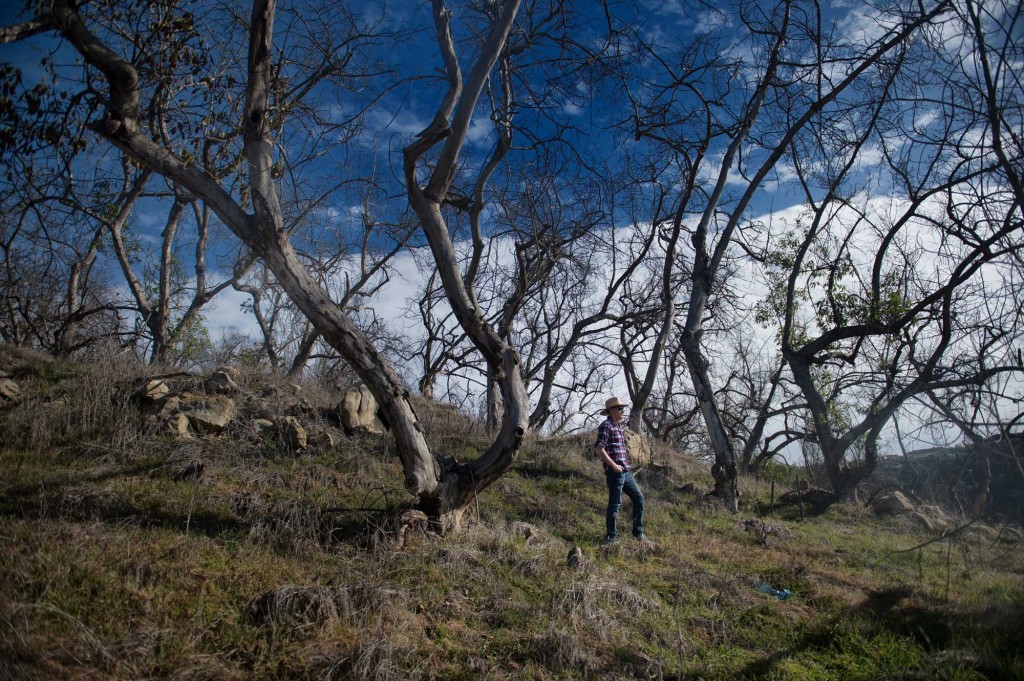 We Had Read Reports of Abandoned Homes from an Old Hippy Commune
We were originally intrigued by Hellhole because of this article that appeared in one of my favorite blogs called Hidden San Diego and you can read the post here.   These guys search all the coolest places for you to explore in San Diego and this one was at the top of the list in terms of being remote and kind of unknown.  Its an extremely useful site for local San Diegan's looking to explore off the beaten path locations.  In any case,  we were on the hunt to find these abandoned homes.
Finally, We Locate a Promising TrailHead That We Believed Would Lead There
After about an hour of hunting around, we eventually located what we believed to be the trailhead.  It looked like the pictures we had seen of the location. The Trail starts off the very dead end of Calle De Encinas Ct  We were on the trail and I was making detailed notes and taking pictures every step of the way in case we needed to back trace later.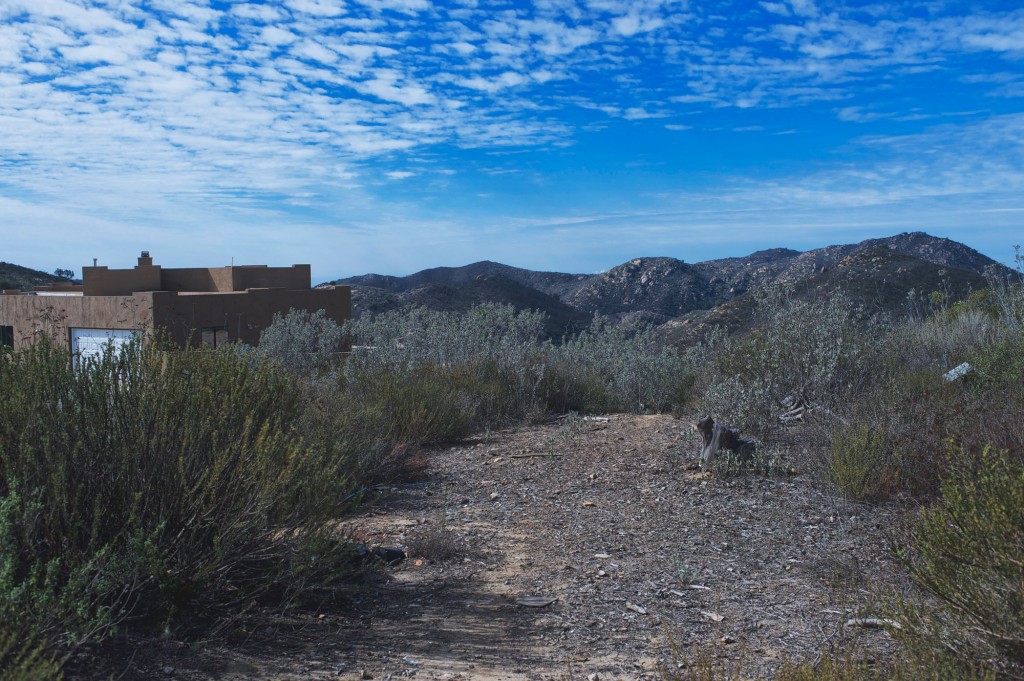 The trail was a bit confusing at first and you could get lost but there were lots of random markers that lead us to believe we were on the right track.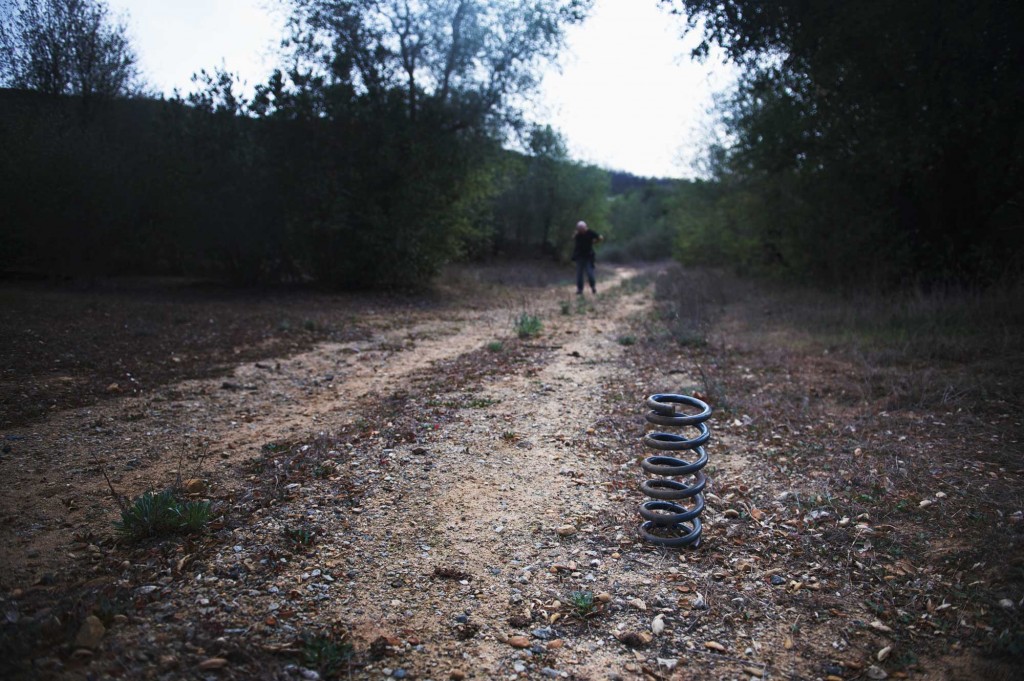 We also used our iPhones to keep gravitating towards the place where google maps showed the old broken down homes.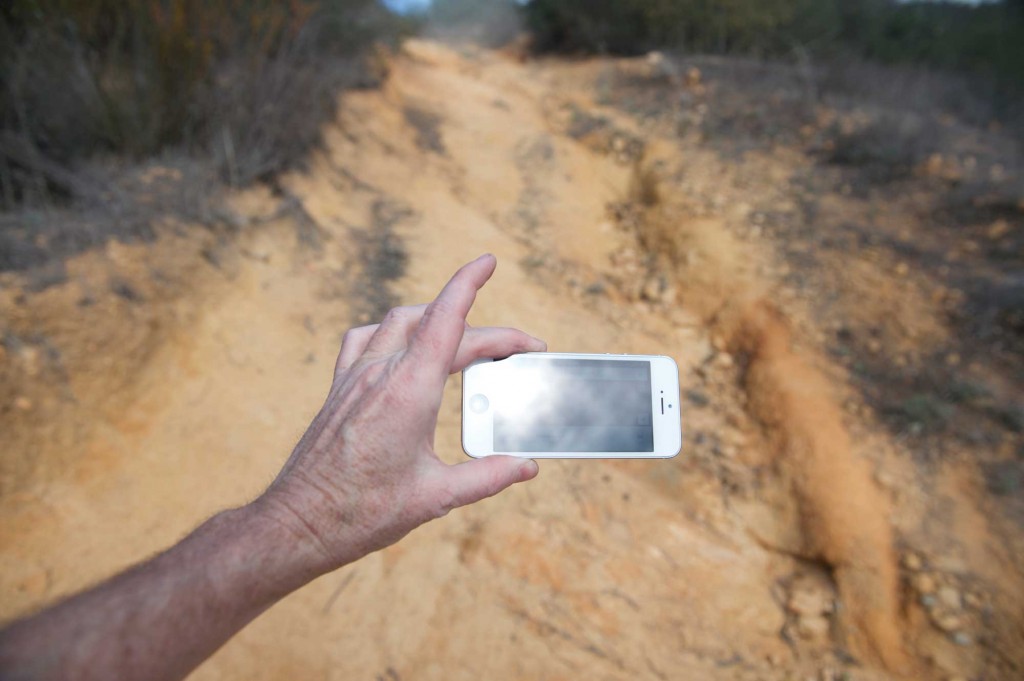 After 1.2 Miles Walking We Arrive at a Beautiful Oasis
After about 30 minutes of walking we finally came upon it.  We saw broken down shacks and trailers homes sitting in a shady meadow with a  creek running right through it.  I guess what was most surprising was the tranquil setting and the fact it was calm and quiet.  I could see why a hippie commune might have setup in this place.  It seemed quiet pleasant.
The tranquil view you come upon as you locate the homes.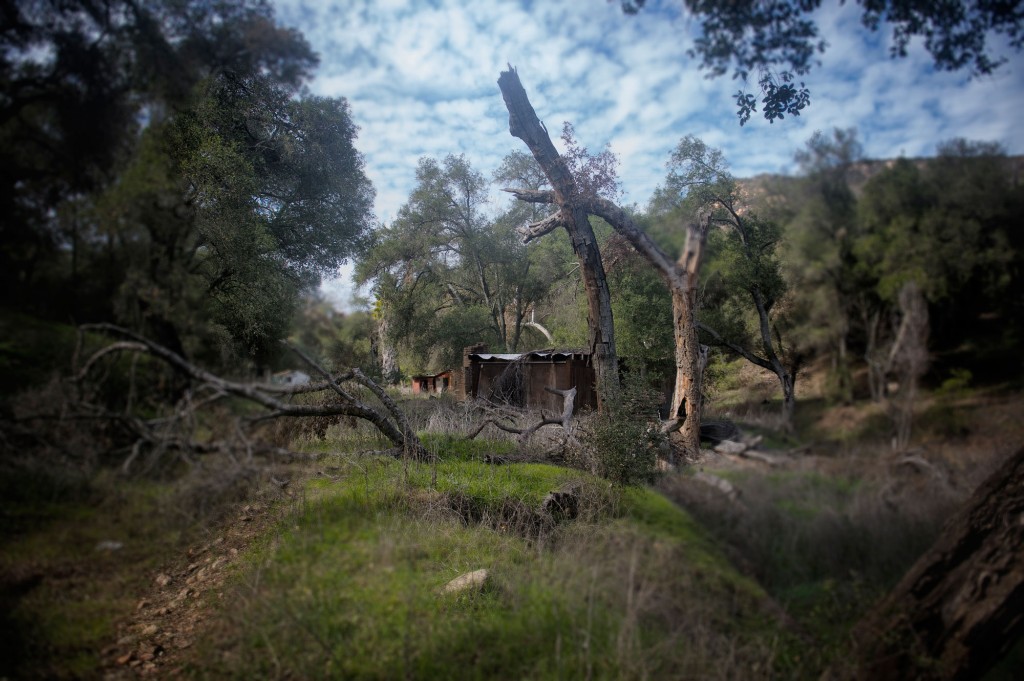 An old motor home is stuck in a ditch, it never made it into the commune.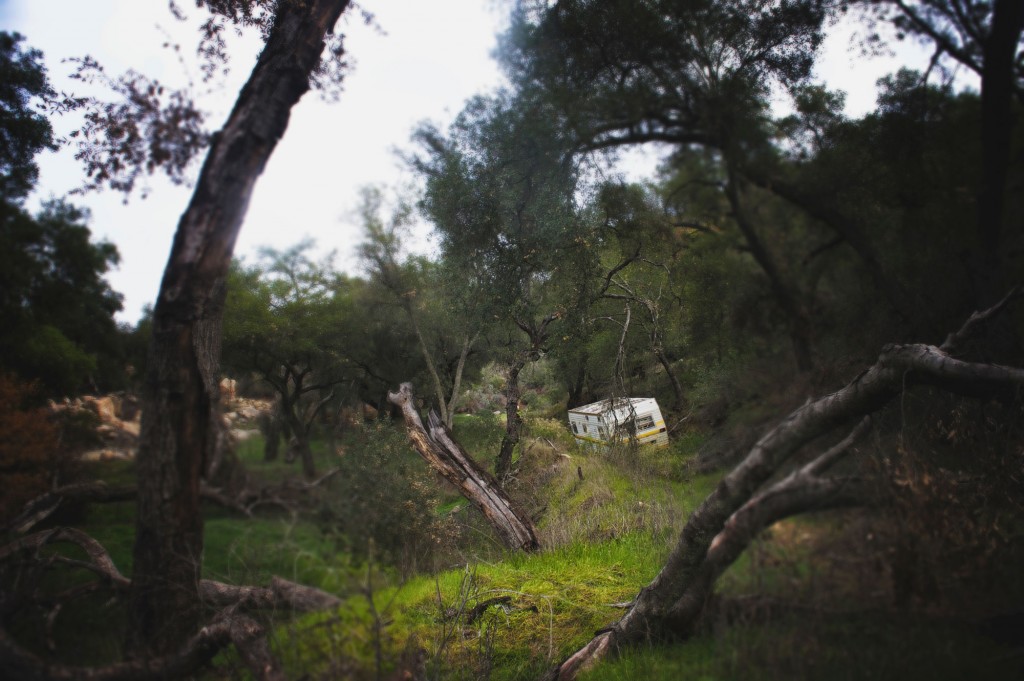 We could have stayed here for hours enjoying the beautiful area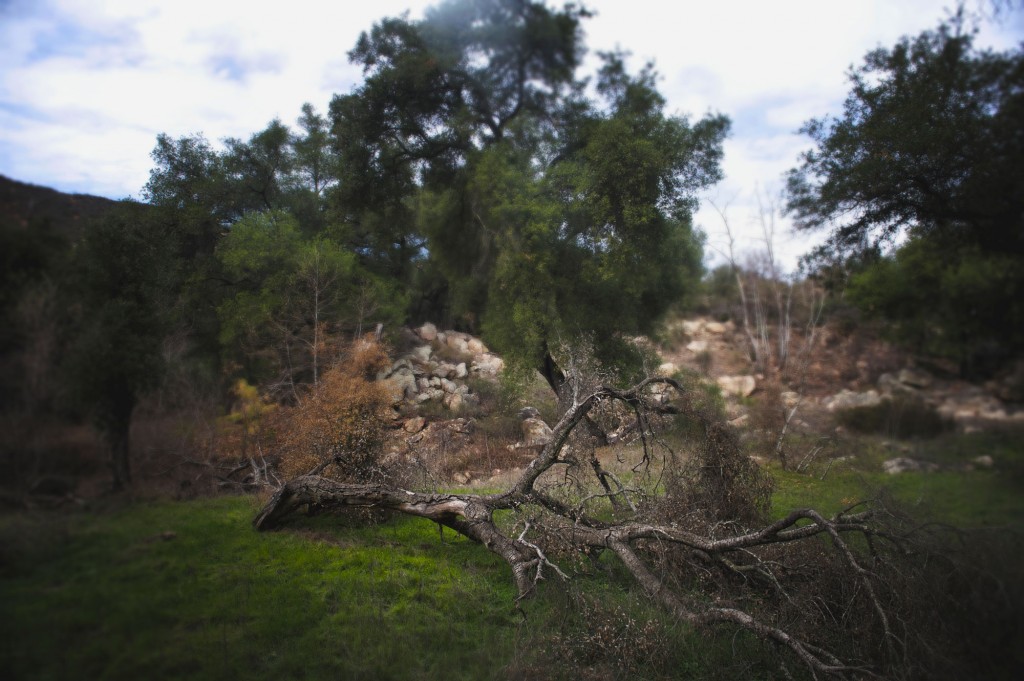 A Devils Den
Upon closure exploration however all didn't seem quite right with this place.  Retracing through the commune things looked a bit more sinister. Did the devil find work for idle hands here in the middle of this HellHole oasis ? Take for example the first abandoned graffiti-scrawled abandoned shack we found – it appeared to be a meth lab of some sort.
This is the first derelict property you will notice as you enter the compound.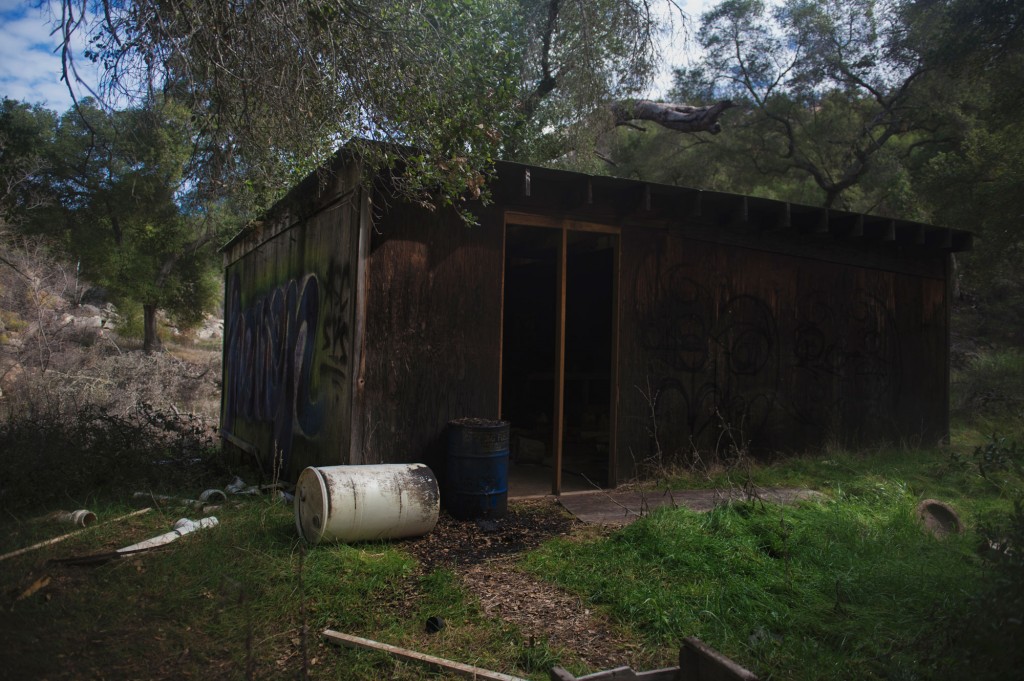 Inside we found old chemical compound jugs, a bathtub, gloves, gas mask and yellow protective suits.  This was Walter White Season 1 Breaking Bad stuff.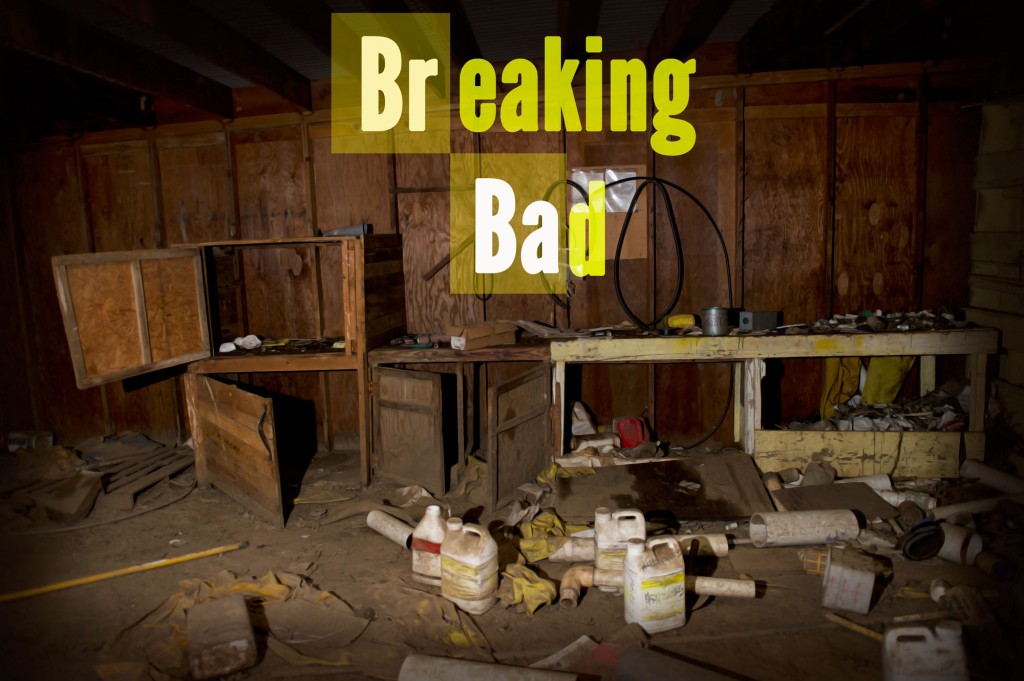 I've seen enough Breaking Bad episodes to know that Gas Mask are used in the cooking process.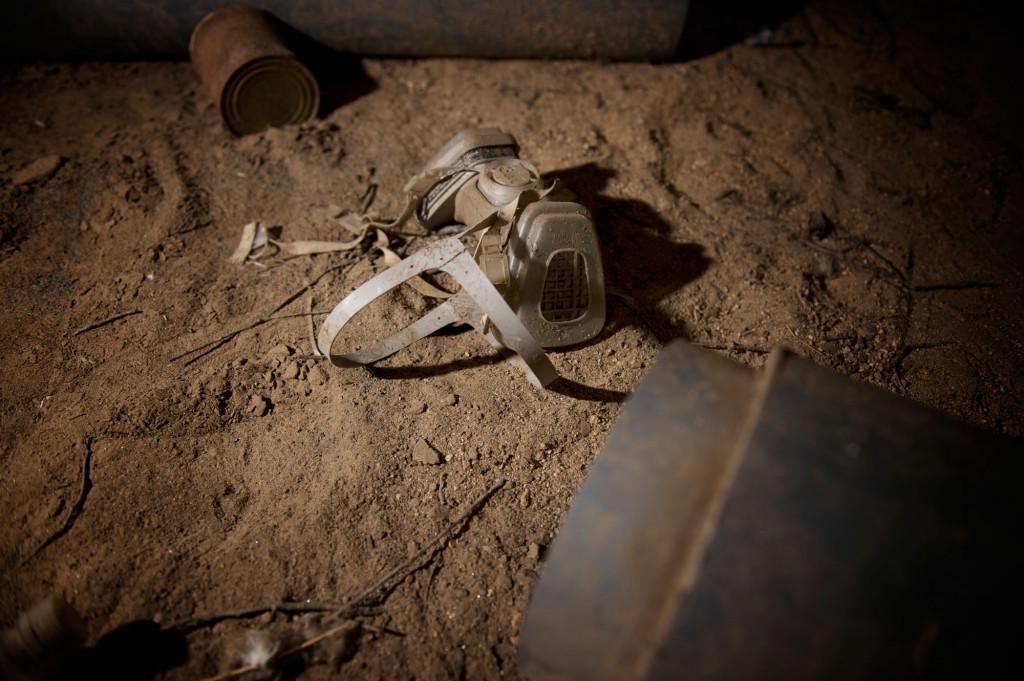 And this is the bath tub that they used to decompose bodies probably.  Notice the yellow overalls, there were about 5 pairs in this shack.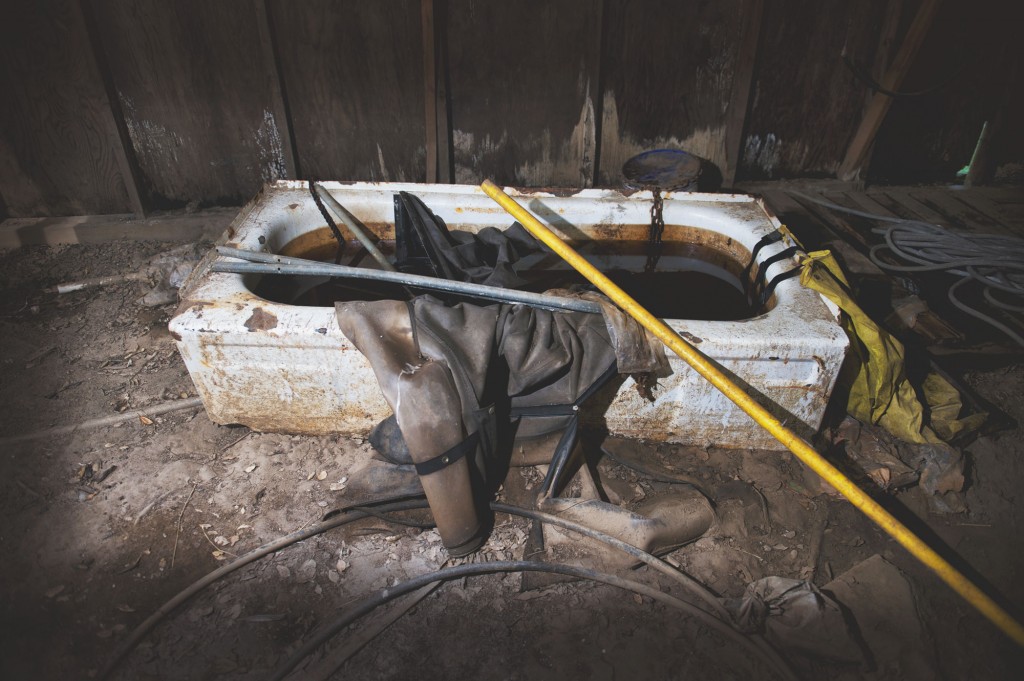 Old Trashed Homes, Trailers, and A Devils Heap of Oddities
Surely this place had been occupied by a fairly large group.  There were lots of homes and judging from some of the furnishings left out, I would have to imagine that these homes hadn't been occupied for at least 10 years.  They've been sitting out here in the middle of nowhere slowly rotting like an old Ghost Town.
There was an electric pole down here. All the wires have been pulled out.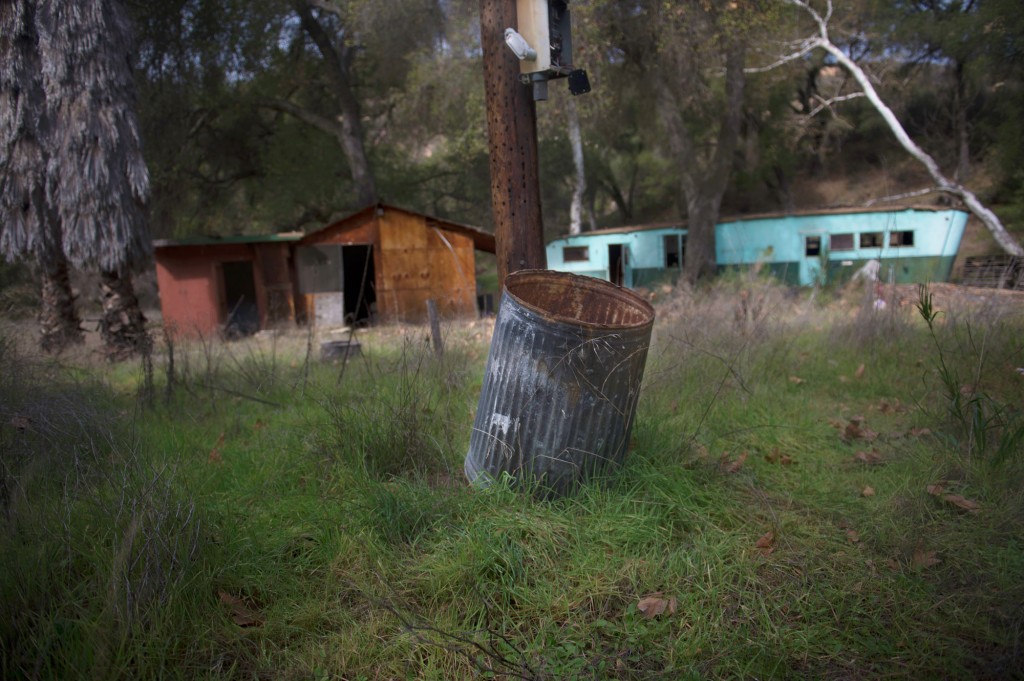 The place is strewn with trash, and lots of old washers.  An inordinate number of old washers in this commune.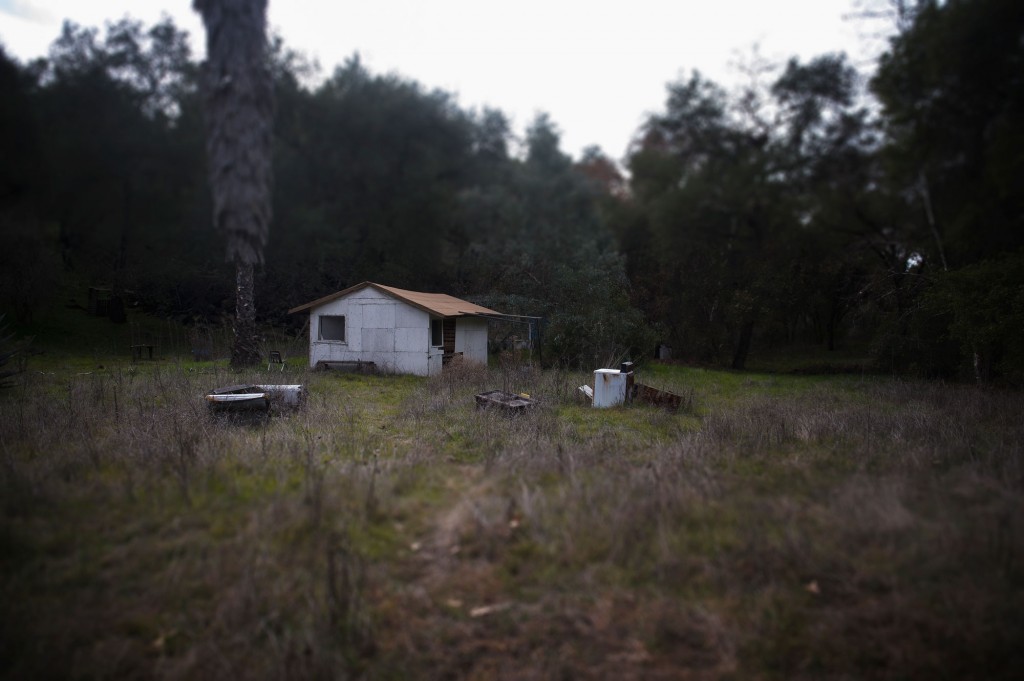 Obviously there must have been young babies here.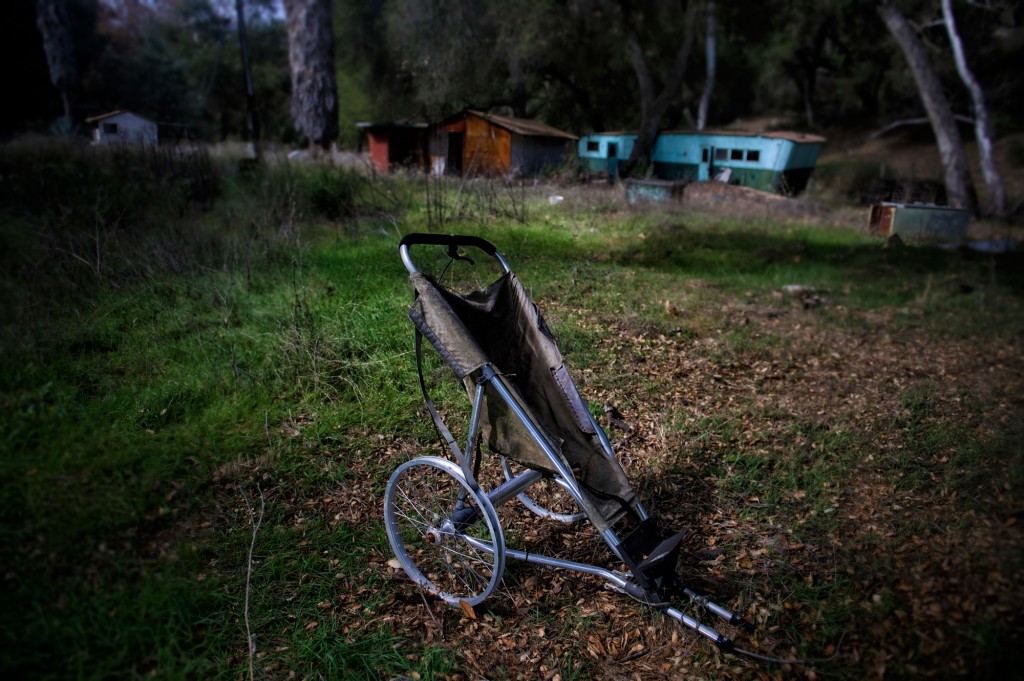 Remember that radio missing out of your old Ford Escort back in 1989? I think we found it.  You can pick it up if you want it back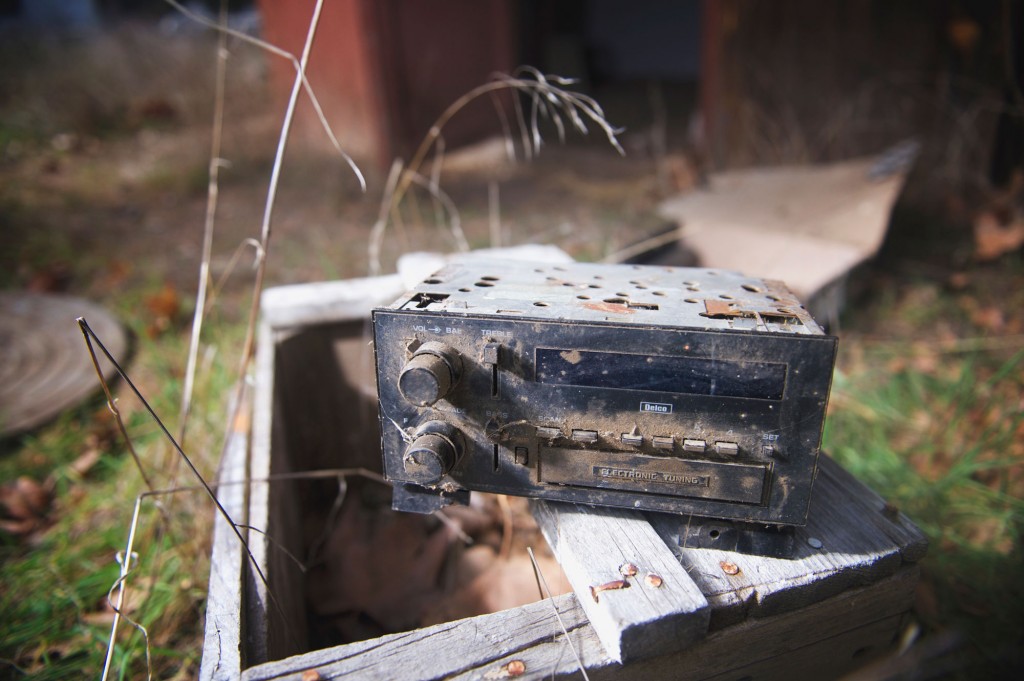 The Hills Have Eyes
When you come to The Devils Den in Hellhole you get that creepy feeling that you are being watched.  I am not sure if we were but it sure felt like we were never really alone.  At one point not far from us we heard a pack of wild Coyotes start screaming.  It sounded a little too close for comfort.  I grabbed a stick for protection which I carried for the rest of the trip.
We got that creepy feeling we were being watched.  Every so often we would hear a branch or leaves rustle off in the distance.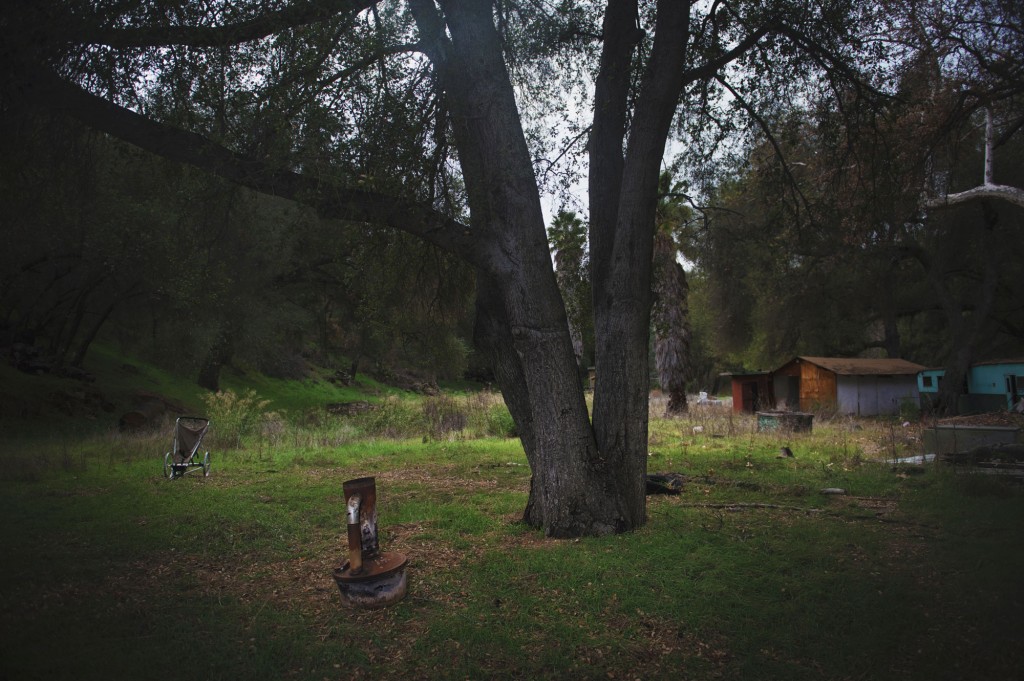 The oddities here were sometimes mesmerizing, sometimes alarming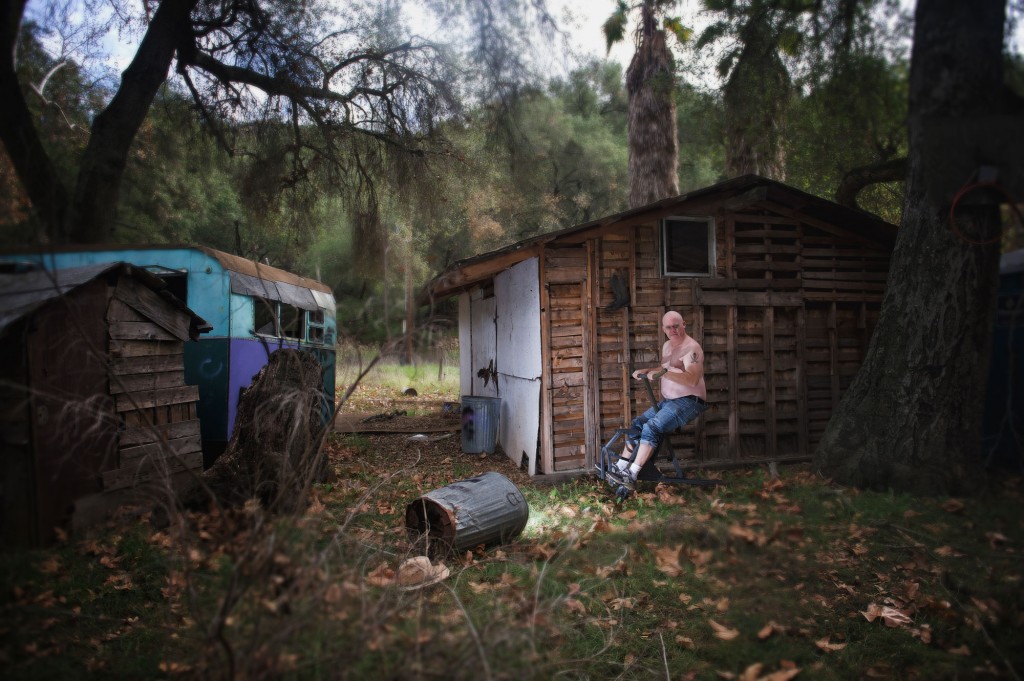 What happened here?  Why did everyone leave so suddenly?
Most of the old homes and trailers still had food (mostly cans inside).  It is bizarre that people just picked up and walked off.  Was this a meth lab that was broken up and people forced to leave?  Was there some event that caused people to abandon their homes?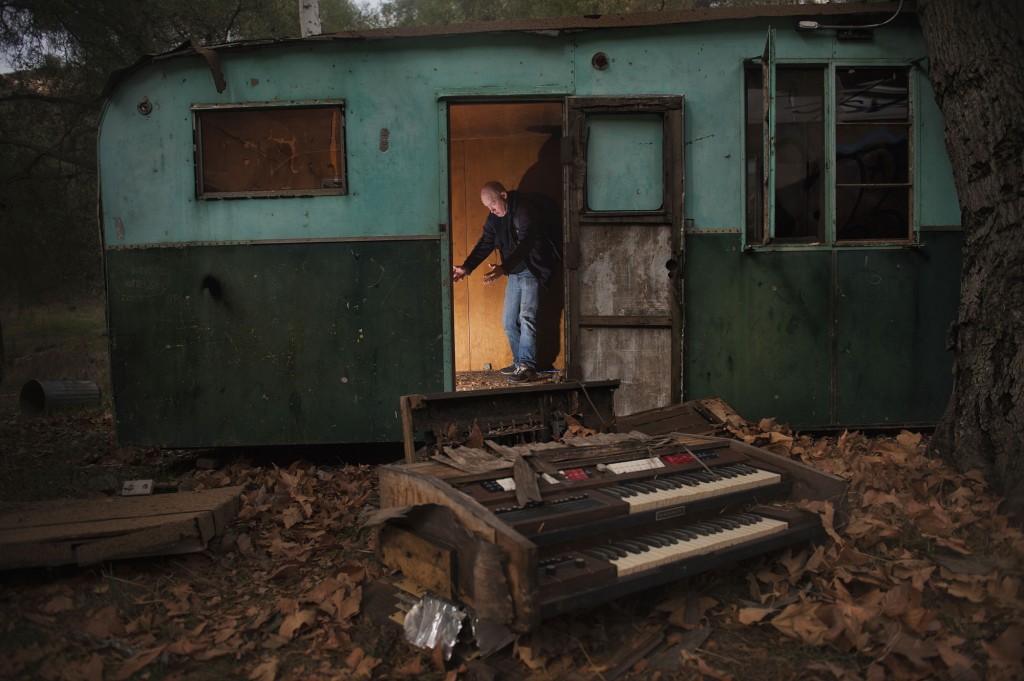 Do people still live here?  Were they out for the day and we just happened to be rummaging through their homes?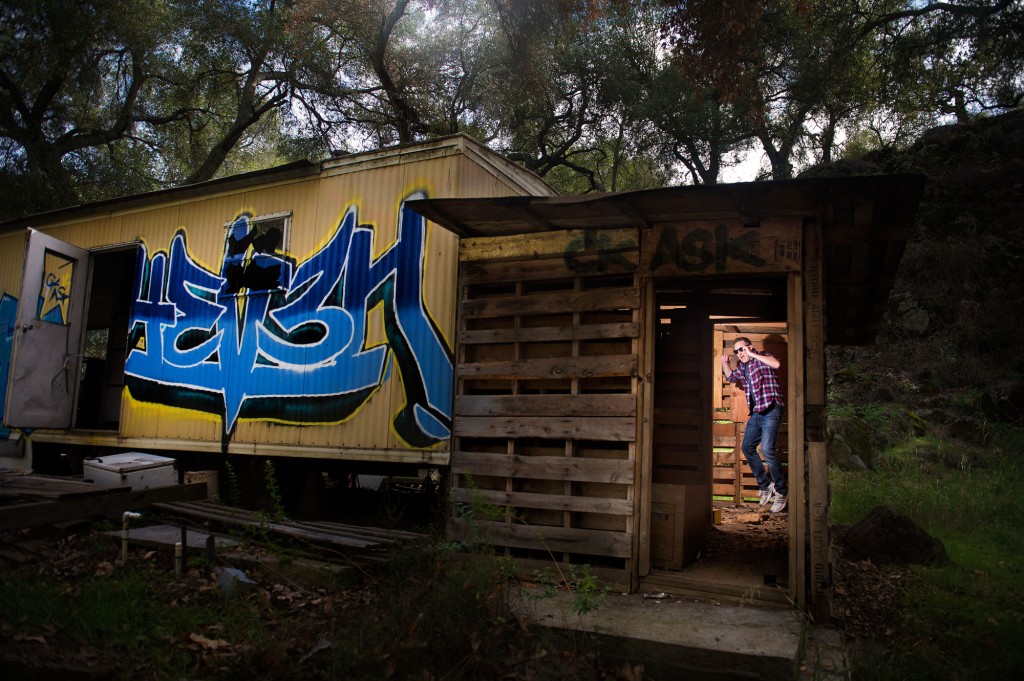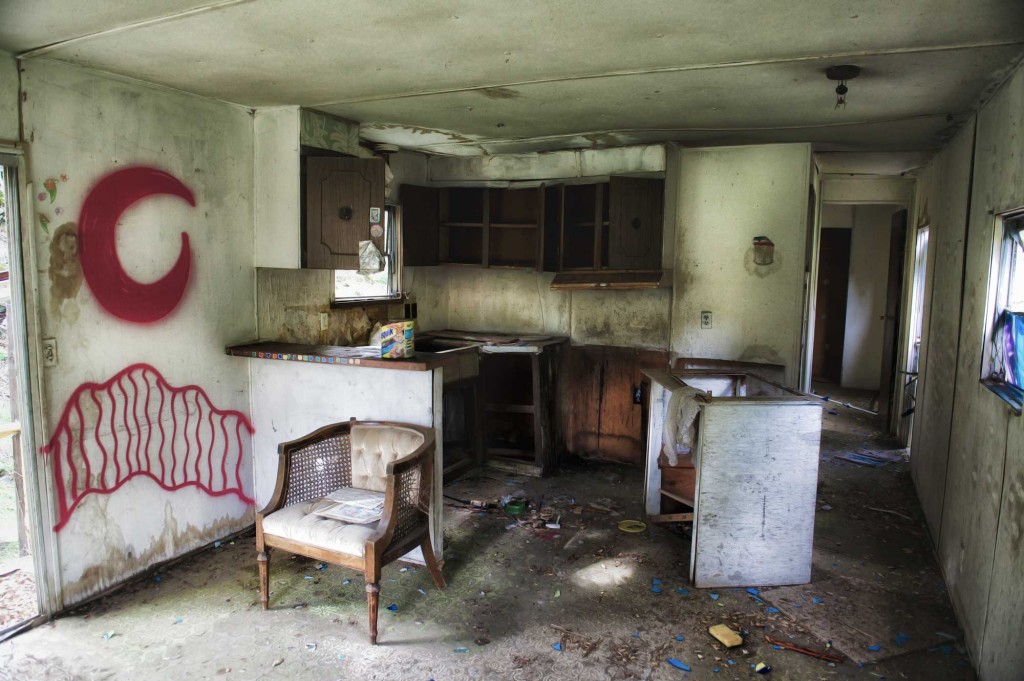 This place was actually quite dangerous, the broken glass and the floors on most homes could cave in or crack.  You have to be careful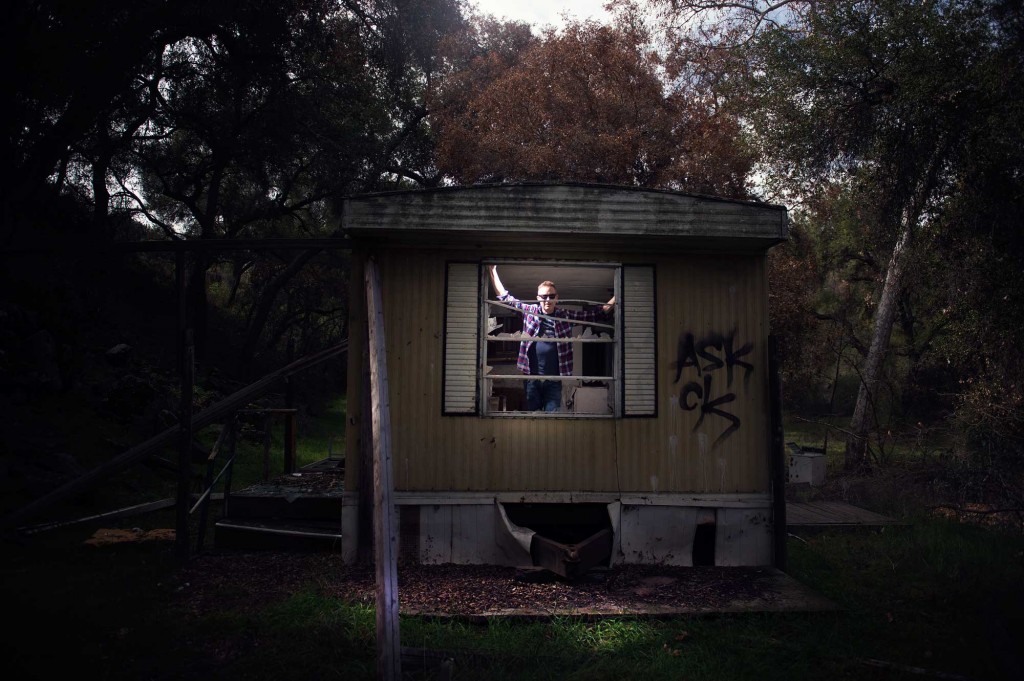 This scene reminded me of the movie, Into to The Wild where the guy goes to live off the grid, and later perishes.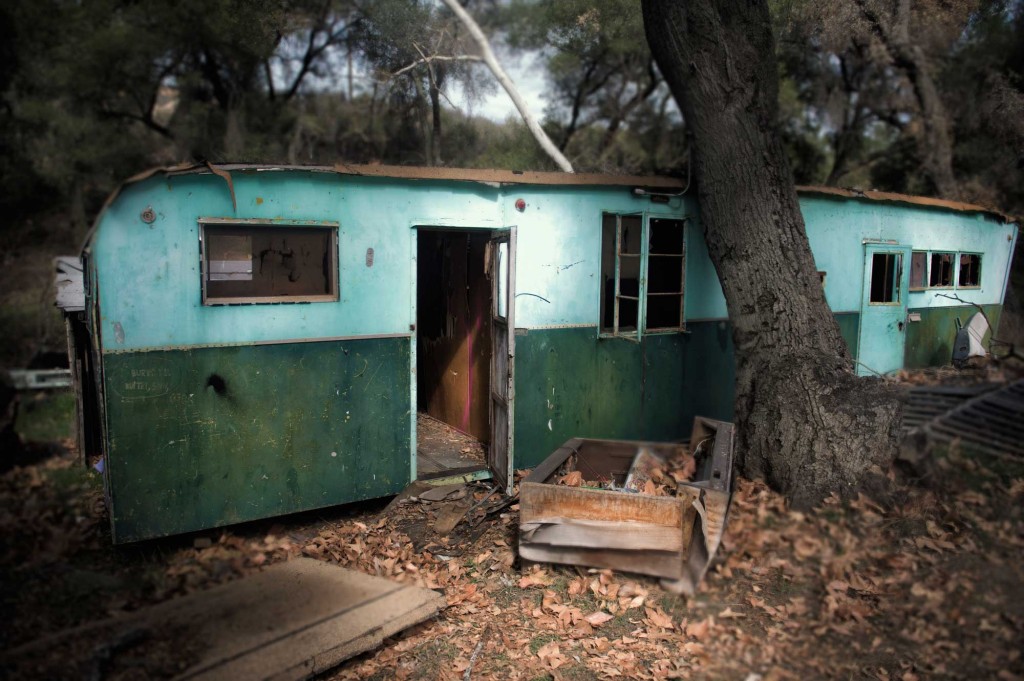 There are lots of cans of foods.  The rats, raccoons and coyotes have not figured out how to open them up yet.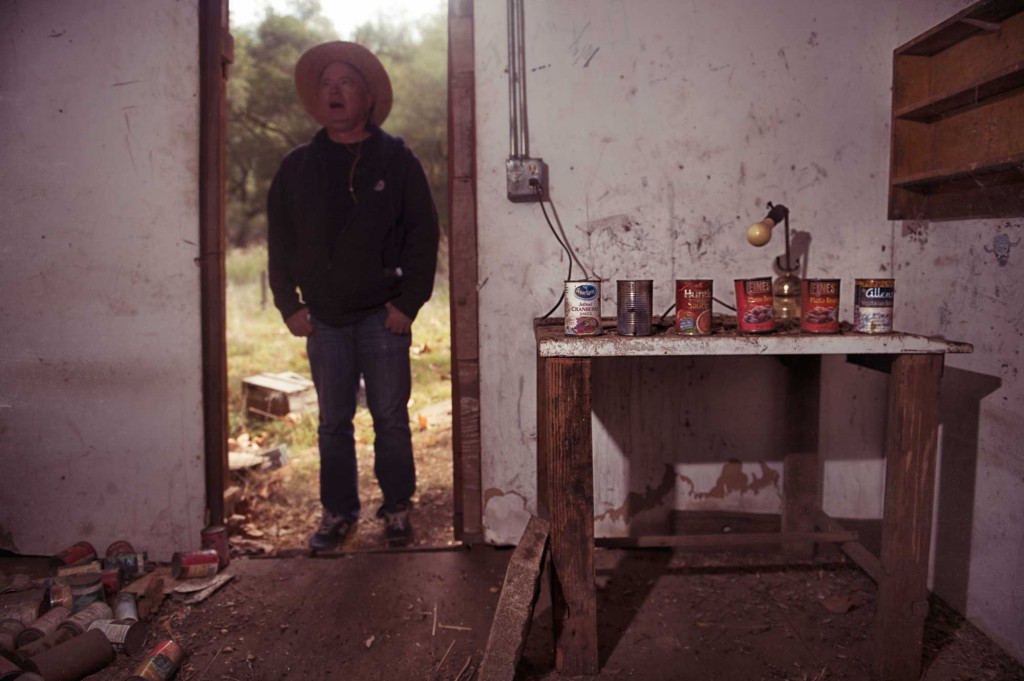 Why Would Someone Come Here?
I am pretty sure you might be curious why anyone would even want to go here.  Well, for starters it's a cool place to explore while hiking.  And also it's kind of quirky adventure to take for half a day.  It's part of San Diego so I am always looking for cool new places to explore.
Finally I guess it makes a pretty cool backdrop for movies and or photos.   It's not hard to imagine that someone might want to come out here to take pictures like we did.  I highly doubt this place will still be accessible in a few years.  Someone will put a fence up or block access or maybe they just won't want people coming down here.
In any case, its open today and there are absolutely no signs anywhere that this is private property or the public is not allowed so it doesn't seem like you would be breaking any laws.
If you want to see the full gallery of pictures you can see it here – Devils Den HellHole Canyon.