Chaos at Wal-Mart
Turkey, Cranberries, Apple Cider and WalMart stampeding. Unfortunately, Thanksgiving has become about all of these things – the best and worst of what we are about here in America. It's hard to believe that a Holiday that has us giving thanks for the simple things in our lives has been over-run by greed, groveling and outright disregard for other humans. That is what I think of Black Friday at Walmart. Just this week at Black Friday sales people were shot, robbed from and maced as they tried to do there Christmas shopping on Thanksgiving.  We decided to have a look first hand at this mess and headed out on Thanksgiving to WalMart in Mira Mesa and it did not disappoint.  People were there in force – probably 2,000 jammed into the store and everyone was out for themselves – groping pushing and shoving to get a chance at deals on things they probably didn't need or want.  My brother handed a 99 cent video game that he had scored (an outdated Xbox game that never caught on) to a lady next to us and she was thrilled and then stated that she actually needed to buy the Xbox now so she could use it.  It's that illogical behavior that companies like WalMart are hoping for when they have these frenzied midnight Thanksgiving sales.  People are hoping to improve their lives by getting a fantastic sale on something but they just dig themselves in deeper.
Here is Danny sleeping in Aisle 5 of Walmart.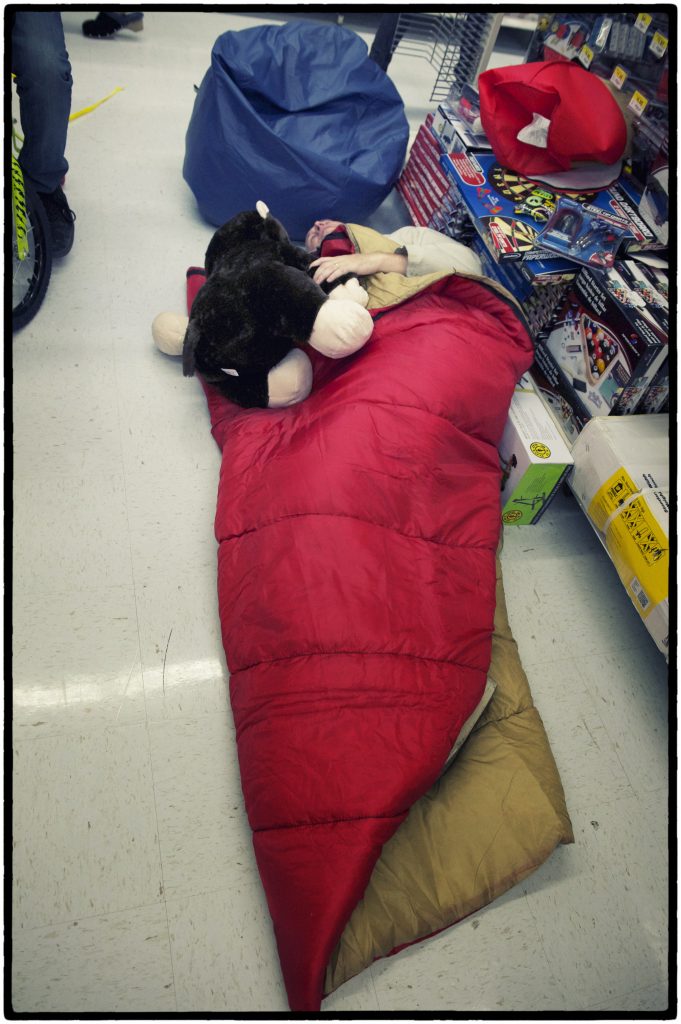 Here is a photo I snapped of the gang loading up on silly stuff that they had no intention on ever buying.