Sequoia's in the Mist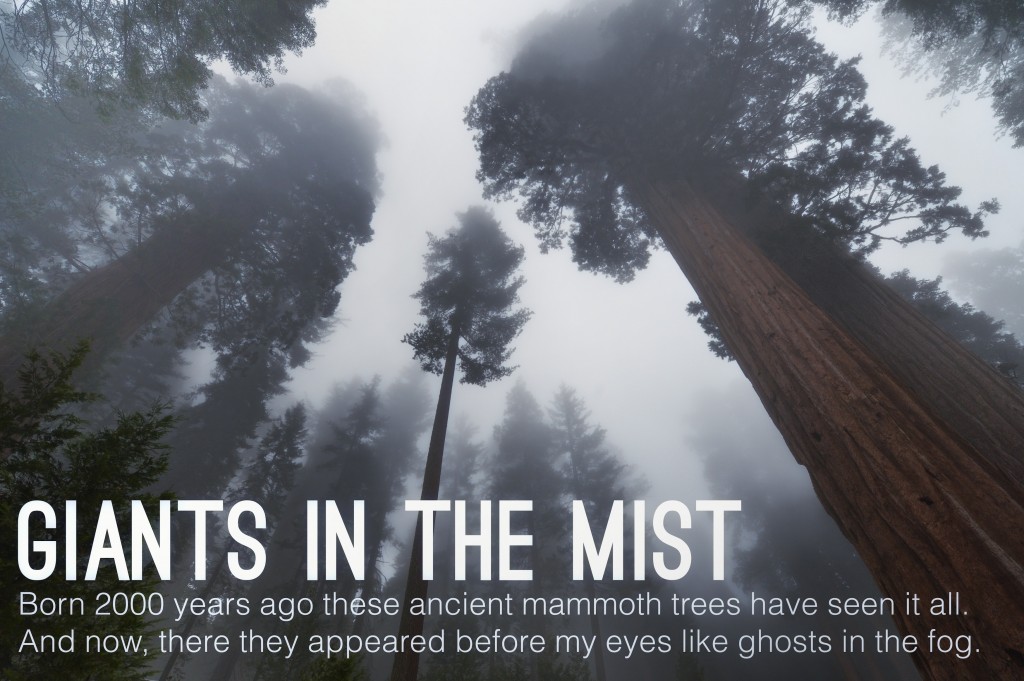 It seemed more than a bizarre irony to me.  There they stood before my eyes like ghost.  But they were more real than I could ever be, older than my mind could comprehend,  and more beautiful than anything that I could ever conjure up in my own imagination. To see them shrouded in mist made them seem more ancient, more somber, more grand but less real and perhaps more of another world than of this one. But these were Sequoia's the largest and most mysterious trees on the planet, and from what I could tell,  locked in an infinite bond with the earth which was more permanent than my own.
The experience was humbling, perhaps spooky but something I was grateful for. I was there where I had arrived.  I wasn't going to come but I did.  The drive was too long.  It was raining.  I needed snow chains I didn't have. The tires looked like they needed to be changed. I needed to work. The roads might be closed. I didn't have a hotel. I don't like driving alone.  I seemed to have every excuse not to be there, but there in fact  I was.  Something had pulled me there.  A compulsion to photograph them.  An intrigue to see something new. A promise made to a friend.  I was there.  That is all that mattered now.
From conversations, plans are hatched.
I was explaining my new found photography hobby with him when he told me he had been searching months for a photo of Sequoia's to put on his wall.  While I had never even seen a Sequoia tree in my life, Ian, my friend,  was convinced that the tree's held the secret to the beauty of creation and our individual seemingly small place in this world.  I figured I had to go.  Not only to see what he was talking about but to somehow try to create the photo that he was trying to find.  It was a project. It was a reason to go to visit a beautiful place.
For weeks I procrastinated. I checked the weather convincing myself that I needed to go on a brilliant sunny and cloudless day.  The weather was fickle and plans postponed.  Finally, I found myself in Los Angeles on another project and decided I just needed to go.  I didn't even check the weather.  Be damned with the plans. I was going to go regardless and just see and photograph what I could.
The weather was terrible on the drive up.  I cursed myself as I drove up through Visalia through the pouring rain and then dense fog.  There was zero visibility.  I had driven hundreds of miles and wasn't going to get a single good shot.  Or that was what I thought at least.
Then I am there. I am amazed!
I fumbled with my camera at first. My fingers were cold but it wasn't because of that.  I fumbled because the scene that was unfolding in front of me seemed so temporary.  The dense fog was lifting briefly and the sun was beginning to burst through,and as it did, it was lighting up the most immense tree I had ever seen.  I felt I needed to get the picture before it went away.  I fumbled than I snapped the picture praying that I had the camera settings correct.  The fog did return almost immediately. I'm glad I got the shot.  It wasn't the last however but the first of many awe inspiring moments to come during the day.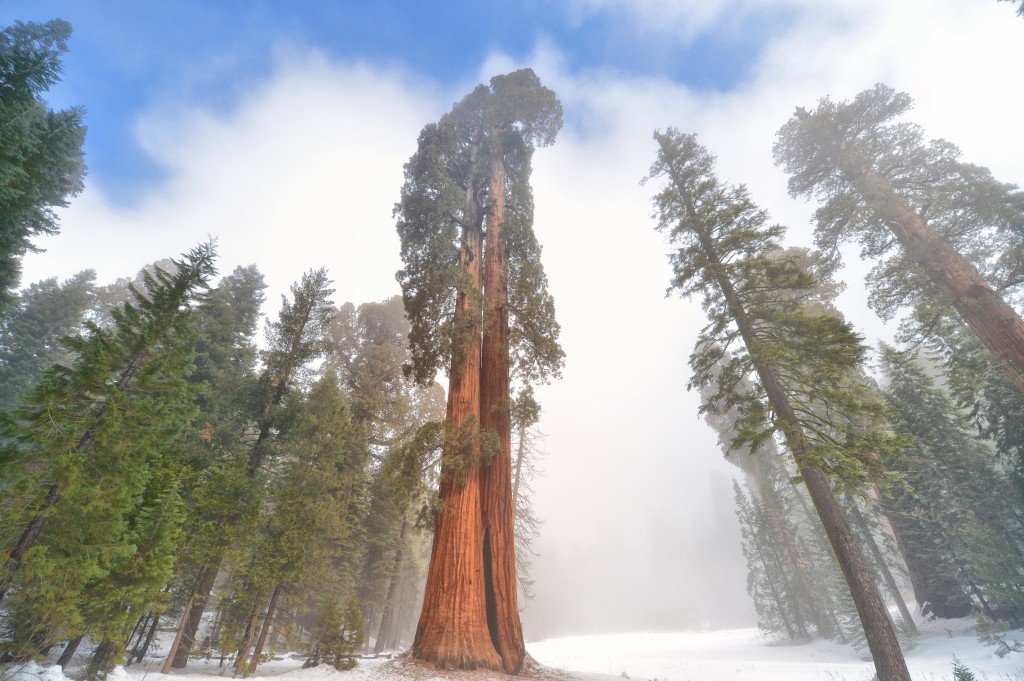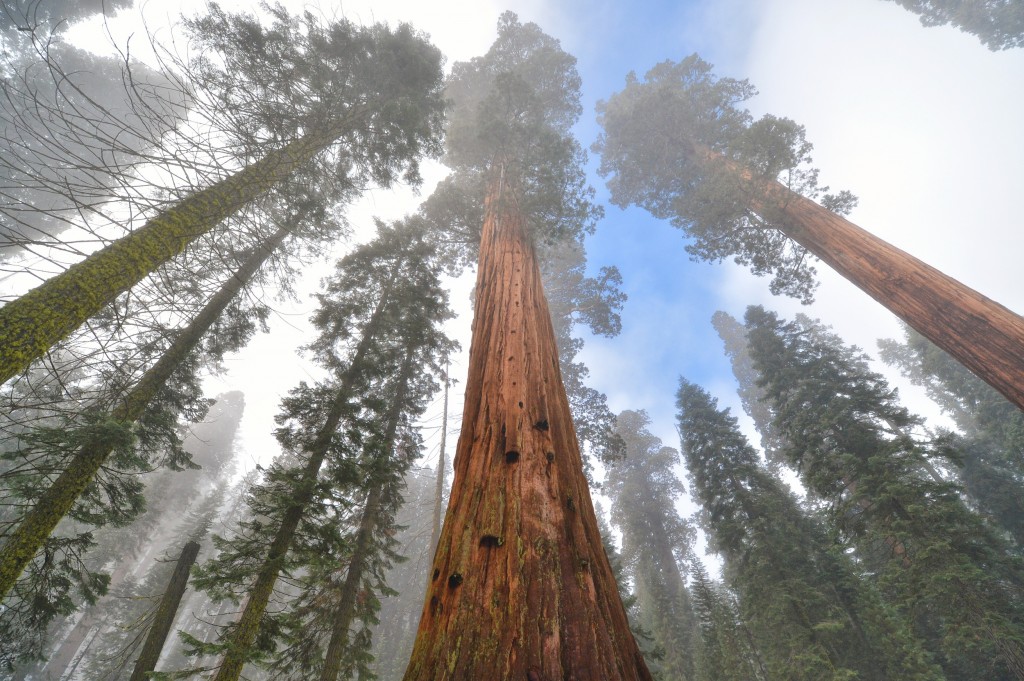 From a Tree, to a General, to a Monument
Fossils of Sequoia Trees have been found that date back up to 180 million years ago.  Now most trees died off during the ice ages and only a few species actually survived and the Sequoia just happened to be one of them.  The Sequoia over thousands of years managed to survive fires, earthquakes, natural disasters, ice ages and every other sort of disaster but it wasn't until they were discovered by White hunters in  the early 1800's that they almost met their demise.  Soon after finding the first Sequoia the hunters cut the massive tree down.  It reportedly took 5 men working 22 days straight to cut it down.  The tree, which was called the "Discovery Tree", was estimated to be 1,300 years old after they counted the tree rings in the trunk.
Over the coming years, massive saw mills were constructed in the Sierra Nevada and the Sequoia Tree's were cut down by the thousands and milled. Ironically however given their size the wood was not considered premium because the trees would often splinter and shatter when their massive weight hit the ground.  Imagine how many ancient trees were destroyed during that time for their wood?  Famous named trees such as the Mark Twain tree was even cut down during this time.
In 1890 in order to preserve the few remaining Sequoia's left in the world, the Sequoia National Park was established.  Today, Sequoia's pretty much only grow in this relatively small stretch of land in Central California.   The Park is known for some of the highest trees in world but also for the highest peeks as Mount Whitney is located in the park as well.
I spent most of time at the park in a place called the Giant Forest.  Not only is it a very cool name for a Forest but it contains 5 of the 10 largest trees in the world. There is no other place like it in the world.  Two of the most famous trees in the world can be found here; the General Sherman Tree and the General Grant Tree.
The General Sherman Tree is known as the largest tree in the world. It is not the highest but the largest in terms of volume.  This tree was so massive that I had a hard time capturing it entirely, particularly since there was a stream of people lining up to take pictures under the tree many of whom were asking me to take their pictures for them.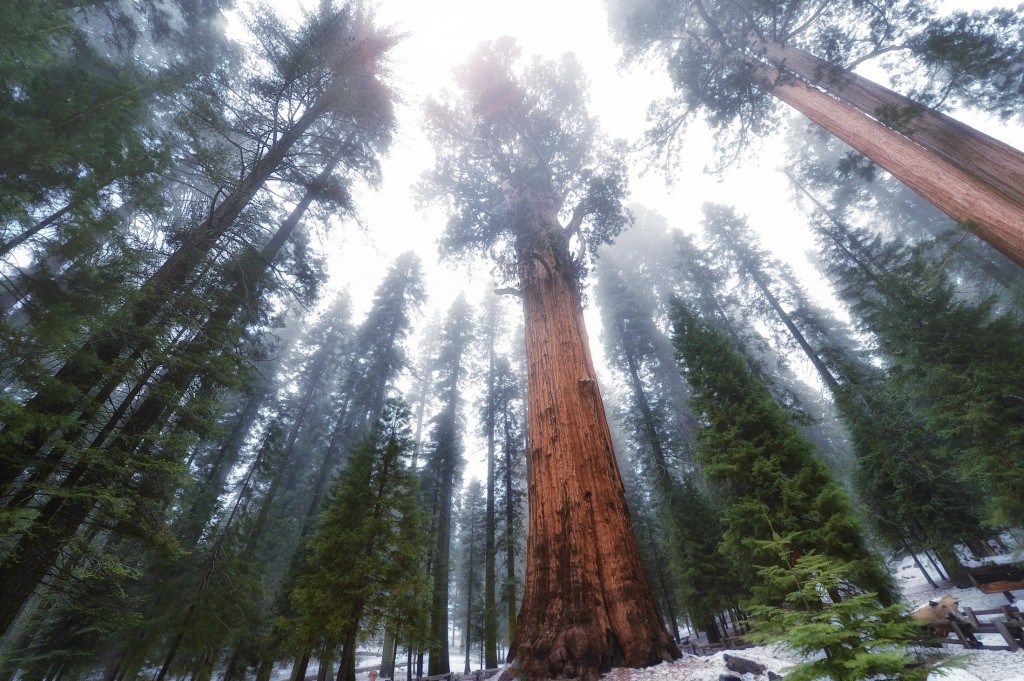 The General Grant Tree probably would have been named President Grant Tree had they waited two more years to name it.  You see the tree was named in 1867 for General Grant who two years later in 1869 was elected as President of the United States.  The tree was later designated as the Nations Christmas tree and later was designated a monument and a memorial to soldiers that died in the war.
While photographing the General Grant Tree I had a stroke of luck.  The sunburst momentarily from behind a tree in the distance creating a magical sparkle and warmth to the image.  The General Grant tree was one of the most memorable trees in the Giant Forest.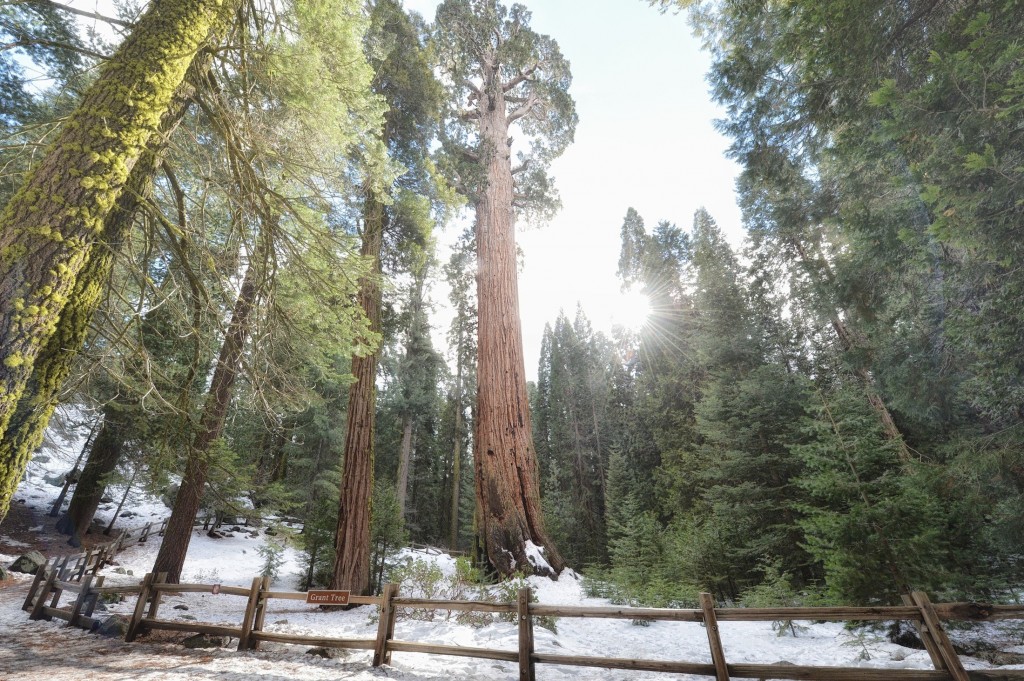 The Perfect Day
Sometimes you pick the perfect day.  Sometimes you pick the worst day.  Today, I had picked the perfect day.  It was winter.  It was Saturday.  The park was nearly empty and here I was with my camera and Sequoia National Park was unfolding before my eyes through ever bend and turn in the road.  Sometimes I would pull over, stop my car and take pictures trying to capture the experience of driving through this park.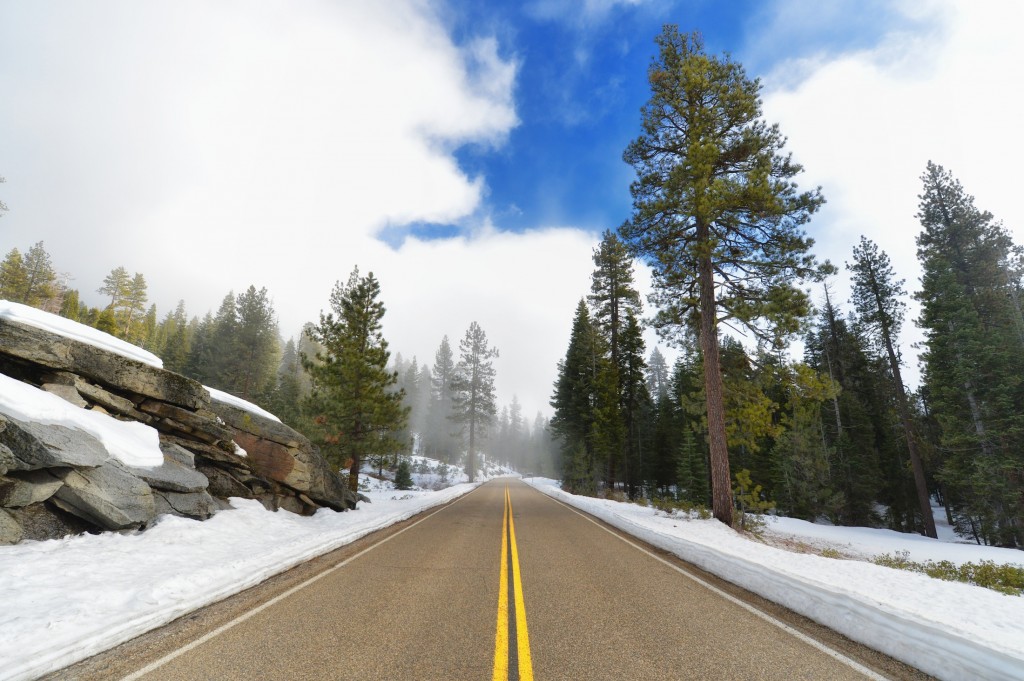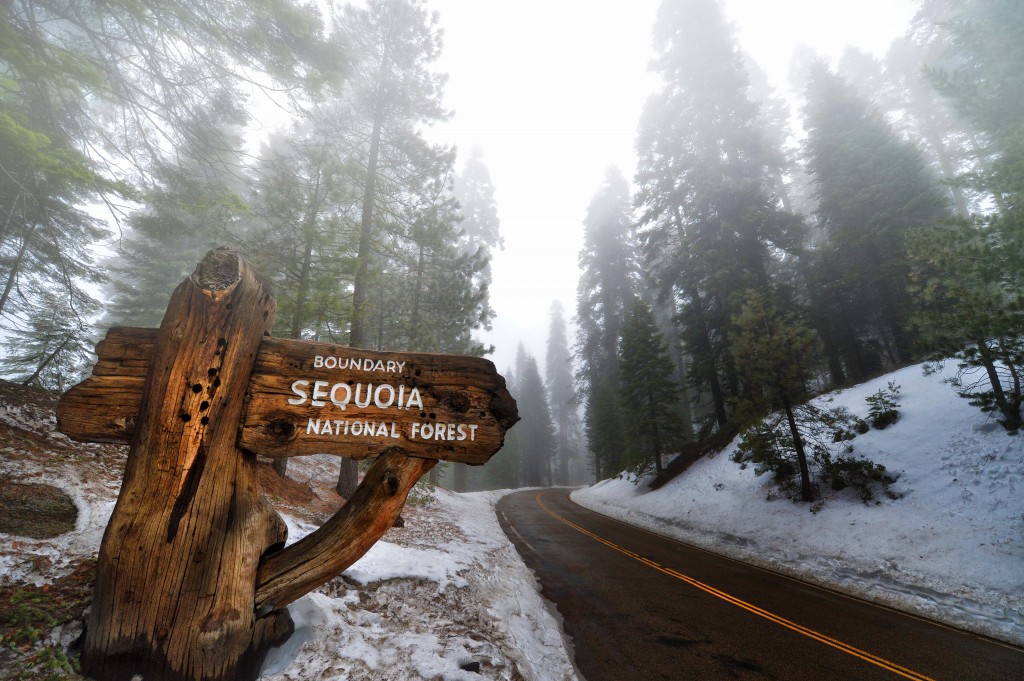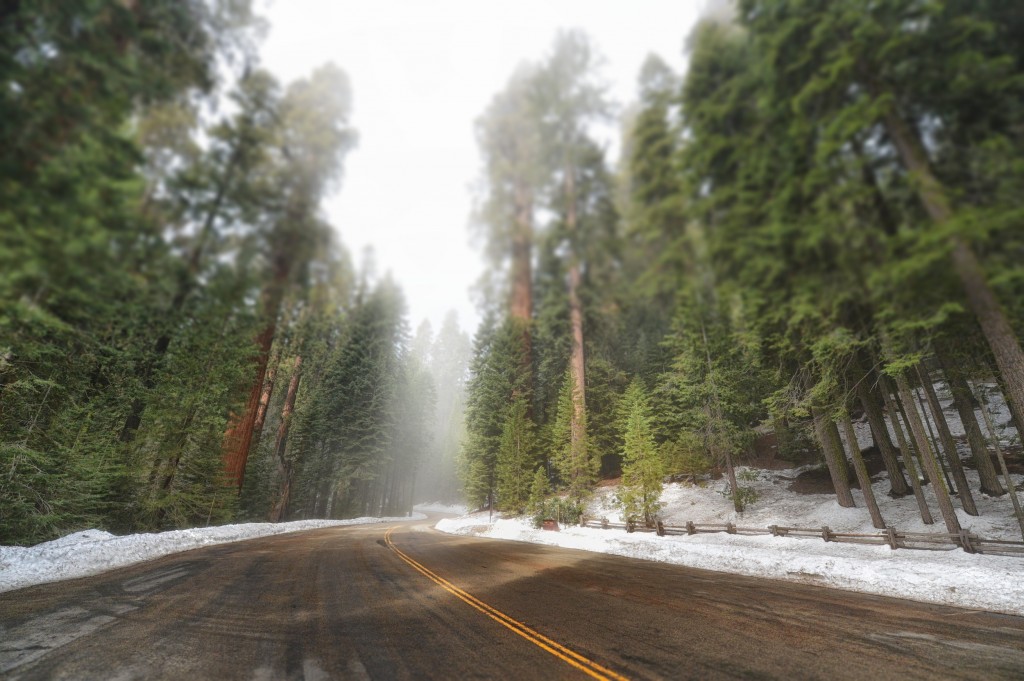 Different elevations bring different experiences
The park is well laid out. Like Yosemite to the North this park provides many different experiences based on the elevation.  When you enter there is no snow.  The trees are rugged and deer roam the landscape.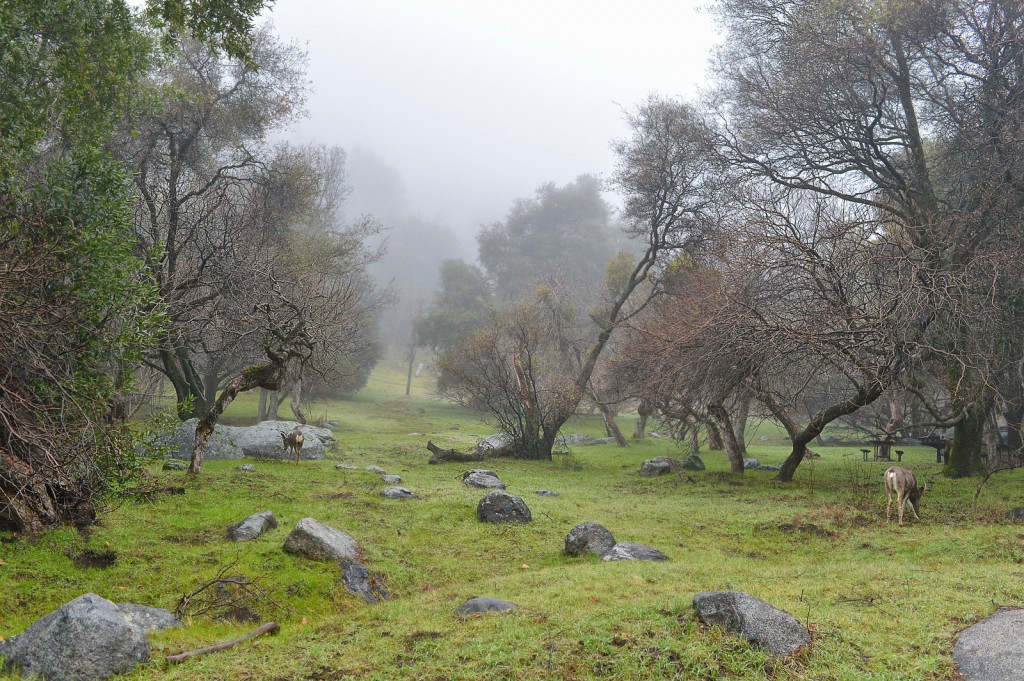 As you drive to 6,000 elevation the snow becomes deep and you reach the massive Sequoias.  From here you can visit the Giant Forest Trail.  A mile long walk around a river bed (which is completely frozen) is a peaceful nature walk.  I found myself at times plunging almost waist deep into fresh snow.  You never knew how deep you would go.  I held my camera above my head and walked, determined to keep it safe even if I was not.
A peaceful bench to sit on.  I did not however and just took pictures of what the view would be like from it.  With a warm jacket you could sit here and just see what nature might do over time.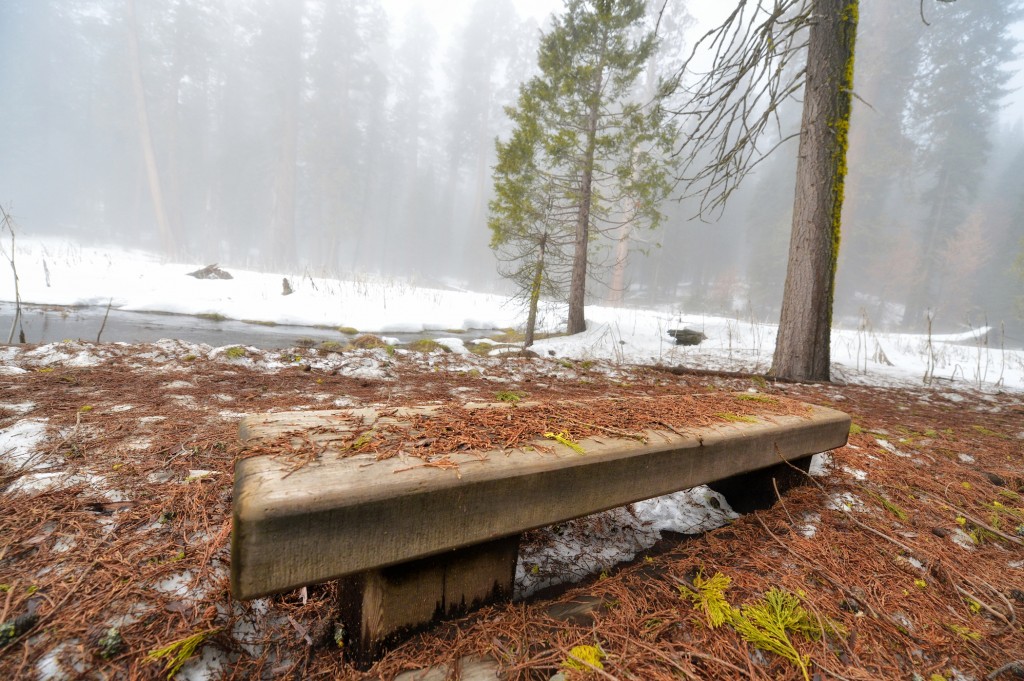 Fallen trees were a reminder here of the passing of time and the circle of life.  Smaller trees would fall and burn making more room for the bigger trees. Perhaps survival of the fittest is the rule of the land everywhere.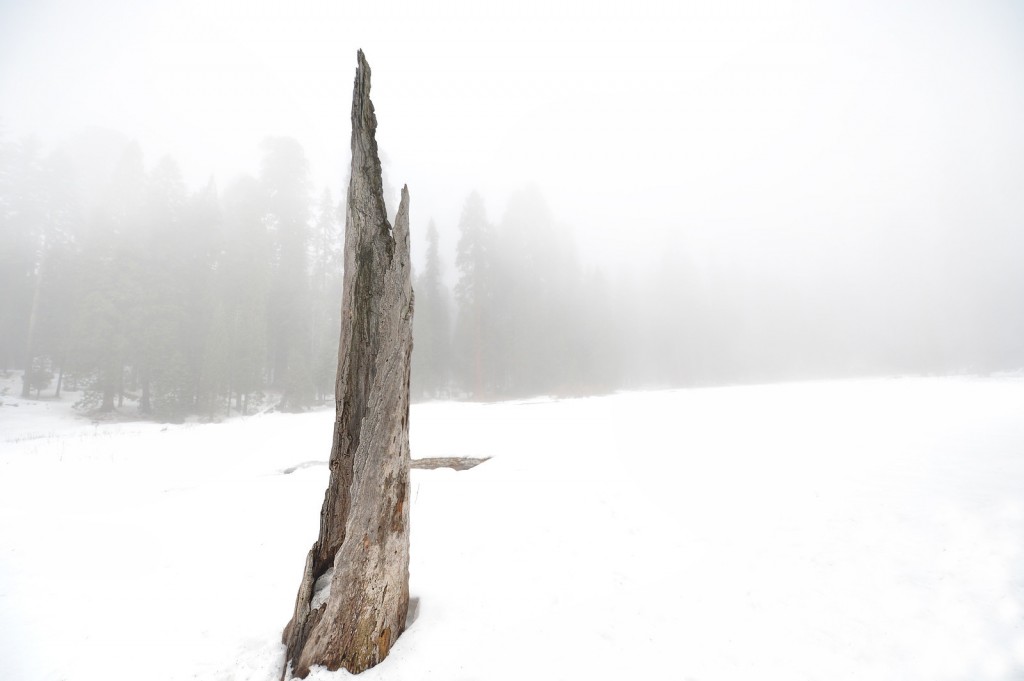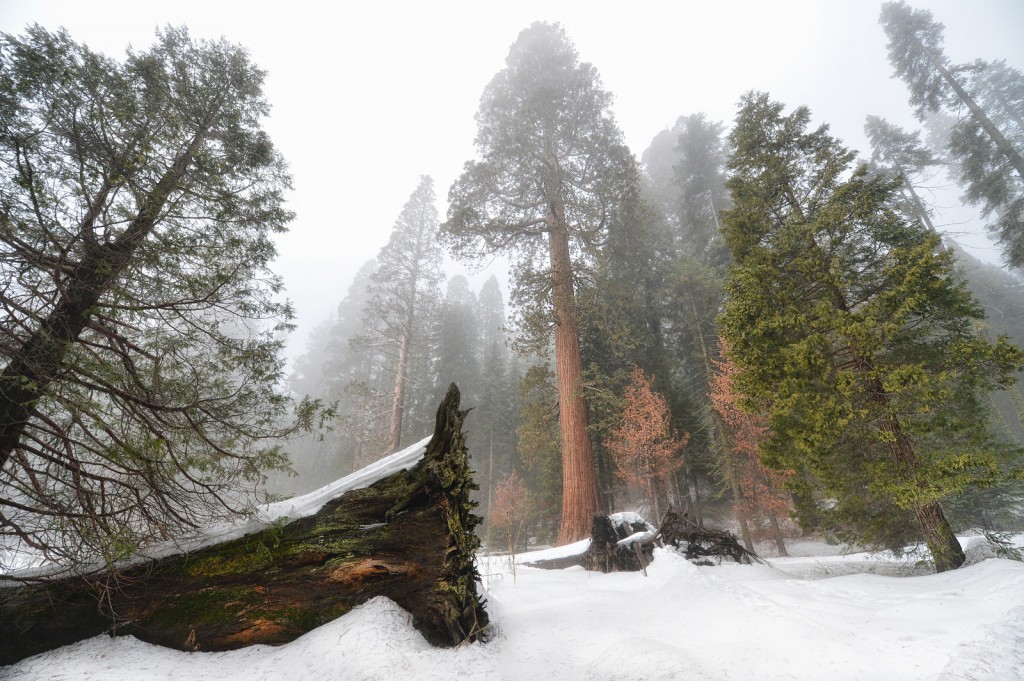 Appreciating perspective through big and small 
The only way to truly appreciate the Sequoia's is to see them in relation to everything else.  The trees are so massive that a photograph doesn't do them justice.  I spent some time trying to find that perspective with things around the Sequoia's.
Two large Sequoia's provide a picture frame for their little brother in their giant shadows.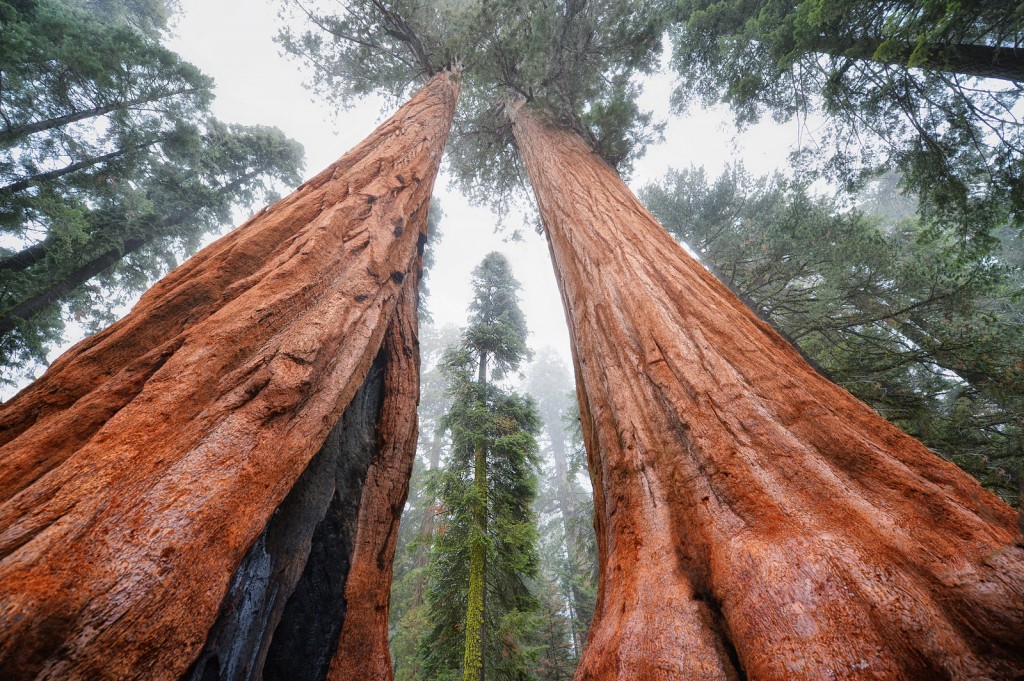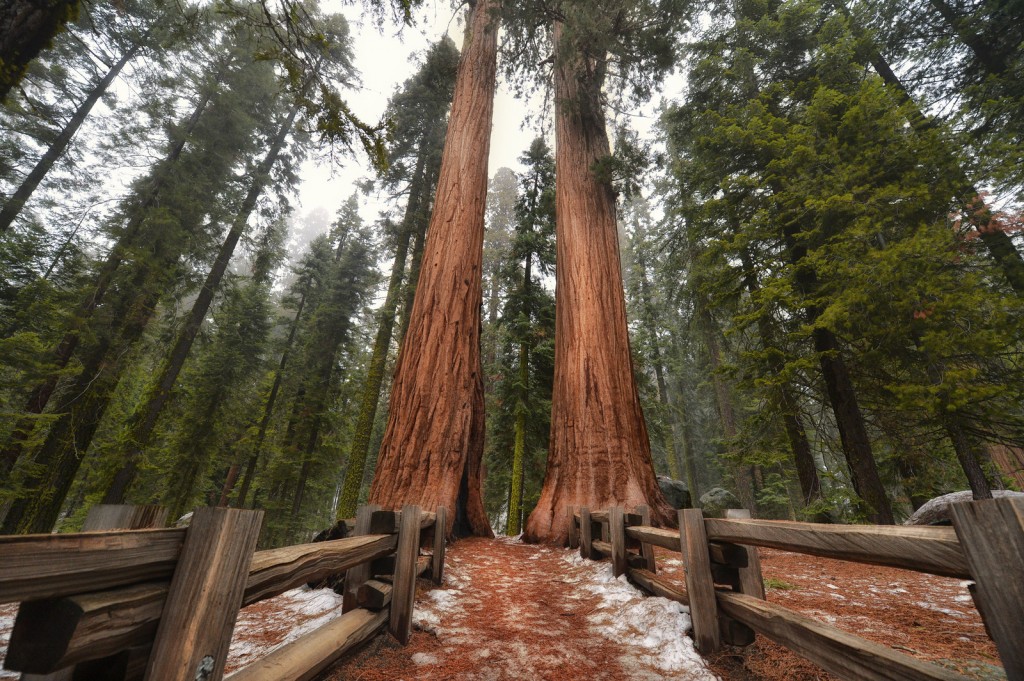 Another photographer stopping along the road to photograph Giants.  He is a tiny, tiny man.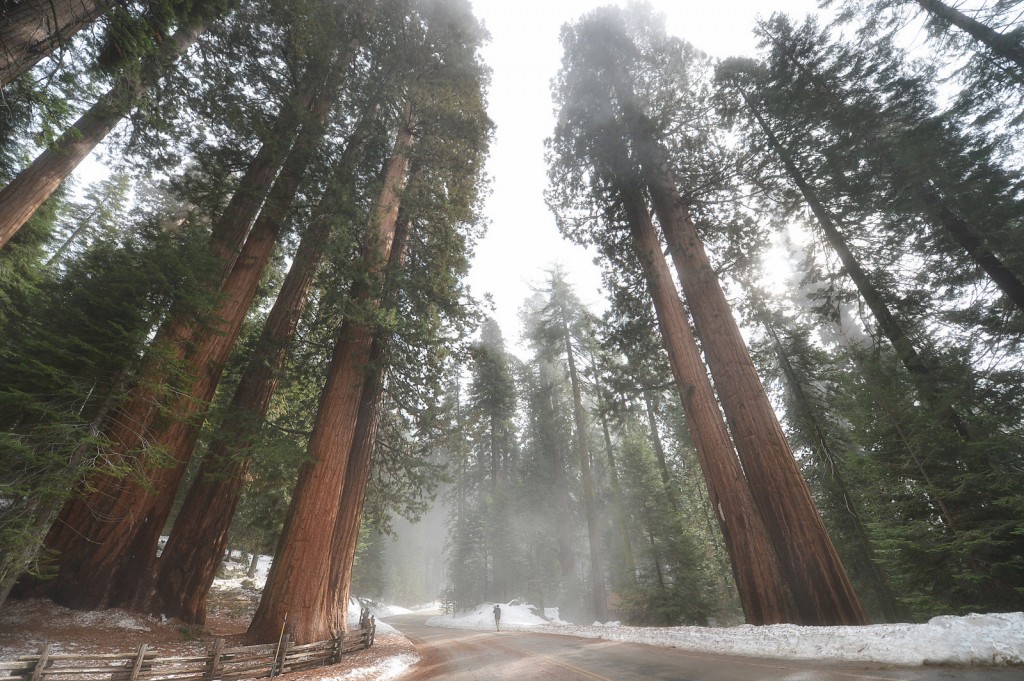 Giants in the mist
While the sun did shine. I was glad for the contrast of the day.  Sometimes sunny, sometimes cloudy, sometimes foggy it didn't matter it was showing me all of the seasons in one day.  I was lucky.  If I had come on a sunny and cloudless day as I had planned.  It would have been crowded. I probably would have gotten beautiful pictures of sunny meadows and huge trees.  I probably will return again someday to see that. I hope it is soon.  You can check out my gallery here to see the rest of the pictures of Giants in the Mist.