The Best 5 Photo Sharing Sites and Why I use All of Them.
It seems like every few months a new photography sharing site is coming online.  We are truly in the Golden Age of Photography when thanks to Camera Phones, everyone has a camera and everyone is sharing pictures.  All these websites are rushing to capture a bit of the massive online photo sharing market.
When someone ask me the question, "Which photography website should I use?",my answer is usually  "All of them."  You see my strategy for photo sharing is to use different websites.  They all specialize in different aspects of sharing and they all usually add something to my photo sharing that I can't get from a single site.
The truth is I have about 5 favorite sites that I use, although I have probably tried about 20-30 over the years.  I'll rank my favorites here and the way that I use those sites because I do not use them all for the same purpose.
#1 – SmugMug – The Best All-Purpose Photo Sharing Site  My Site (www.frankiefoto.com)
How I use it – My bread and butter site.  I upload everything here for people to download.  I keep my blog here.  I do my printing here. This is the site I use to store all of my work as they have unlimited storage capability.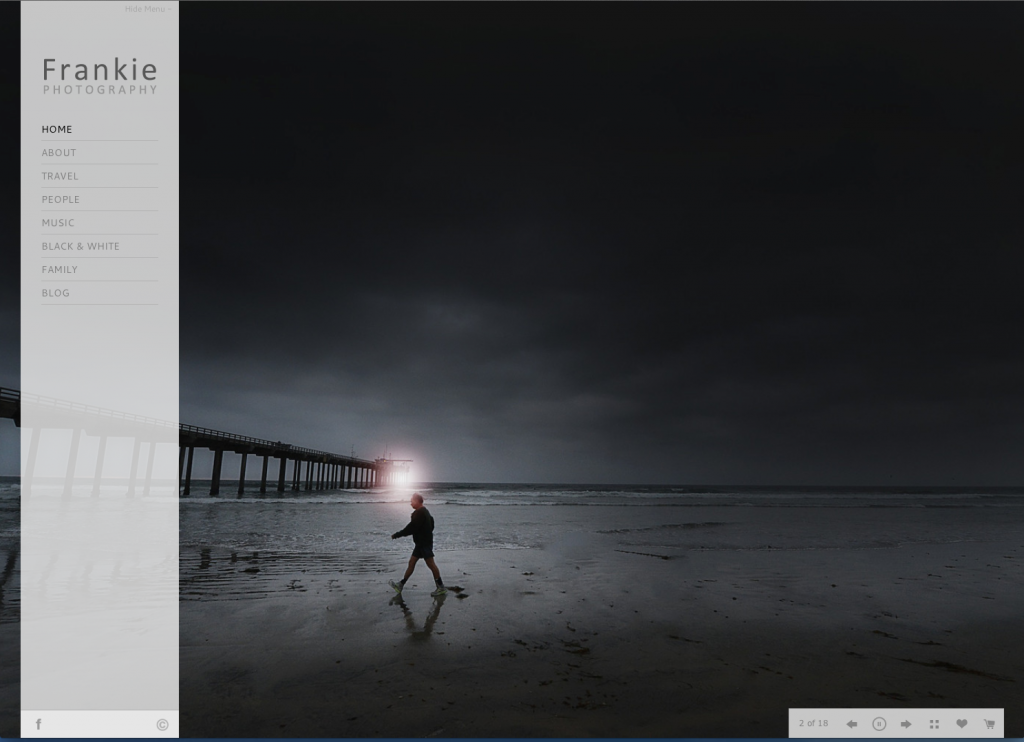 I spend $30 a month for this site.  That's by far the most that I spend on any site that I use and I spend it because it is worth it.  Although I am just an amateur, SmugMug is built for professional photographers.  They have integrated printing services, a shopping basket and an infinite number of customization options for galleries and your site.
I got my site customized by www.fastlinemedia.com and they even integrated a blog on my SmugMug site.  A blog is a critical must have for photo sharing. I personally think it is impossible to adequately share your photos without one.
Check out www.smugmug.com if you want to look at this site and sign-up, there are free accounts you can get and some amazing new templates.  They are really improving lately.
While SmugMug ranks high for all of the professional services and customization, the lacking part of their site seems to be in the community and sharing.  You can view other peoples galleries but there just doesn't seem to be a good mechanism for viewing and voting other photos as they come in on stream as they are uploaded.
#2 – 500PX – The Best Place to Showcase your Best Photos.  (My Site – www.frankmckenna.com)
How I use it?  I use this site to share my best photos.  I do not store pictures here or print from this site.  I use this because they have the best sharing community on the internet.  You can get a lot of exposure from all over the world when you upload here.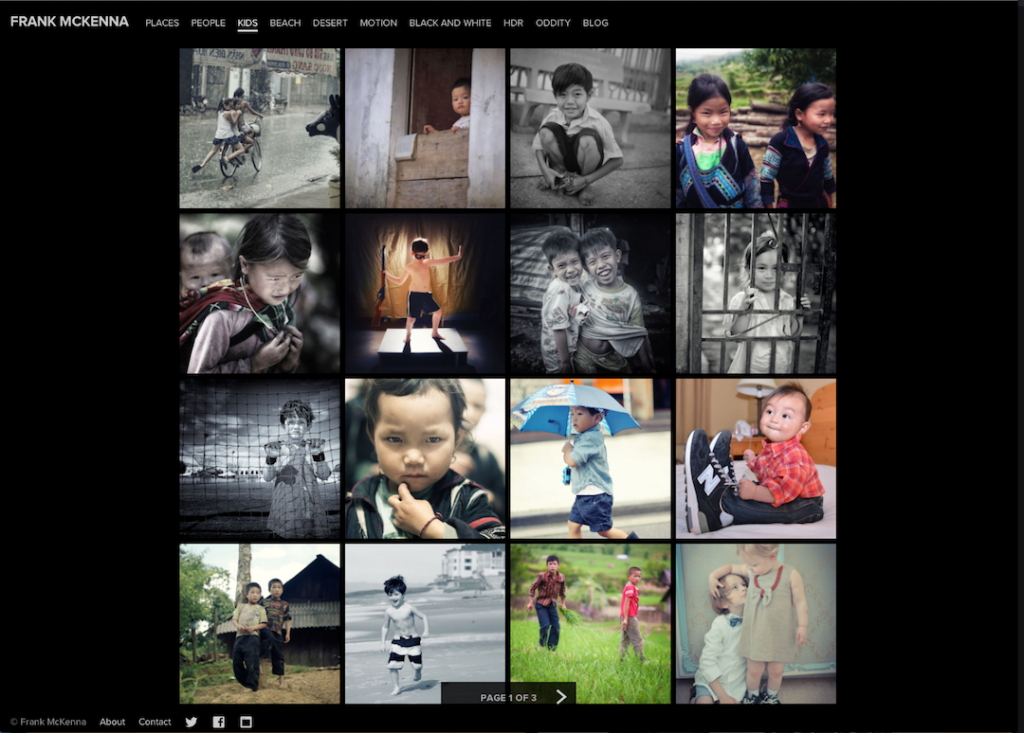 I think 500PX and SmugMug are in an all out war.  You see SmugMug originally started out years ago and their whole strategy was to present users photos in a way that made them look beautiful.  More recently 500PX started with the same concept.  But 500PX setup a system where you only upload one photo at a time.
They wanted users to share only their best work.  Their less is more concept worked and 500PX quickly emerged as a place to share your best work.  This was not the place to share all of your work.
I have an awesome account which is their premium account level and it runs less than a couple of hundred a year.  It is well worth it.  Why do I use 500px in addition to SmugMug?
Well, because I get a ton of inspiration off 500PX, they have great customized sites where I can share a link to some of my best work and they are a place where the best photographers in the world share their work.  Both sites serve a different purpose.
#3 – Tumblr – The place to share artistic images or just to get more exposure. (My Site –http://frankiefoto.tumblr.com)
How I use it? Tumblr has a very young age demographic.  So I primarily use this site to share my beach and surfing pictures and pictures of San Diego.  The photo sharing is a lot like Instagram (which I do not use) and it allows me to get more links to my blog for traffic.  
Tumblr also is a pretty awesome site to capture some truly artistic work.  I follow some amazing photographers on this site.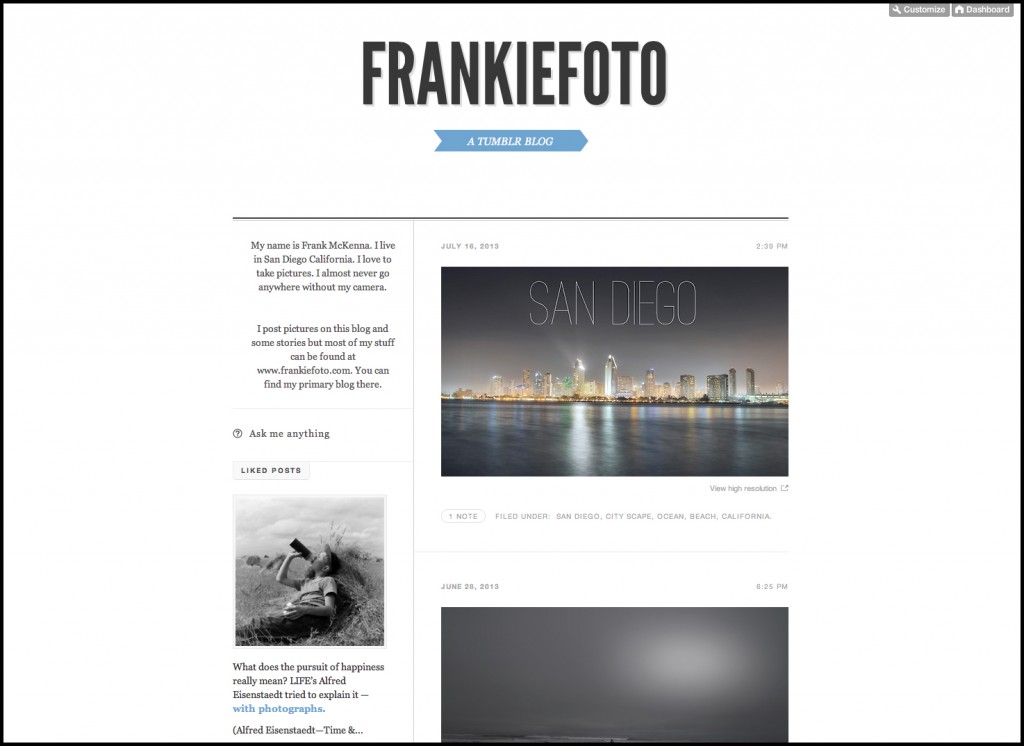 Now Tumblr is free and while it is considered a blog, I don't really consider it a blog.  Definitely not like WordPress.  To me Tumblr is just a more sophisticated Instagram with some additional features and capability to use it on the Desktop.
I don't find the pictures to be great resolution because they are typically small but it is  a great site to get a pretty big market of viewers very quickly.
#4 – Facebook – This is the best site to share personal photos with your friends and family. (My Site – https://www.facebook.com/pages/Vinh-Long-Orphanage/434930639893998)
How I use it? I post personal family photos for sharing with friends and family.  I don't like to share much more than that on Facebook because the resolution is so bad it makes the pictures look pretty crappy.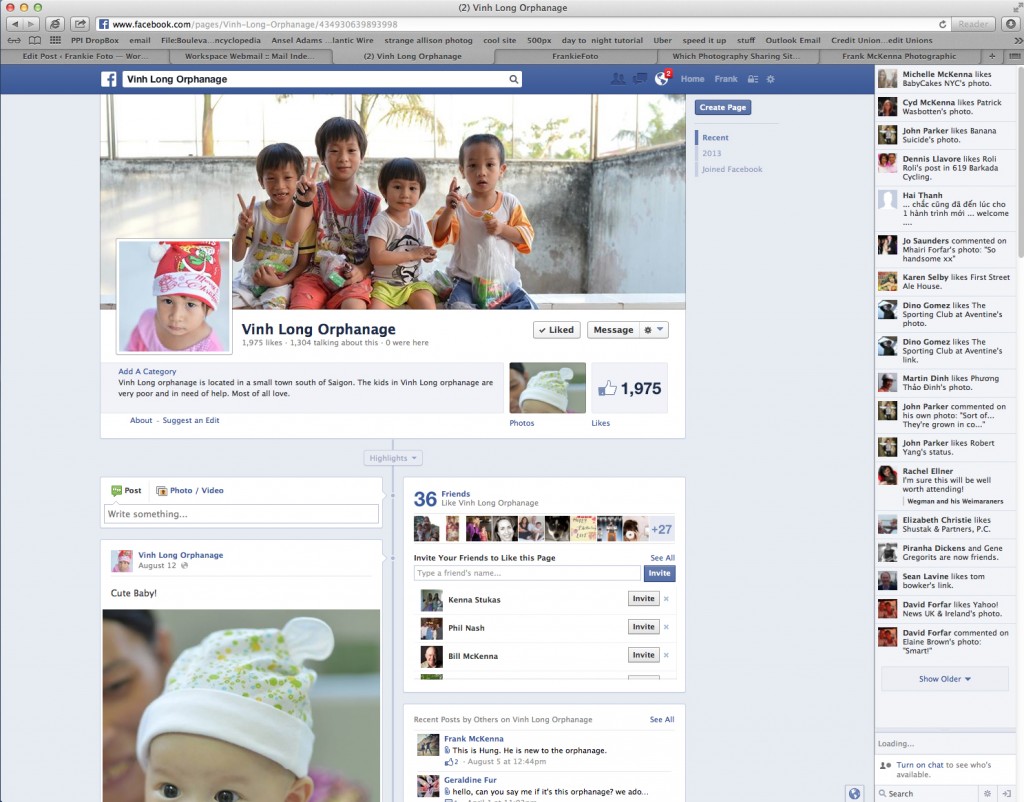 Arrgh.  I know.  I think photos look like crap on Facebook.  But the fact is that Facebook has the easiest interface for sharing personal photos with your personal connections.
I also think FaceBook has an amazing capability to reach a broad audience for your photography work if you are willing to put up with the substandard picture quality and pay a lot of money to promote your site on other people's timelines.
It's also great for promoting a cause with your photography. I have a photography project with Vinh Long Orphanage in Vietnam and I have been able to post photos and get a world-wide reach to get them more exposure.
Facebook is free.  It connects you to hundreds of millions of people.  You almost have to be on Facebook to share photography even if the pictures don't look good.
#5 – Pinterest – This is the best site to share photo ideas with people you are working with. (My Site –http://pinterest.com/frankiefoto/boards/)
How I use it? I use it as a way to have another channel to promote by blog and writing.  I find that that Pinterest crowd are a bit more interested in lifestyle.  Also, I use it share photos of kids and home life.  The Pinterest crowd seems to be more in tune with this type of photography.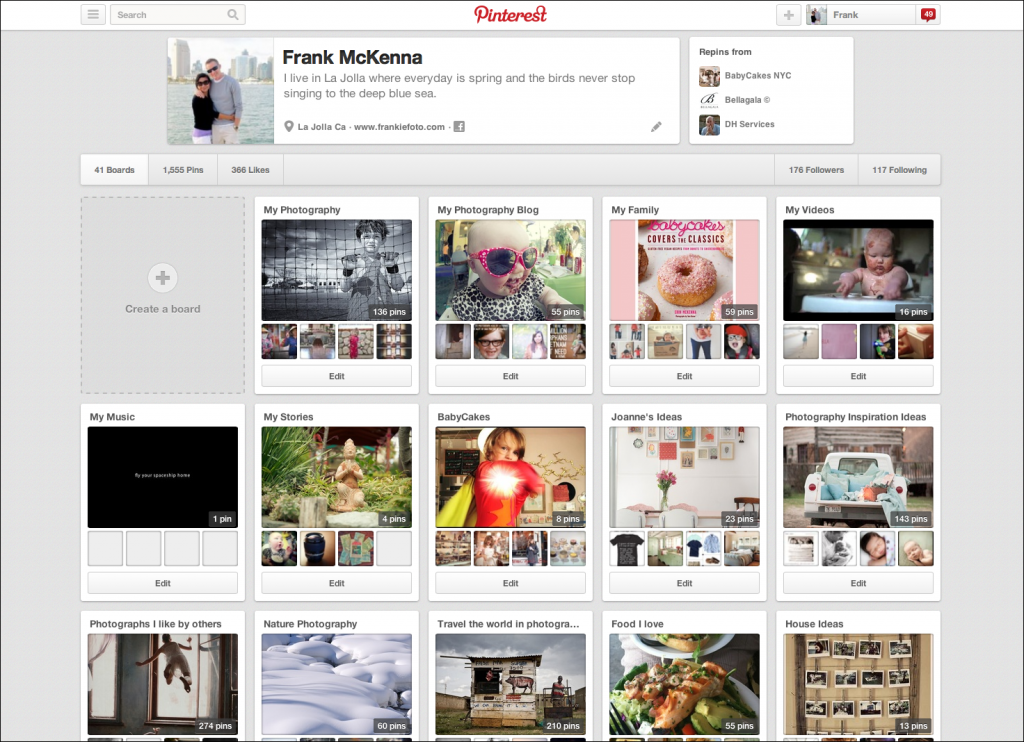 Pinterest is unique.  They seem like the only photography site that is directed toward working on future projects rather than showing older work.  I don't share much on Pinterest and I don't get a lot of interaction with other people on the site but I do find it invaluable for sharing my work and other ideas with people that I will be working with.
In fact Pinterest has become the go-to place for wedding photographers working with their clients.
Even if it does destroy some of the creativity of the photographer it is an invaluable site to have your photographs on.  Check out this great article I read on it yesterday. Pinterest Destroys Creativity.
So what is not on the list, here are the ones I am not a big fan of
Google Plus  I share on Google Plus and photographers swear by it but for some reason if you're not Trey Ratcliff or another super celebrity photographer it just doesn't seem to work.
I think the photos look beautiful but quite honestly I just don't think the general public has quite figured out when and where to use Google Plus.  For that reason it didn't make my top 5
Instagram – I share on Instagram to but it is limited to sharing photos from your iPhone.  To me that just replicates what I use Facebook for so I don't bother.  Instagram is great for businesses to share their product and is great advertising it just doesn't work for me.
Flickr – I have an account on Flickr too but honestly their site looks outdated and pictures don't look great on it.  I think Flickr is on the decline and its never really worked for me. It didn't make the cut.
ShutterFly – I have an account on Shutterfly too but everything about Shutterfly is outdated.
The printing is not good.  The picture quality is bad.  They don't store the full resolution images for you to download later.  ShutterFly is great for a few things but I don't find them useful.
Adobe Reveal – Adobe Reveal used to be photoshop.com but they changed the branding and quite honestly its crap.
I used to like it but in typical adobe fashion they just were playing outside their core competency and it just doesn't work.  Adobe makes great software, they don't make great photosharing sites.