Oh Lord take me to Salvation Mountain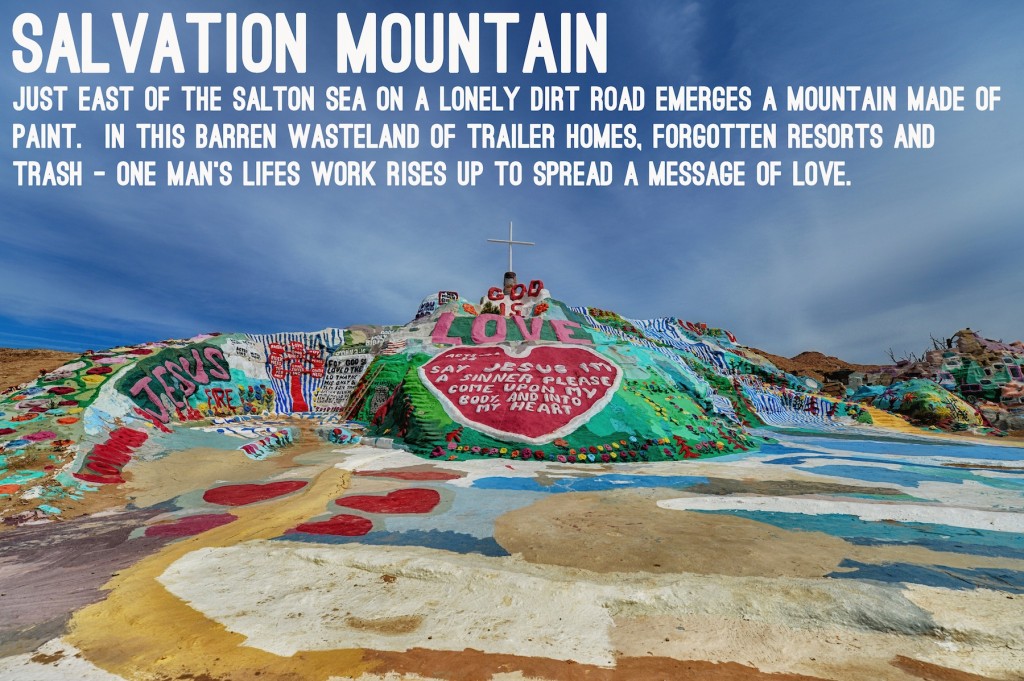 I pulled into the dirt parking lot which seemed to be an eclectic mix of heavily graffitied  cars and dusty trailers, trucks and sofas.   I had arrived at Salvation Mountain, all 50 feet high and 150 feet wide of it.  There were no other mountains around, in fact everything around the surrounding desert was flat and rocky.  This was not a mirage in the middle of the desert but a mountain built by one man and made entirely of paint and adobe.  His mission was to spread the word that "God is Love".  Many people in the world have the same mission but the man that built this strange and beautiful shrine has done something more extraordinary than anyone before.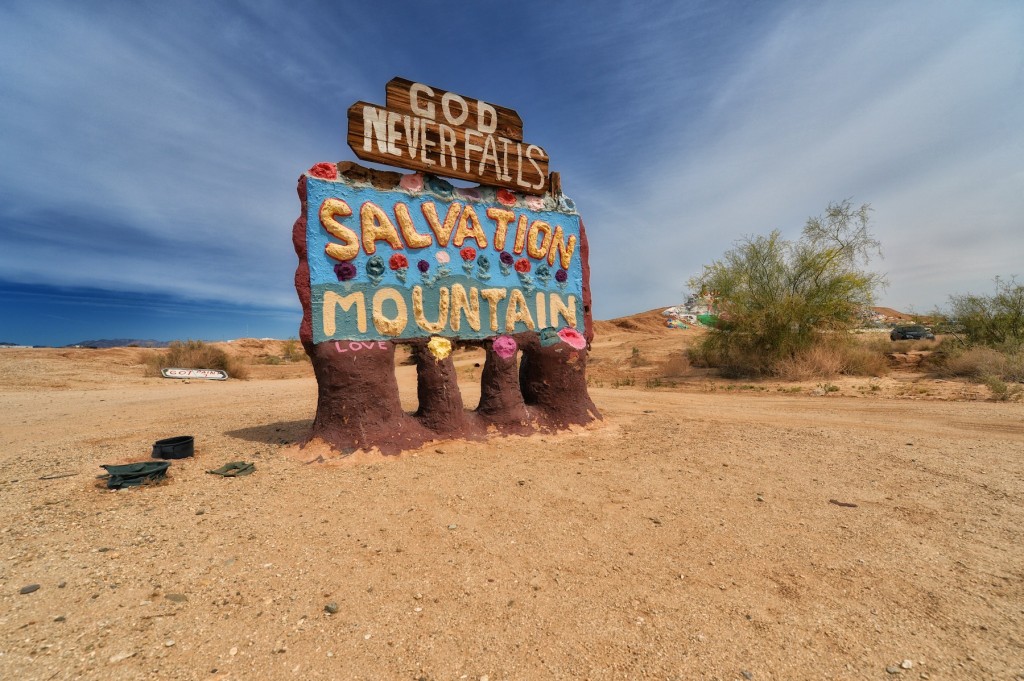 The Man
Leonard Knight was born in 1931 in Vermont and moved to San Diego in 1956.  A devout Christian he had a dream to build a hot air balloon where he would advertise the Lord's Prayer to spread the word.  Over many years he stitched together a huge balloon but after many failed attempts to inflate it the balloon began to rot and fall apart.  On to Plan B.
Many people became introduced to Leonard Knight when he appeared in the hit movie "Into the Wild".  You can sense his passion for his creation in the movie.
In 1984 Leonard Knight traveled to the little town of Slab City and liked the weather so much he decided to stay.  Since his balloon attempt failed he decided to build a small monument in the desert with a single bag of cement.  One thing lead to another and his monument started to get bigger and bigger each day.  For four years he built what started to become a mountain.  Then one day the ground underneath the mountain was so unstable that it all came falling down.  On the Plan C.

Larry Yust, Photographer took this picture of the original mountain before and after it crumbled.  (Courtesy of SalvationMountain.com)
Leonard did not give up, rather changed the material that he was using to native adobe clay and straw.  As he built up the mountain be began coating it with paint to keep the clay from eroding.  Leonard had found the secret mix that would keep Salvation Mountain together.  The more he painted, the stronger the mountain became and the more people that started to come.  Leonard had built something infinitely more valuable than a hot air balloon.  He had built a mountain in the desert.
Leonard, now 80 years old is in a care facility back in San Diego so he does not care for the mountain anymore.  Rather volunteers keep the mountain up which to this day continues to grow and attract people.  The mountain is a testament to the tenacity of one man to build something in spite of failure after failure.
You can check out a selection of my pictures from Salvation Mountain at this gallery link  – Gallery of Salvation Mountain in Niland California.
Builder Bob or Bob the Builder
A dusty man greeted me at the mountain.  Deeply tanned he told me his name was Bob but I could call him Builder Bob because that is what he did.  He takes care of the mountain now that Leonard is gone.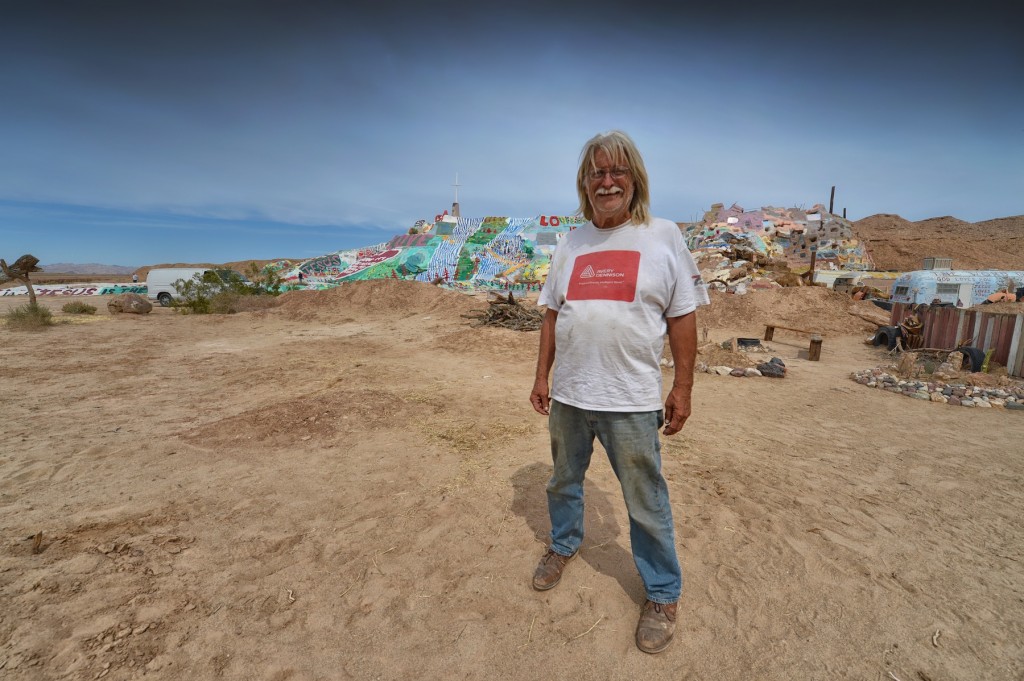 He lives in an aluminum Airstream right next to the mountain.  On the day I was there he was taking in a band of roving musicians called "Cadaver" from Germany to stay with him and help maintain the mountain.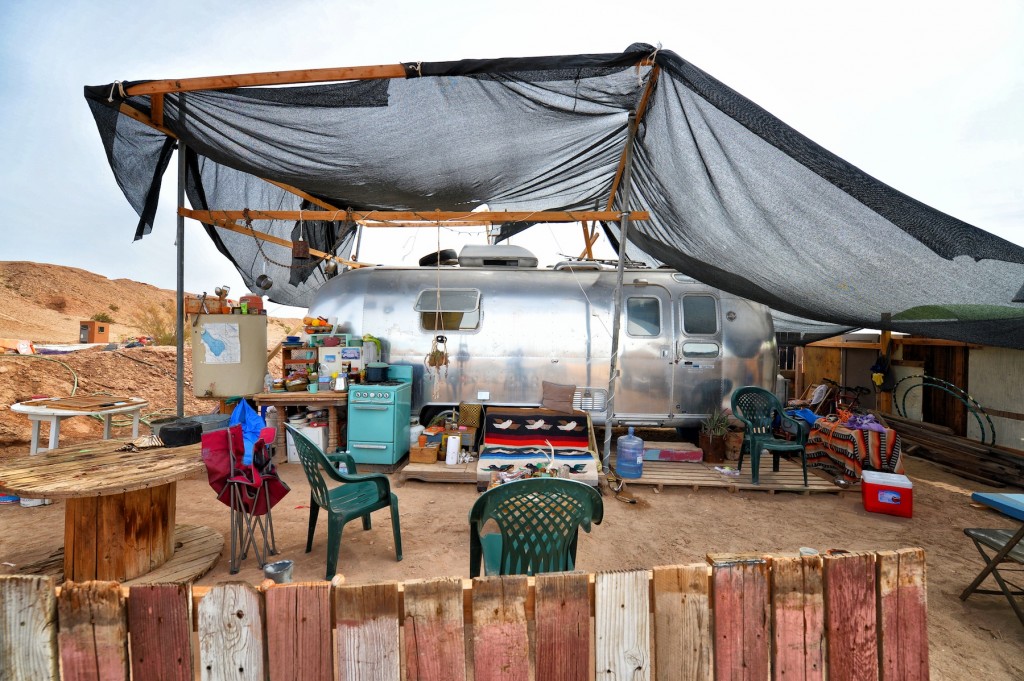 Bob the Builder smiled as I gave him a $20 donation and said that it would go towards paint on the mountain.  In some ways I was quite thrilled to know that I would somehow be responsible for helping to build up the mountain.  But part of me questions how long the mountain would actually remain standing.  I mean Bob the Builder seemed to be doing an admiral job of keeping it up but the real passion behind the mountain – Leonard Knight – was aging and now in a nursing home. Would the mountain still be here in 50 years?   I am not sure of the answer.  Part of me doubts it.
The Message
The message of the mountain is Love.  That much is clear because that word appears hundreds of times – painted into everywhere you look.  The other message is repentance.  That word appears everywhere too.  There are old trucks that are painted and they are scattered everywhere around the mountain.  You can go in some.  The trucks wheels are buried in the sand.  They have not moved for years.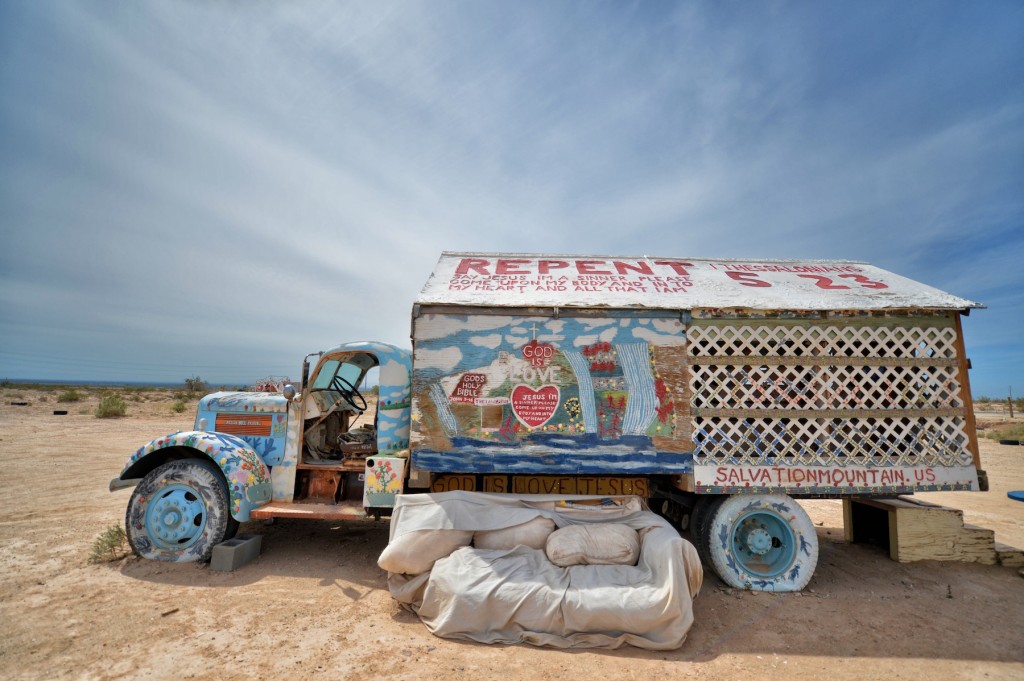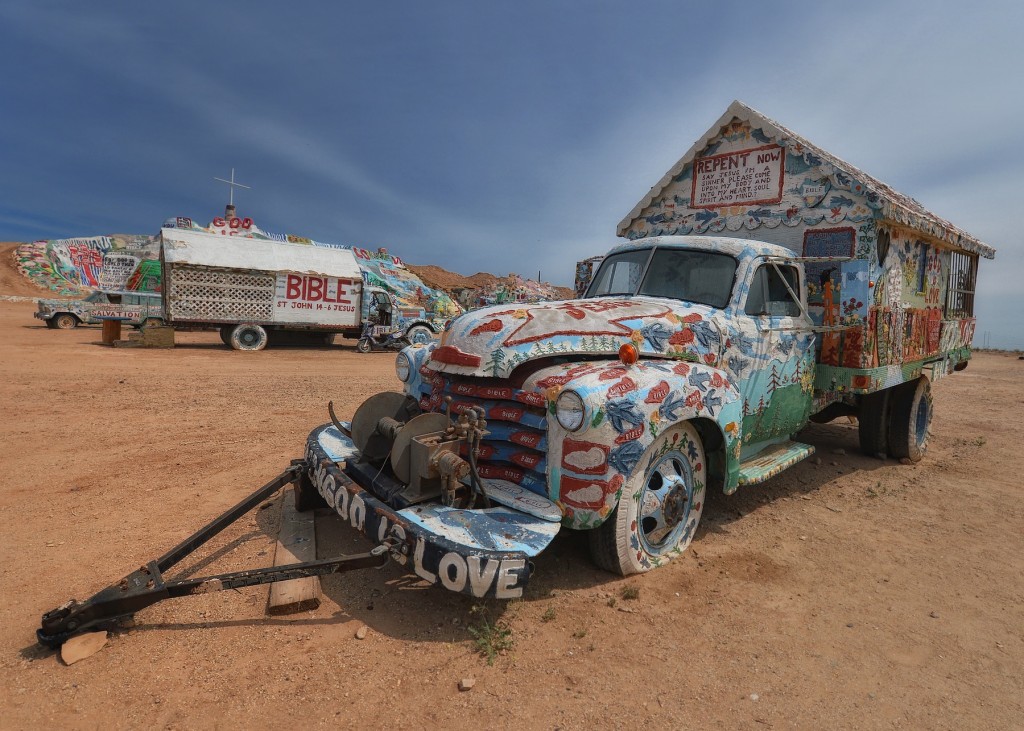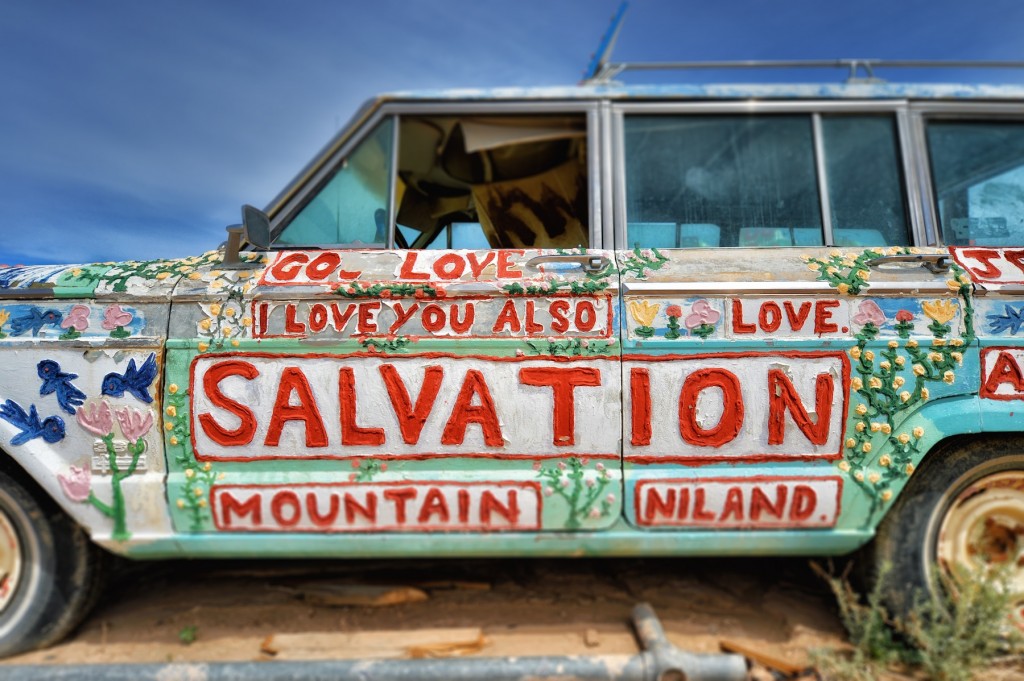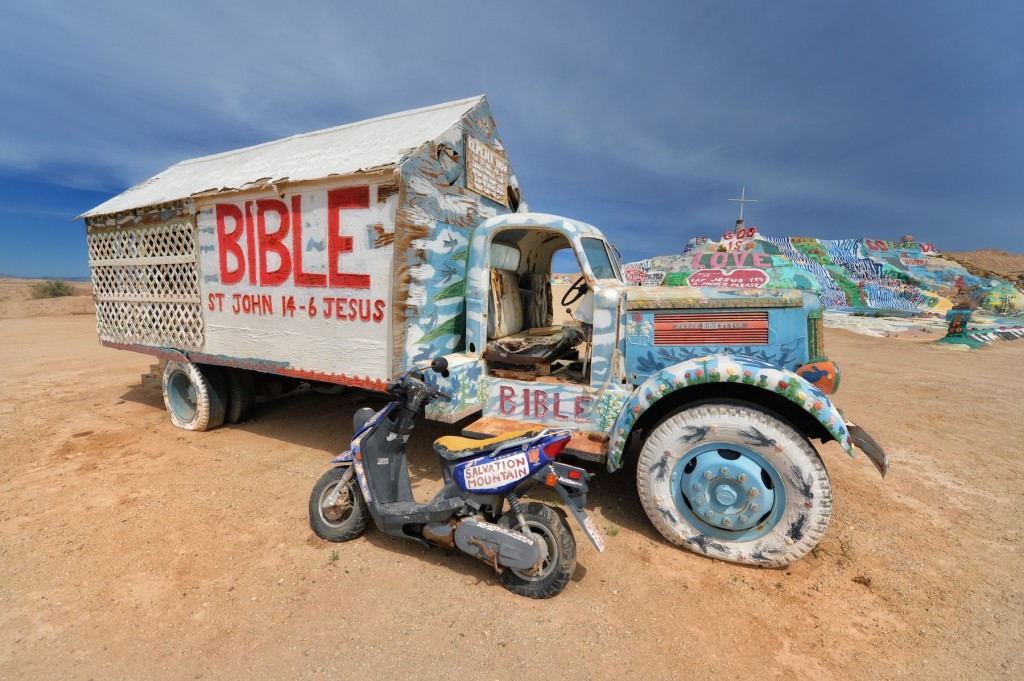 If you have ever watched the TV Show Breaking Bad and you love it then you might want to head out to this area.  The dusty desert roads and derelict scenes are reminiscent of Walter White and his Motor Home Meth Labs.  This truck in particular reminded me of something you would have seen in the show.  This motor home was actually working and moving.  Someone lives in it.  I am not sure who but it was cool.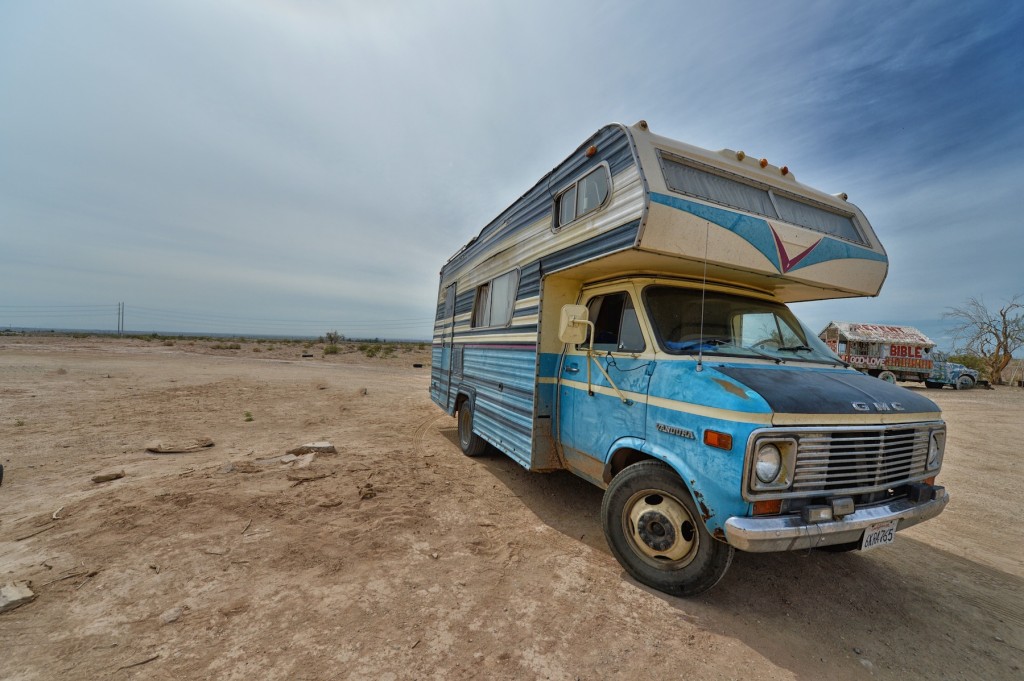 The Graveyard for Old Motor Homes
I love Airstreams.  There are a few here.  They look they have not been moved in many years. They are painted with hundreds of pounds of paint anyway, I am sure that it would crack off and fall if they ever tried to move it.  You can take a walk around these old cars and motor homes and just read the painted signs for hours.  There are so many interesting messages everywhere.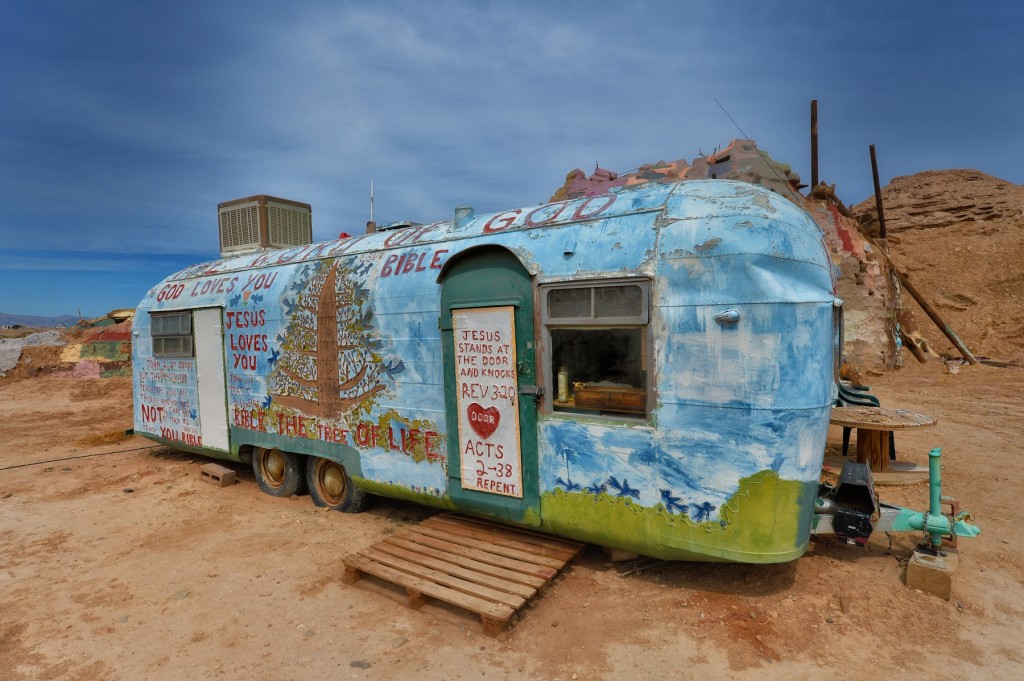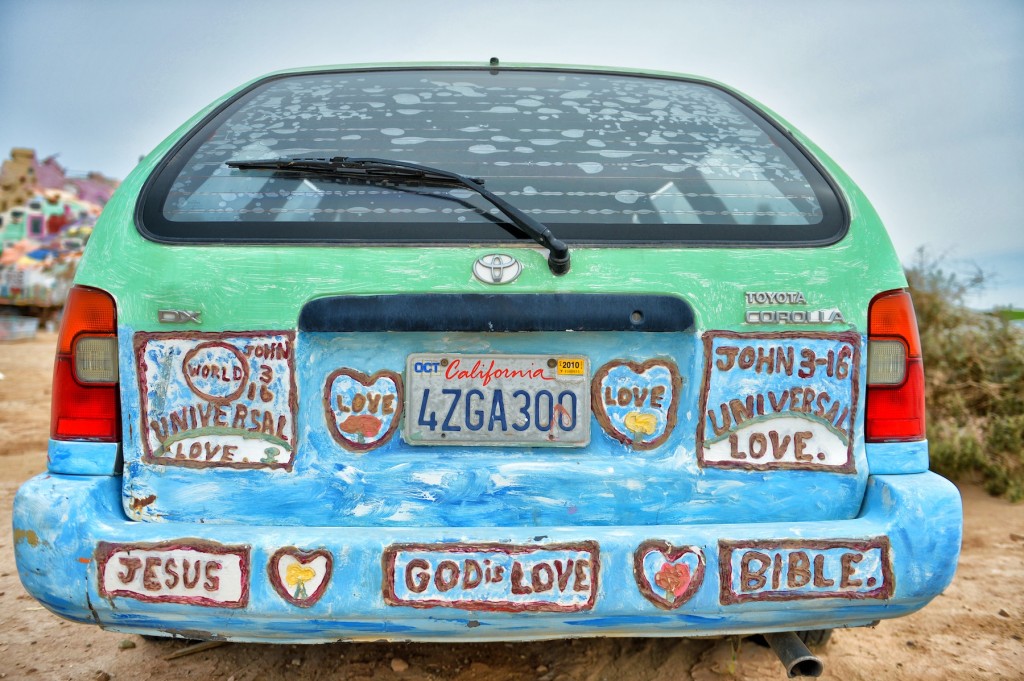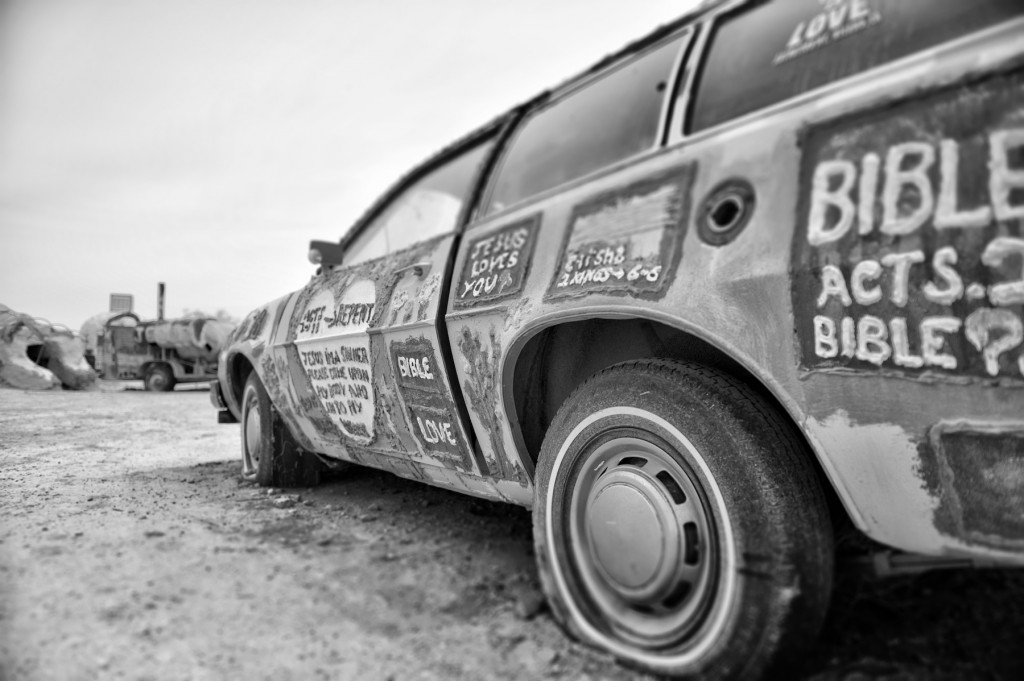 The Tunnels
In addition to the mountain, there are tunnels that Leonard Knight built.  These underground cave like structures are cool, brightly colored places where you can get out of the heat and see shrines made out of trash, old cards and just about everything you can imagine.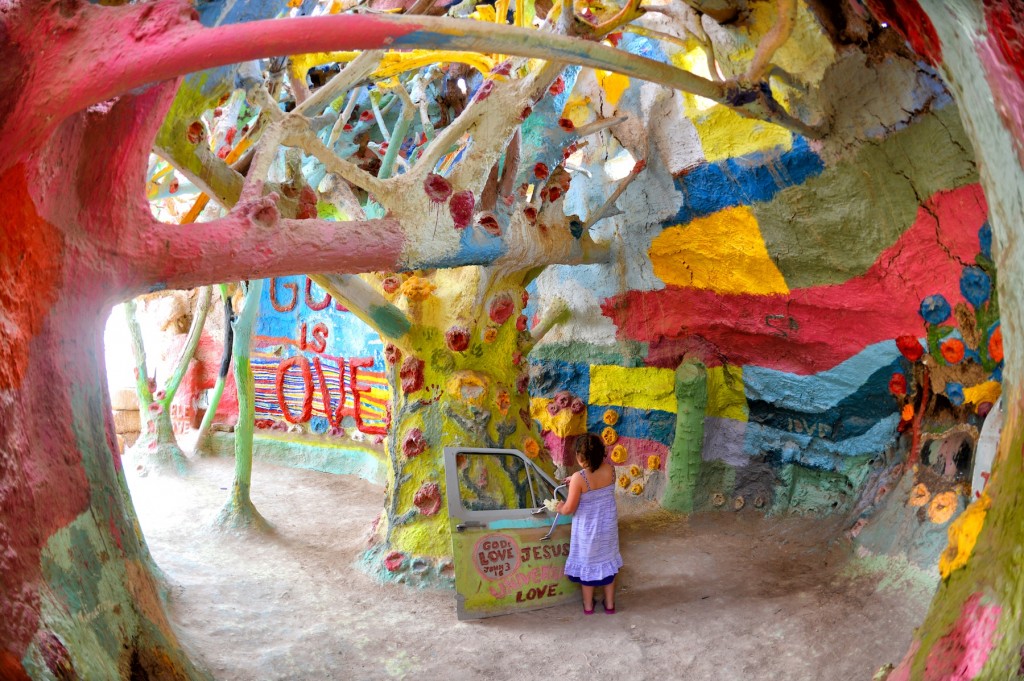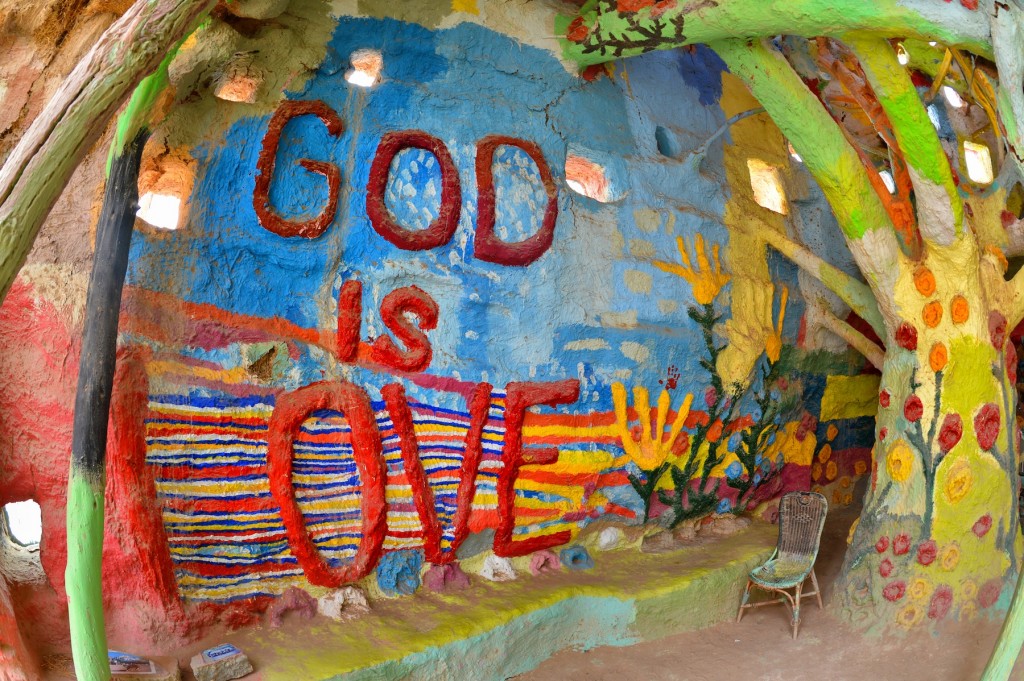 I went twice. 
I arrived at Salvation Mountain at 1 pm.  I stayed for an hour or two taking pictures, talking to Builder Bob and just getting the know the place.  I wanted to be there at sunset so I decided to tour the dusty roads and visit Slab City down the road so I could come back later and take sunset shots.  I was glad I did because the place literally cleared out at sunset and I had the entire mountain to myself.  It was the best part of the day and no one was around.  It was perfect.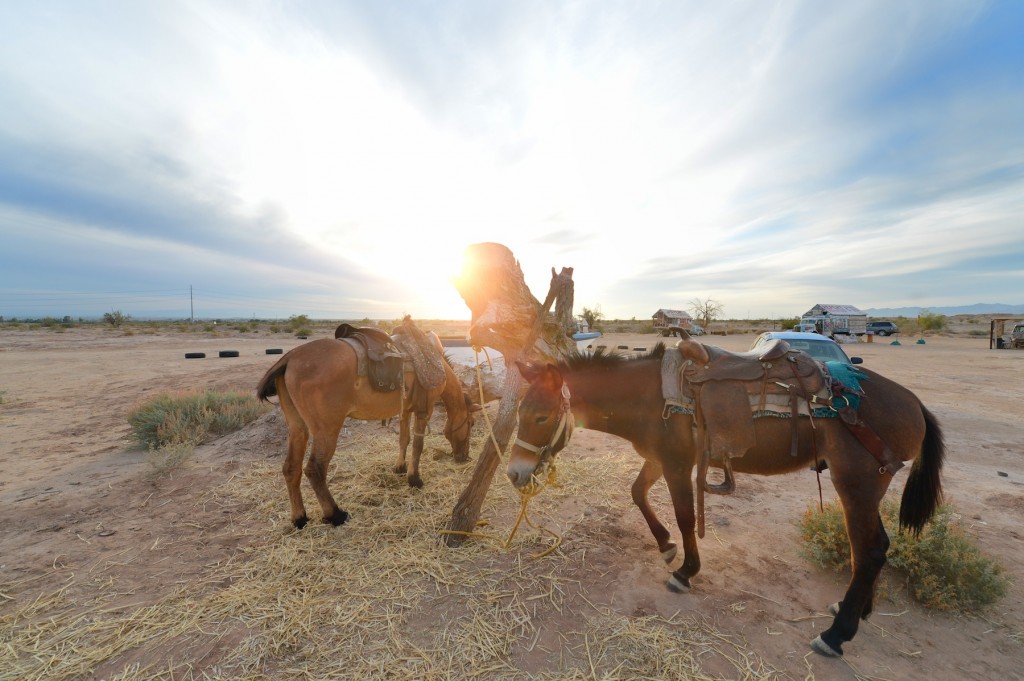 Mules.  Transportation for Builder Bob and his band of helpers.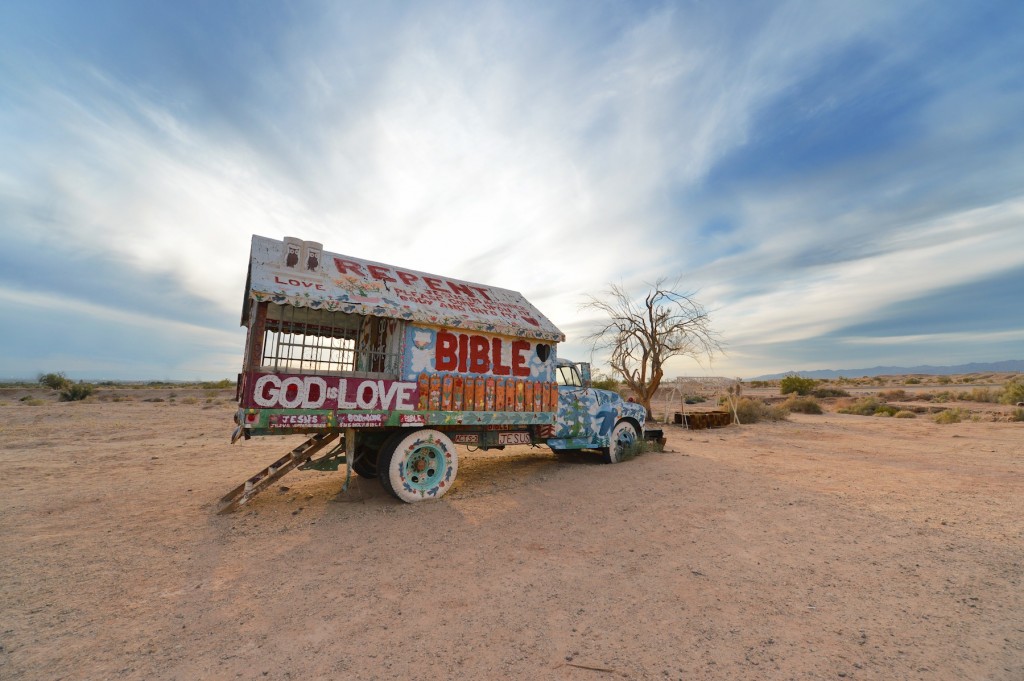 A beautiful glowing desert sunset against the scenes of Salvation Mountain.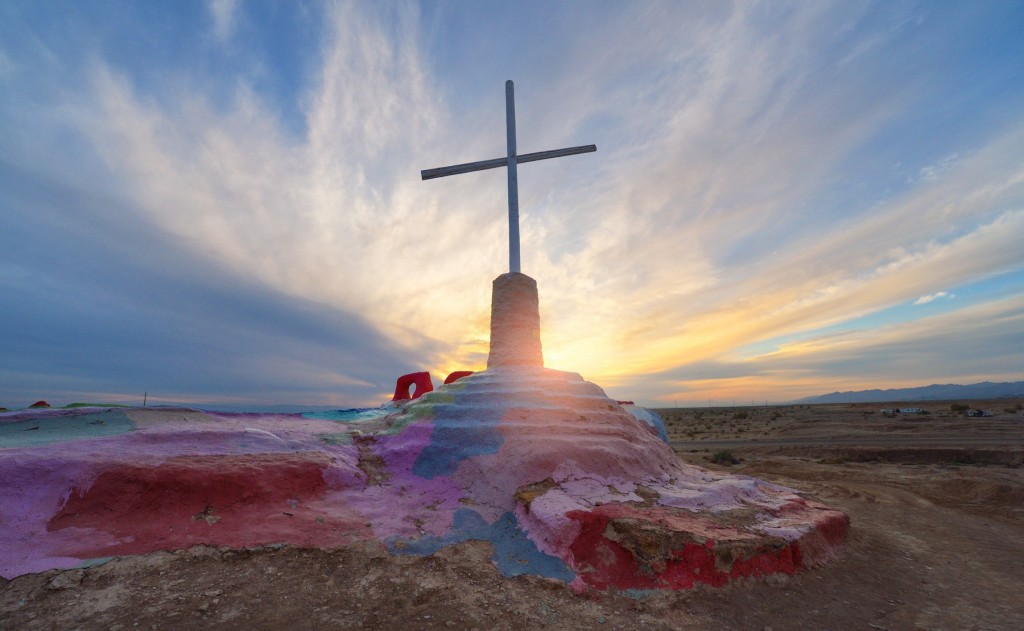 Leonard Knights makeshift cross, glowing against the sunset.
Photographing Salvation Mountain (Google Map It)
With Salton Sea, Slab City, Bombay Beach, North Shore and so many cool areas to photograph, I recommend a full day in the area.  If you are driving from San Diego it is approximately 2.5 hours to get out to Salvation Mountain.  You can leave San Diego at 9am and head back after sunset at about 7 to 8pm.  The best time of day to photograph this area is sunset.  Surprisingly most people don't wait for sunset and miss the most spectacular views of the day.  Trust me you want to stay here until the sun goes down to get your best shots.