12 Best Spots for Night Photography in San Diego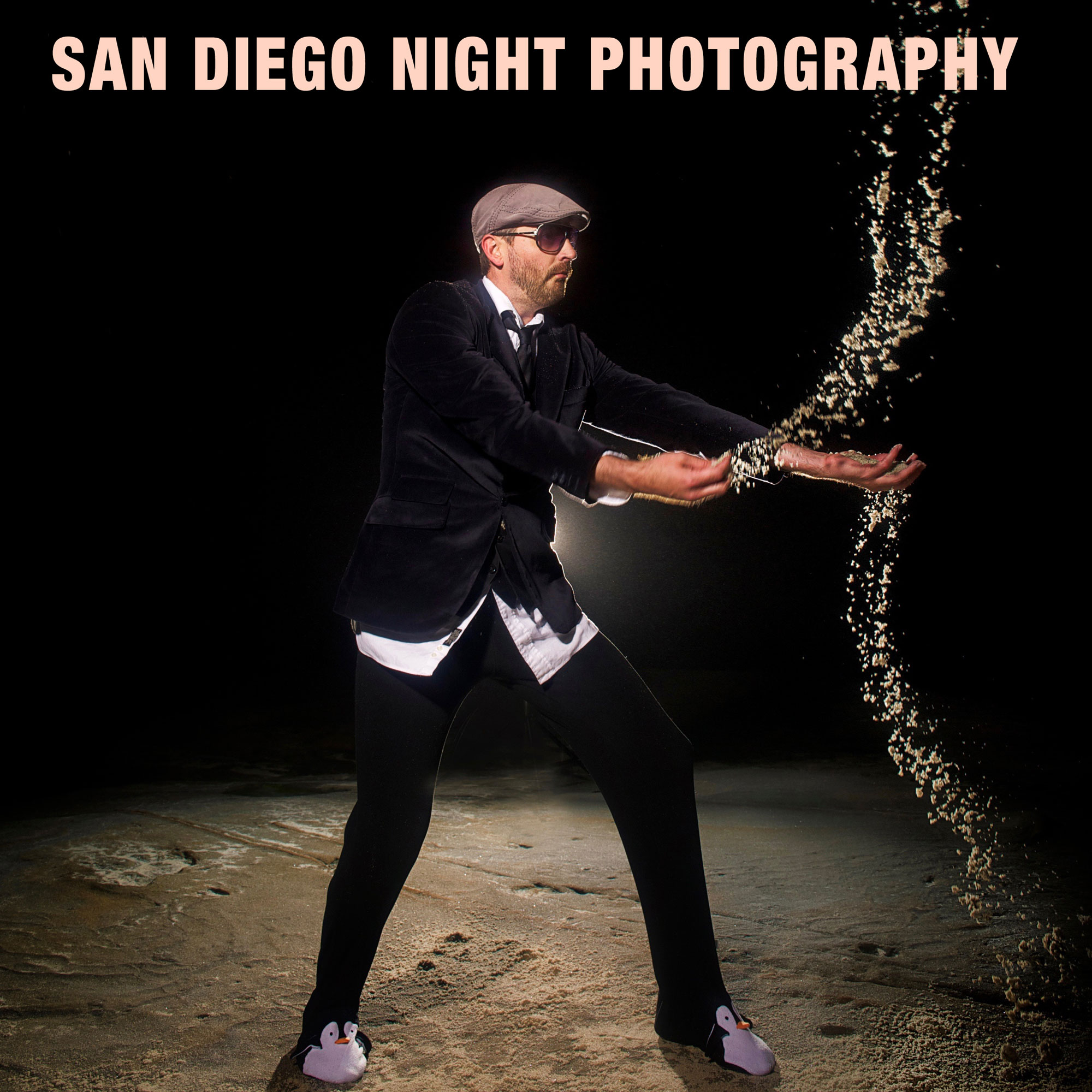 Night Photography is a lot of fun.  I love it.   It is probably one of the closest things to film photography that most of us in the digital age will get.
Since night photography usually involves using a slow shutter speed of 5-30 seconds, you have to wait for your image to "develop" before you can see it.  It is kind of exciting to see what kind of cool lighting you can get with different settings and shutter speeds on the camera.
For those of you that like Night Photography, I put together a list of the best places to take night photo shots around San Diego.  I am a business traveler so wherever I travel on business trips I bring my camera so I can take pictures after work has ended.
If you are here on business in San Diego this might be the ideal guide for you to find places to photograph after you have finished work.    I highly recommend Uber as a way to get around San Diego on the cheap.
#1 Petco Park San Diego (

Google M

ap

)
Petco Park offers several unique vantage points to take night photos.  The best ones are the following
1. Hilton Hotel Parking Structure Located across the street from Petco Park.  This offers multiple sweeping views of the city, Petco Park and the Train exchange.  Go to the top floor of the structure for the best options.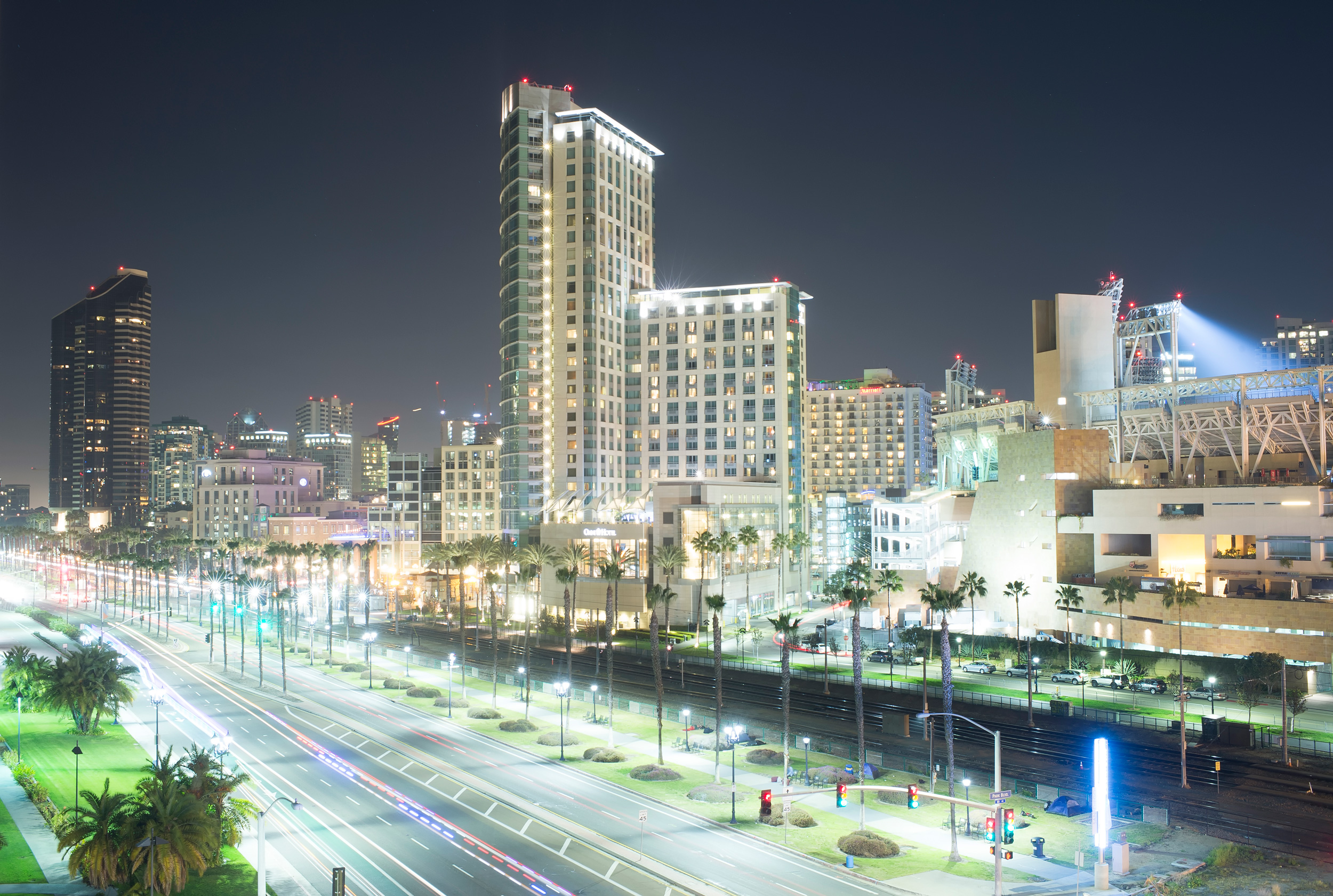 2.  From the Walking Bridge- From the top of the walking bridge there are some great views of trains and the park itself.    Stay awhile and you will see lots of activity.  This is a great place for train watching too.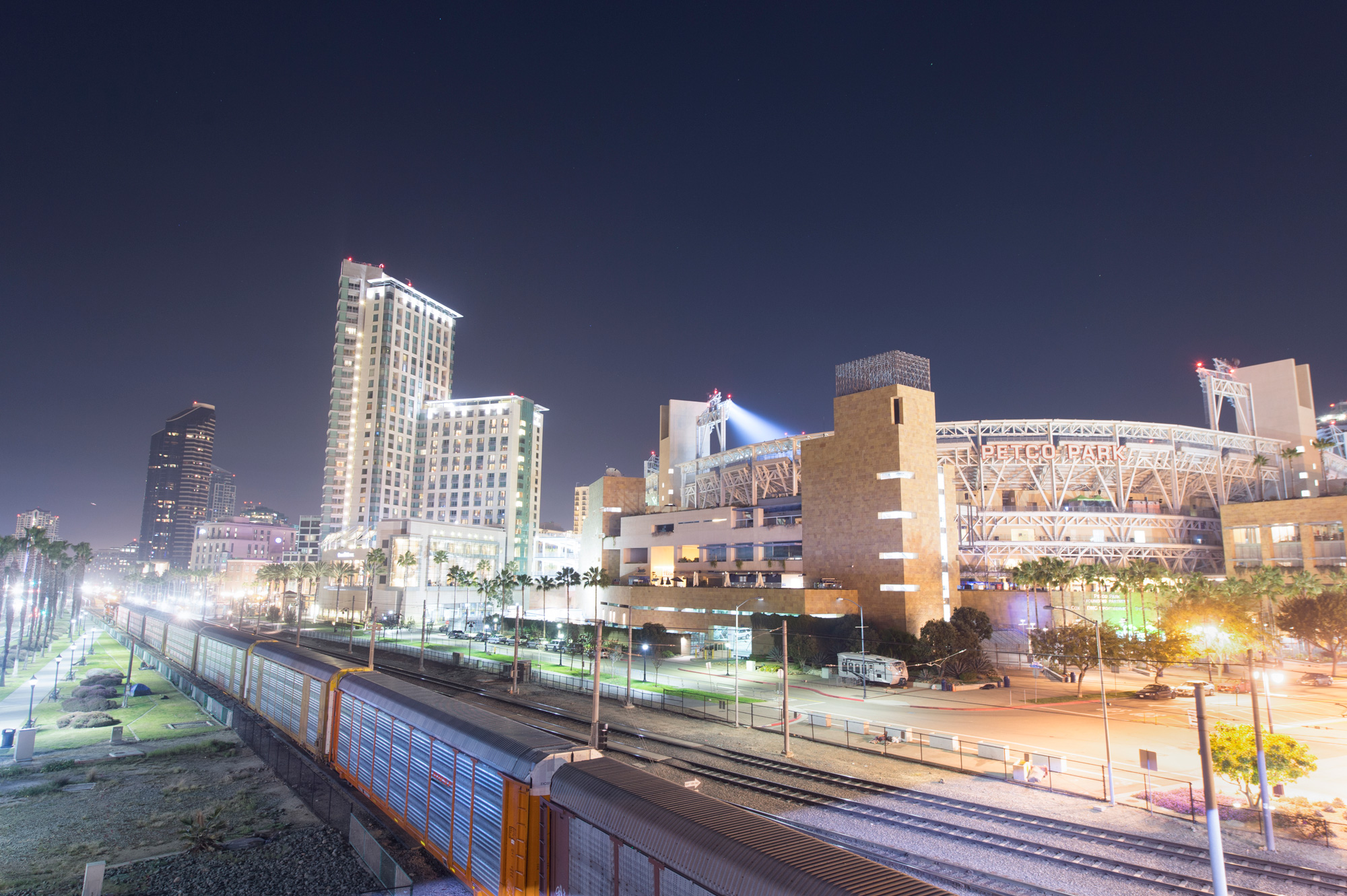 3. Under the Walking Bridge –  Going north or south underneath the walking bridge you can get some fantastic shots as well.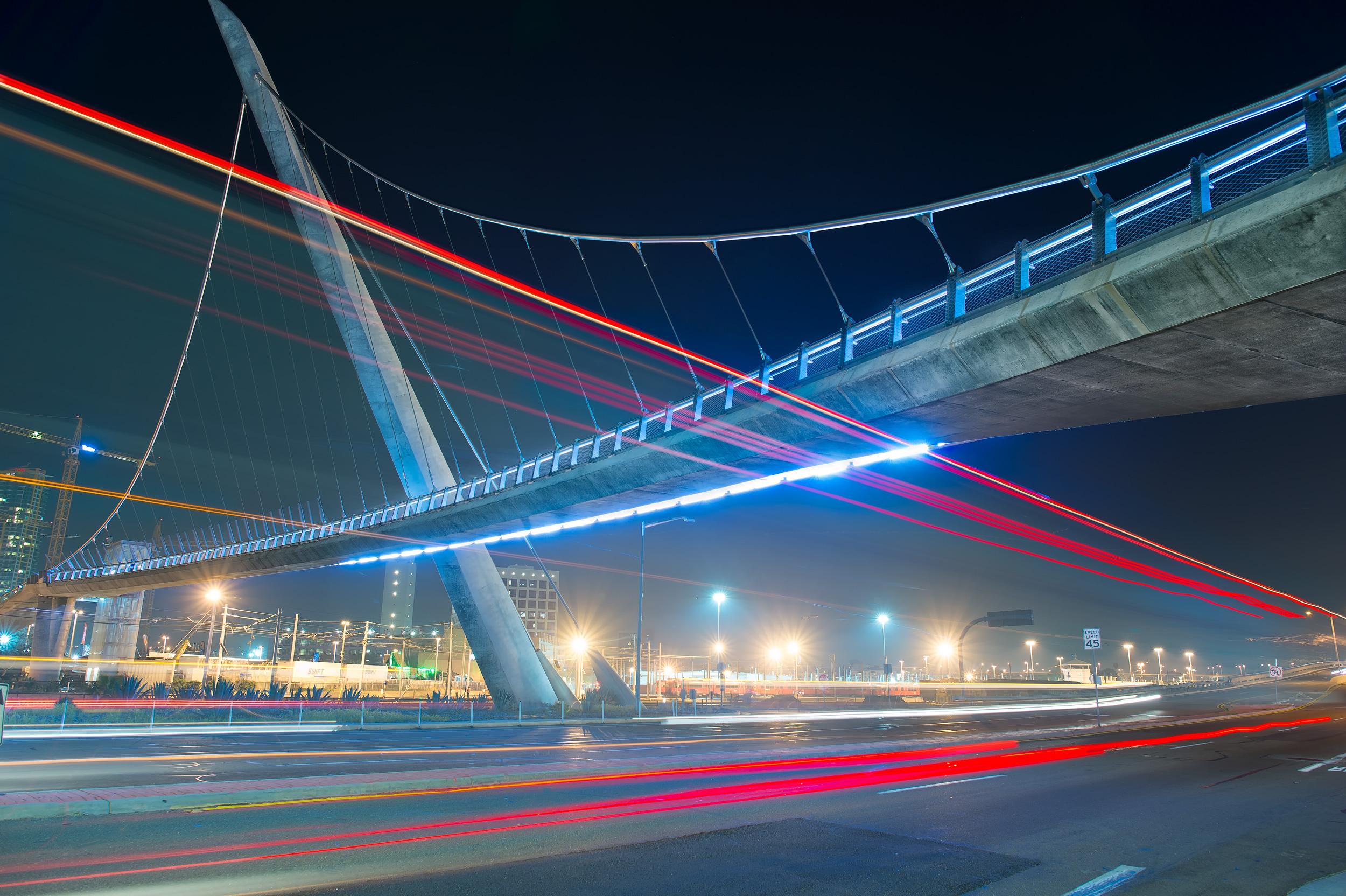 #2  Downtown Convention Center (Google Map It)
Just a short walk North from Petco Park you will hit the San Diego Convention Center.  If you go walk all the way to the top of the steps you will notice an elevator or tram above.
From that elevator you can setup your tripod and getting amazing views of downtown. I like to go there at the blue hour and take photos.  Its a great vantage point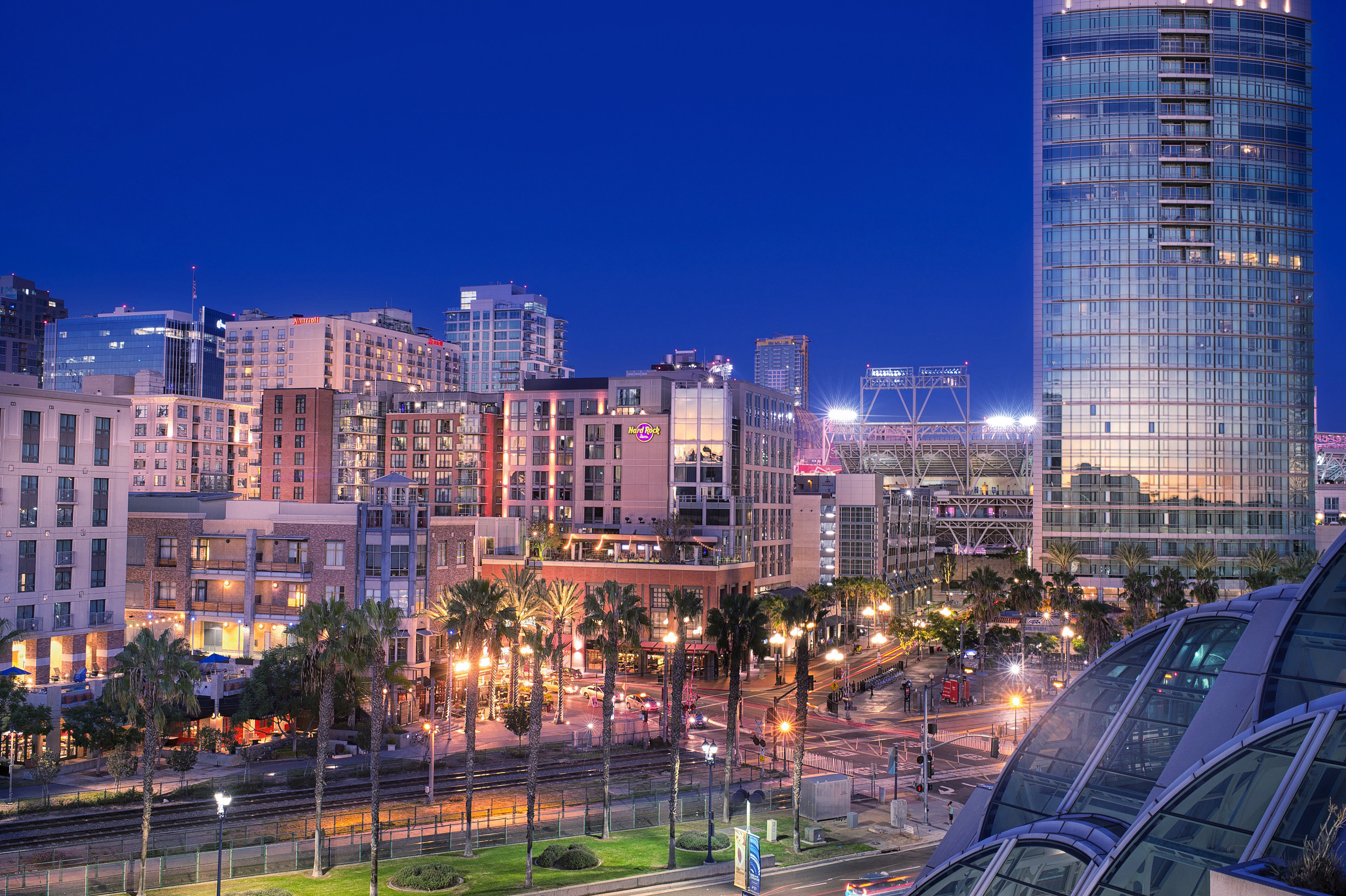 SeaPort Village offers lots of great places to take photos at night.  And this location is literally right next to the convention center so you can hit up this spot after you catch some great pictures of downtown.
I personally like the the Tuna Harbor Dock where you can get really nice views of the San Diego Pier Cafe.  It glows and looks like your picture perfect New England style cottage against the water.
There are literally many different places along the water to catch great shots boats and the hotels.  You'll see many San Diego and tourist photographers out here at night with their tripods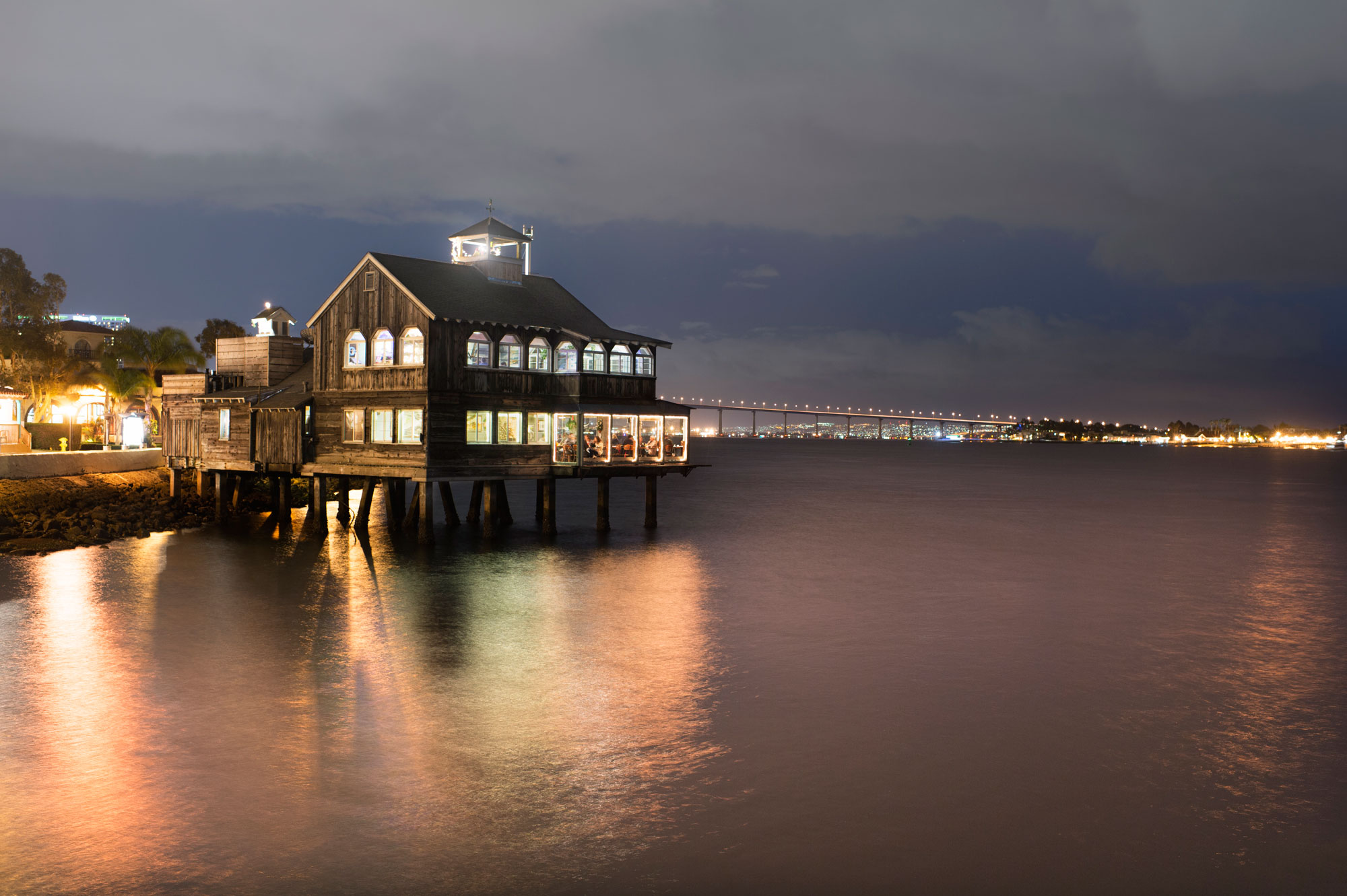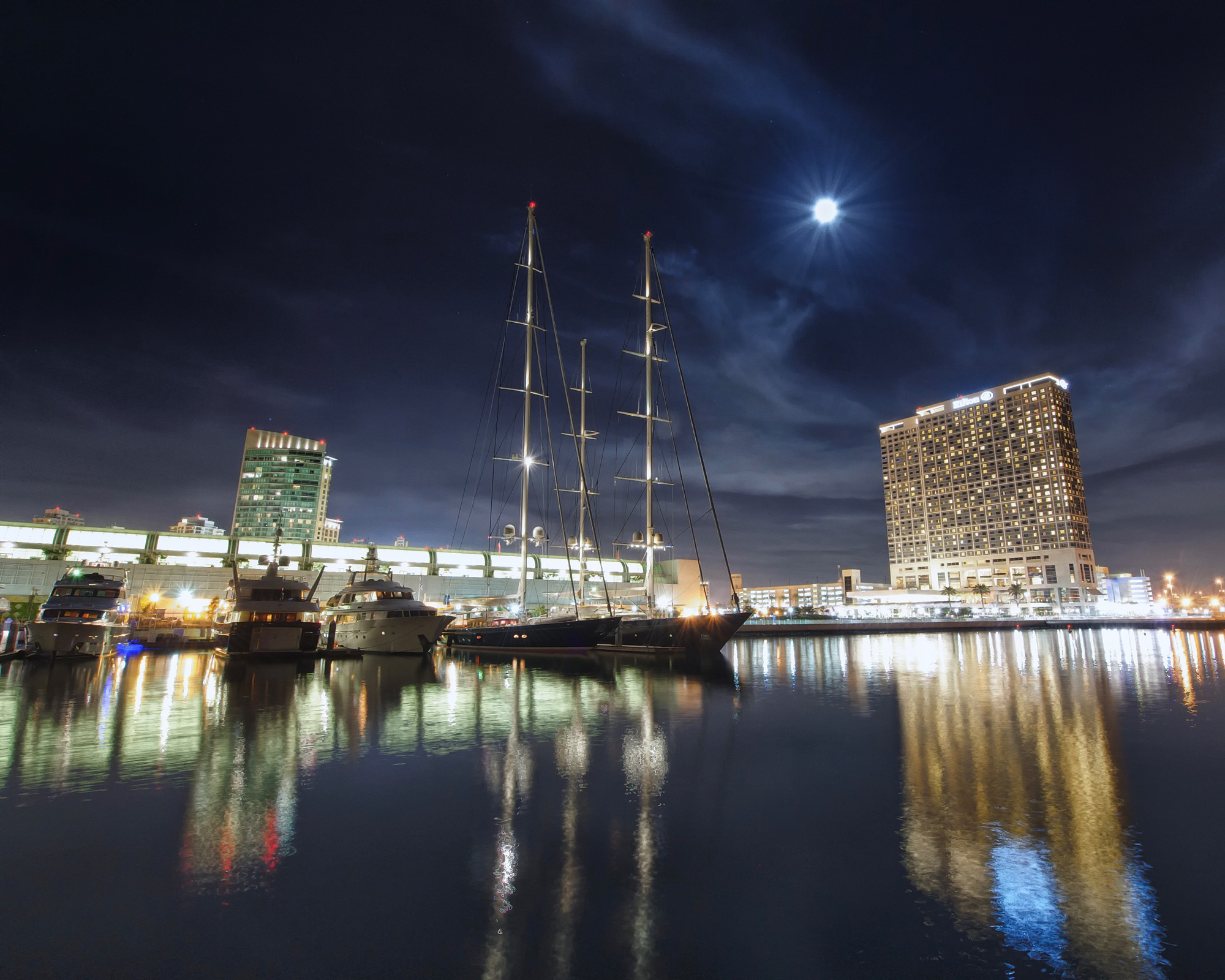 Centennial Park is probably one of the favorite spots for tourist to go and catch that perfect shot of downtown San Diego.
Go across the bridge to Coronado and you can go to Centennial Park and have some gorgeous views of the whole of San Diego from across the Bay.  This is an amazing and easy place to get to for night photographers.
#5  American Plaza Trolley Station (Google Map It)
This is such a cool place to go at night.  The cool old trolley stations are constantly rolling through this curved and beautifully architected station and you can catch some amazing shots here of people and trains and movement.  You could spend hours here and get some great shots.
# 6 The GasLamp District (Google Map it)
The San Diego Gas Lamp Station is a great place to setup your tripod and get some cool shots of San Diego's most night active district – The GasLamp.  This is an old historic part of San Diego that has lots of great restaurants, bars and hotels.    You will love walking around this location after shooting if you have never been.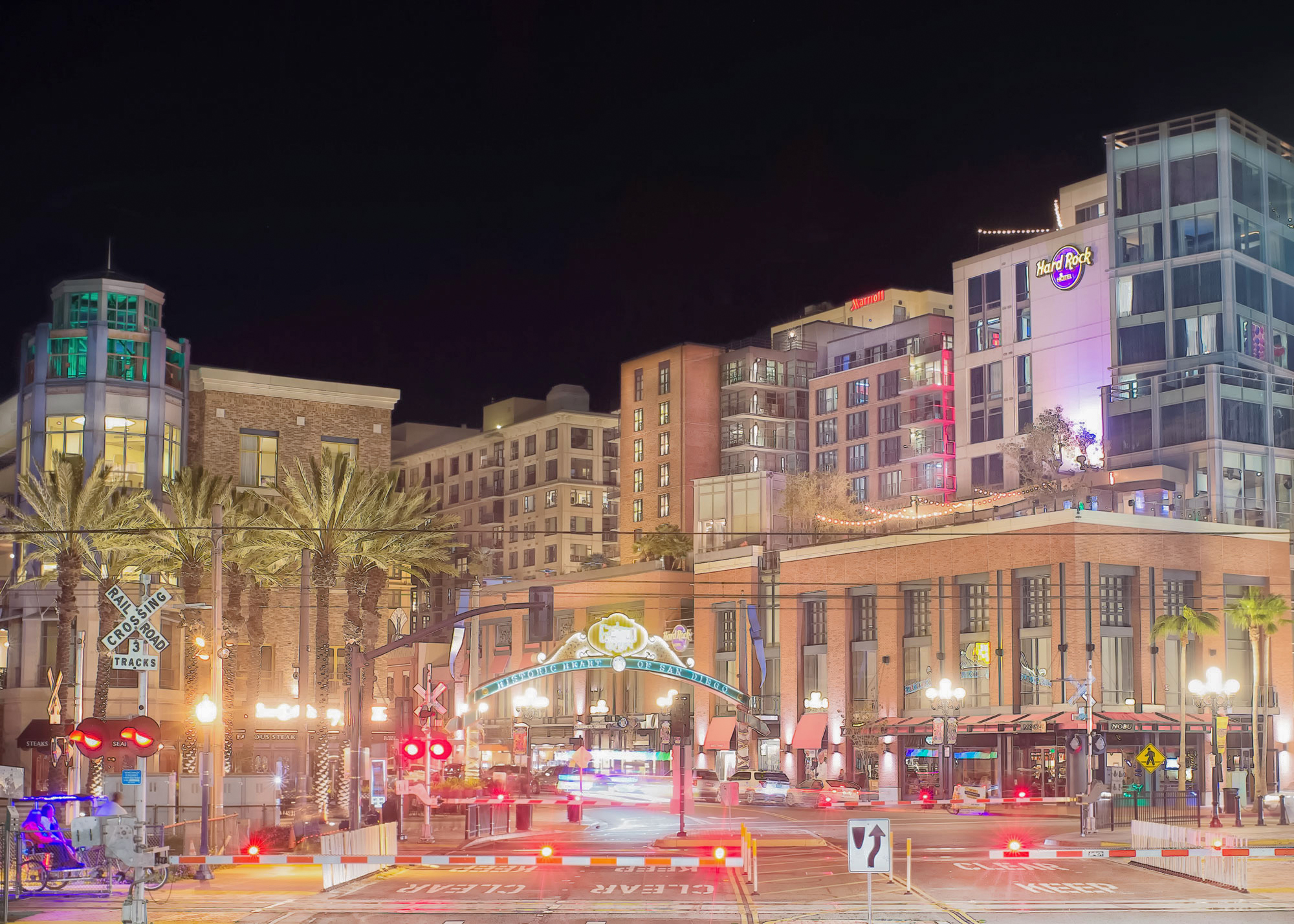 Balboa Park has many places to take some great night photos.  The favorite spots are around the reflection pools and around some of the old church's and fountains.  I like to bring my camera here and spend a couple of hours just browsing unique spots to take some great night photography.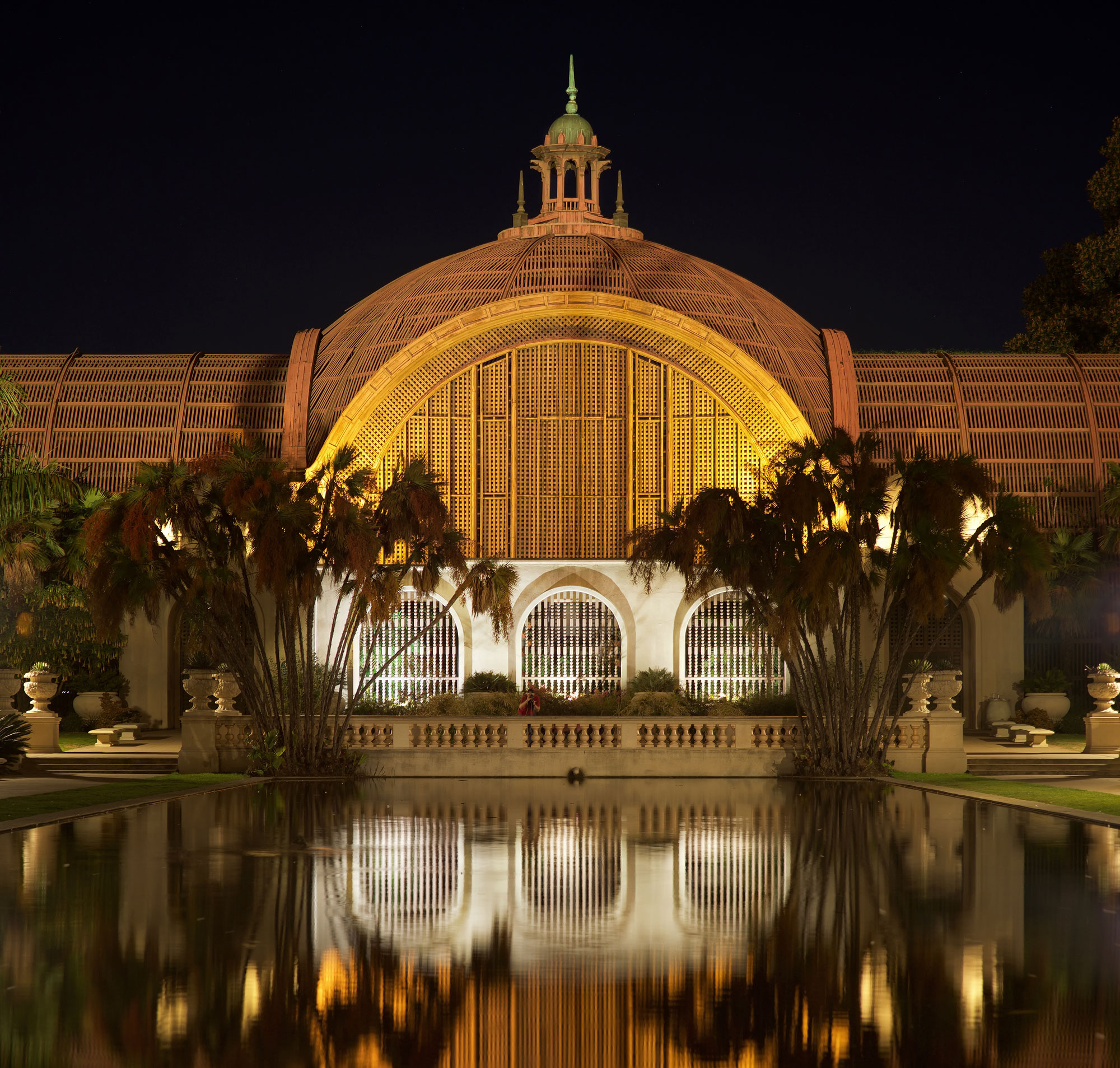 #8  Cabrillo Bridge El Prado (Google Map it)
The Cabrillo Bridge on El Prado is a dramatic and old bridge leading into Balboa Park.   The bridge has huge arches and the 163 Freeway passes right underneath it.  When President Kennedy came to San Diego in the 60's he stood on top of the bridge and looked over the freeway and called it the most beautiful in all of the United States.  This was the view he was looking out towards downtown San Diego.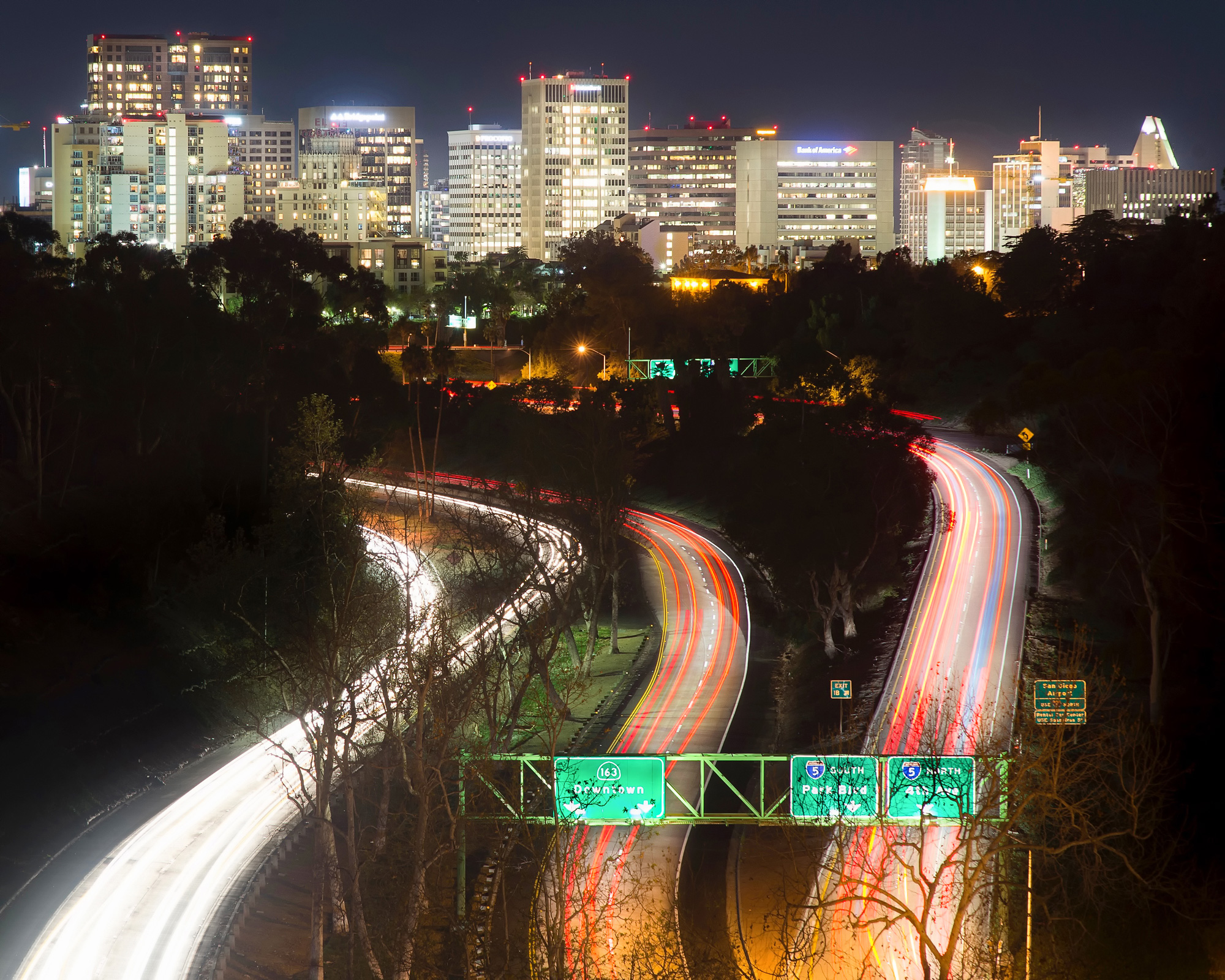 Geisel Library is located on the UCSD campus. It was built in the 1960's and is named after Theodor Geisel Seuss or more commonly known as Doctor Seuss.  Dr Seuss lived in La Jolla and wrote his books from here so the trees and landscape in La Jolla inspired many of his animations.
This is really a wonderful place to take night photos.  I recommend you drive into campus and park in one of the structures and walk to the Library. The best vantage points are from the corners of the building near the entrance.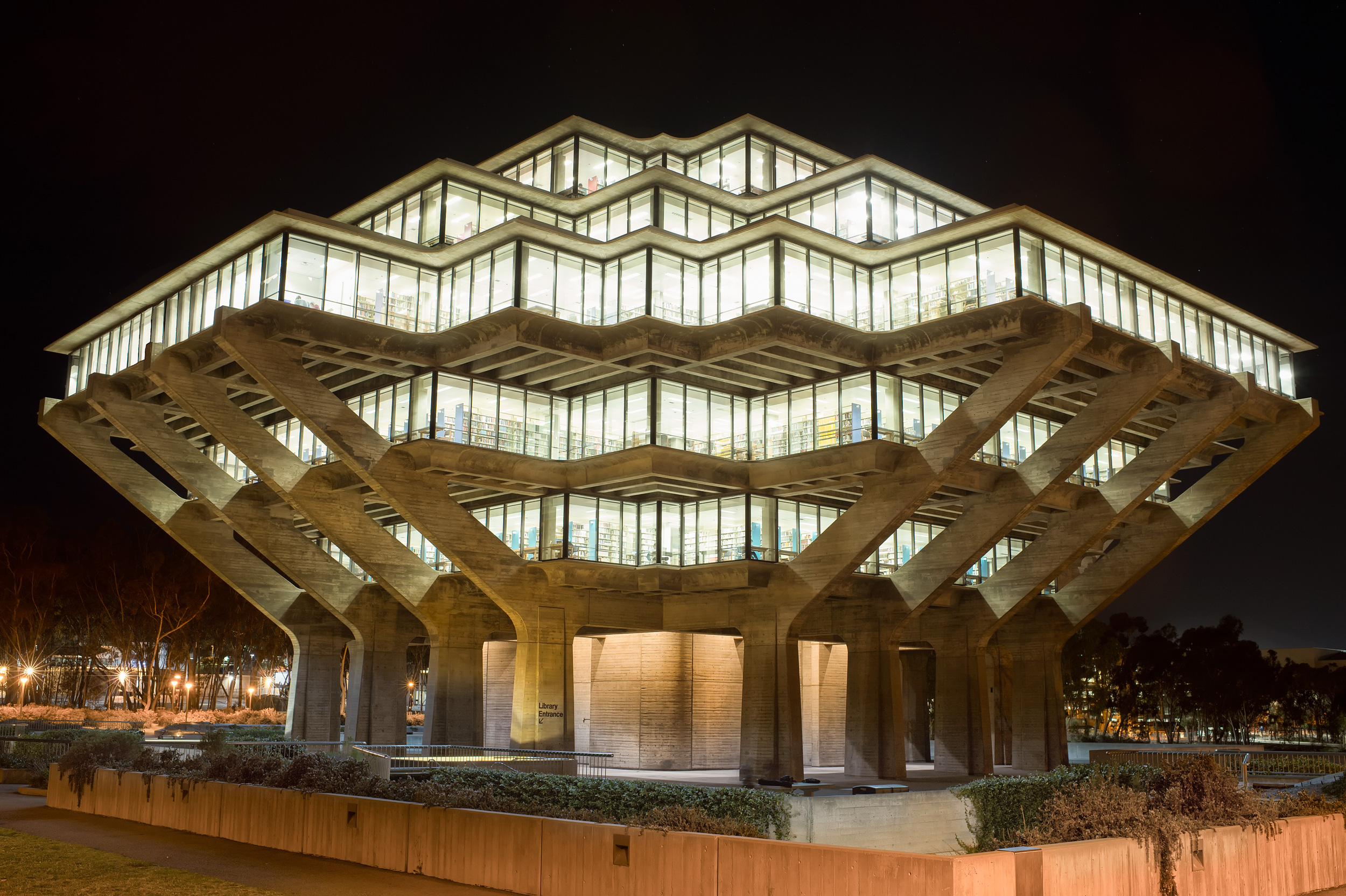 It can also come out pretty nicely at the blue hour before nightfall as the sun hits it.  It can have a pretty good look and nice feel. Get there about 15 minutes before sunset and start snapping away until you get the right look.
This is not necessarily a place that you would think of to come for night photography.  I have seen some amazing photography shots from under the pier with people using flashlights to paint the pillars, or to just take very murky photos with the huge lights that hang off the pier.  Its a cool place but it gets cold at night so bring a jacket.
This picture was taken with close to night conditions (about 20 minutes after sunset). I took a big flashlight and did a 30 second plus exposure lighting up the pillars.  The big flood lights on the pier lit up the side of the pier as well.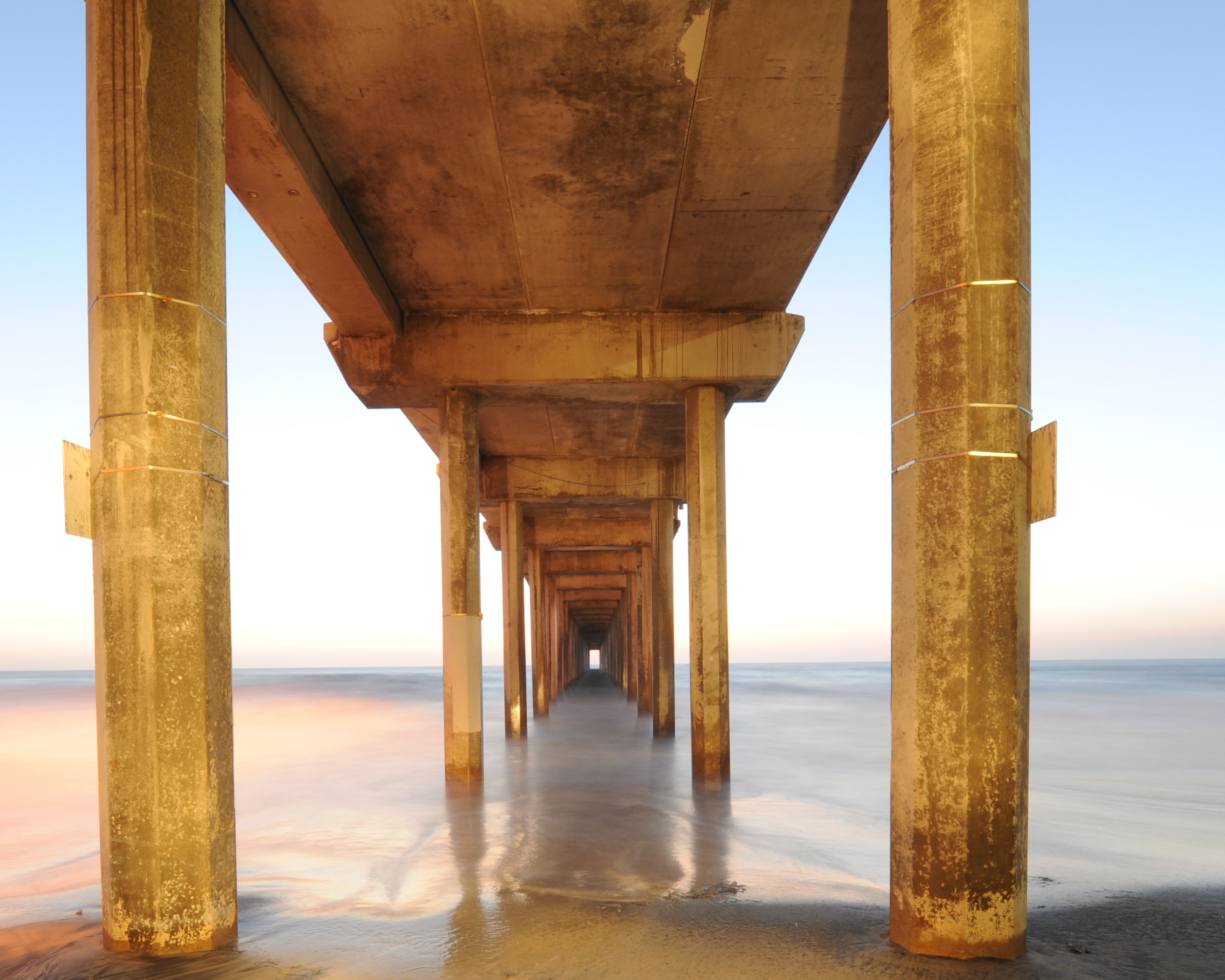 And this picture at Scripps was taken at night.  It was a foggy night and the floodlight on the north side of the pier created eery light.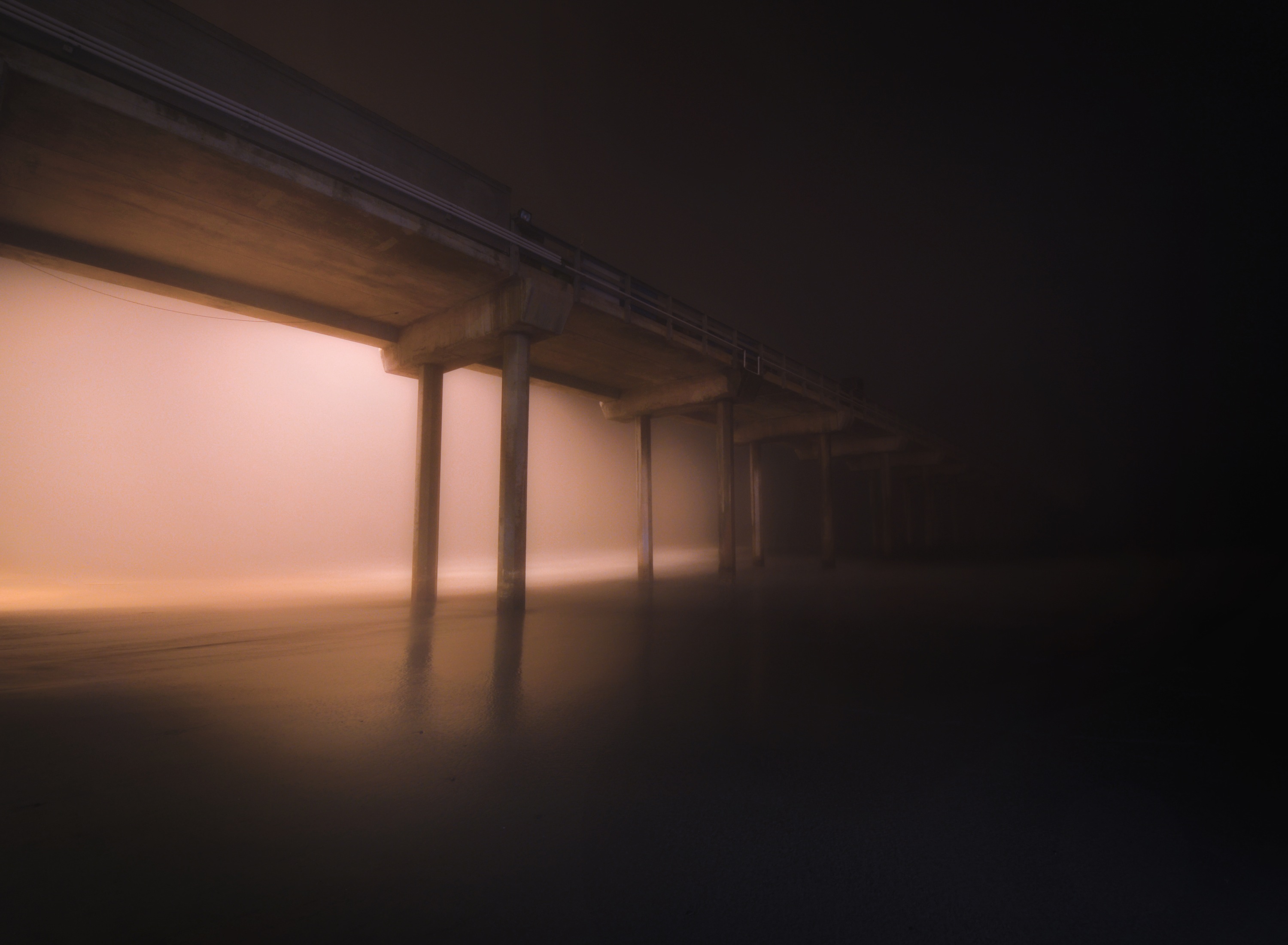 #11 Church of Latter Day Saints Temple (Google Map it)
This Mormon Temple is absolutely stunning anytime of day or night.  It is fairly easy to shoot this as the Temple is kind enough to leave the gates open for people to browse.  There are many helpful people there that will actually give you a history of the church as well.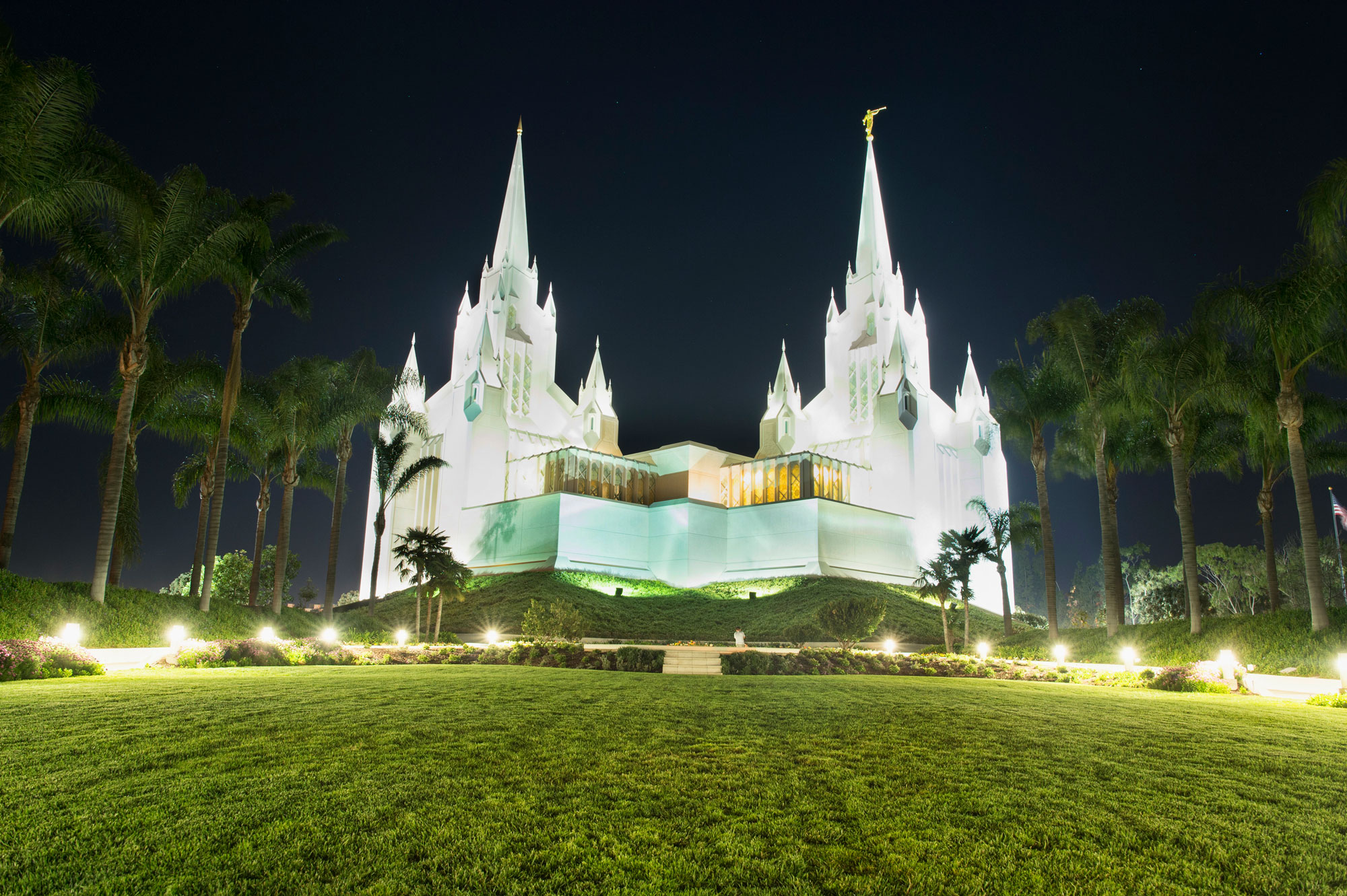 The famous Star of India is closed at night, but that does not mean that you can't setup your camera and catch some nice pictures of the old ship. I took this one a long time ago and I have not been back but it's a place close to downtown where you can get something nice.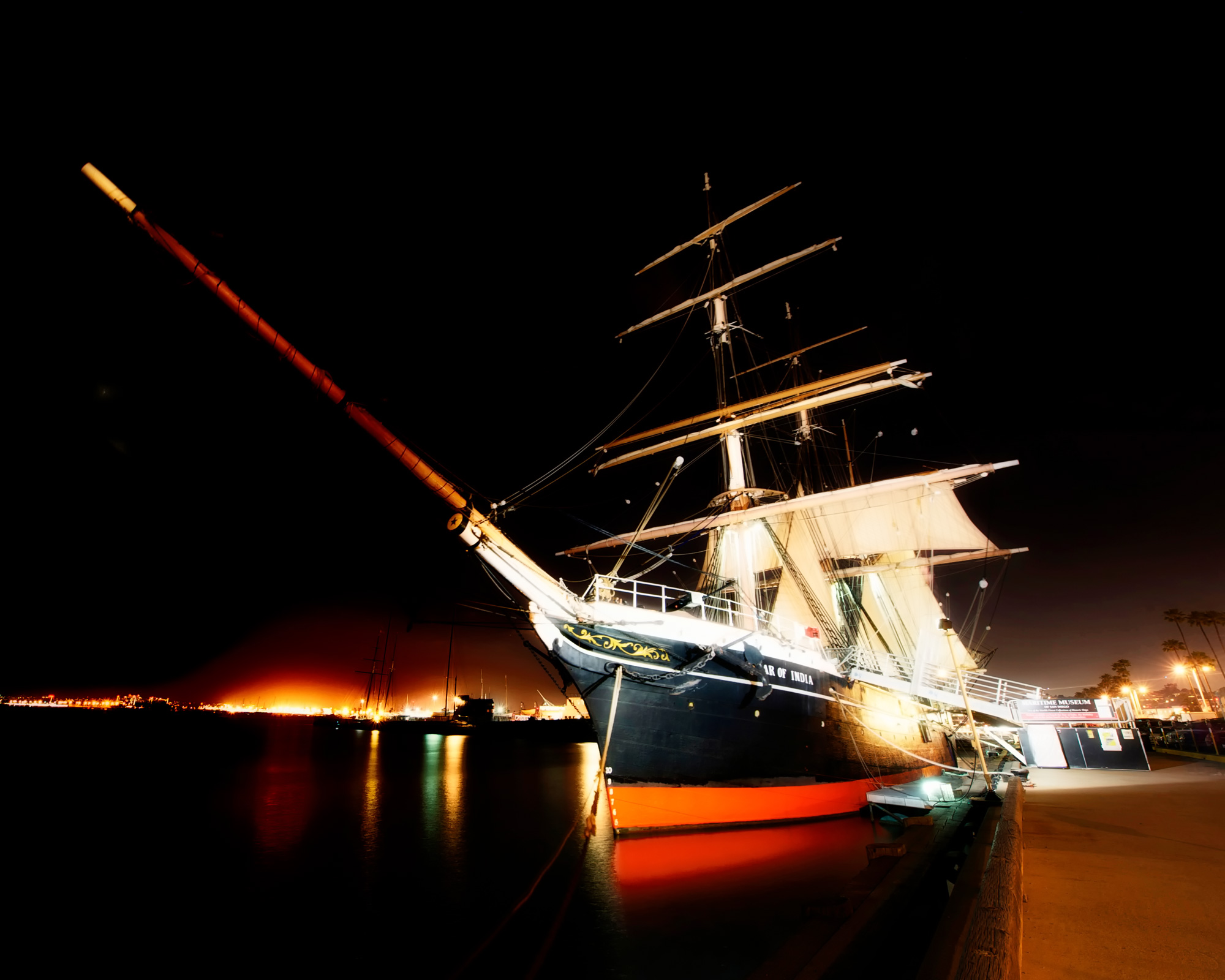 Thank you and Good Luck
Remember for night photography you need to have a tripod and use a slow shutter to bring in all the great light.  Set your camera to manual mode and your shutter speed to 5 seconds or longer.  Here is a great tutorial I found on it if you're interested – Night Photography Tutorial.
If your in San Diego around Christmas and you want to do night photography, check out the Hotel Del Coronado.  They light up the whole hotel and you can get some amazing pictures there as well.
If you have any questions about night photography in San Diego email me – Frank McKenna at [email protected].