Beef, Ferris Wheels and Sake
Today was a good day. Another great day in Japan.  Eoin and I continued our blaze through Japan by scooting down to Kobe Japan by rapid train.  The train system here is one of the best in the world so we decided to take advantage of it.  We are currently keeping our Japanese Style Hotel in Kyoto and taking day trips to all of the important cities in the area.  It is amazing how much ground you can cover while keeping your bags in one place.  No checking in and out of hotels and lugging your bags.  We simply leave the bags in the hotel, pick a city or village and then get there by the quickest transportation possible.  Today we visited Kobe, the city that is renowned world-wide for two things, the major earthquake that killed 5000 people in 1995 and their beef.  You see Kobe Beef cattle are treated like royalty and massaged each day with Sake and given bottles of Sapporo to drink to keep them lazy and fat.   The fatter the better since it makes the beef taste delicious.  When we entered Kobe city Eoin began his quest to find this elusive beef.  He looked high and low and left no corner unturned.
The restaurant that we located was called Steak Land and it came highly recommended as the best Kobe Beef Steak House in the city of Kobe.  Imagine eating Kobe Beef in Kobe City?  That is like eating Buffalo Wings in Buffalo New York (not).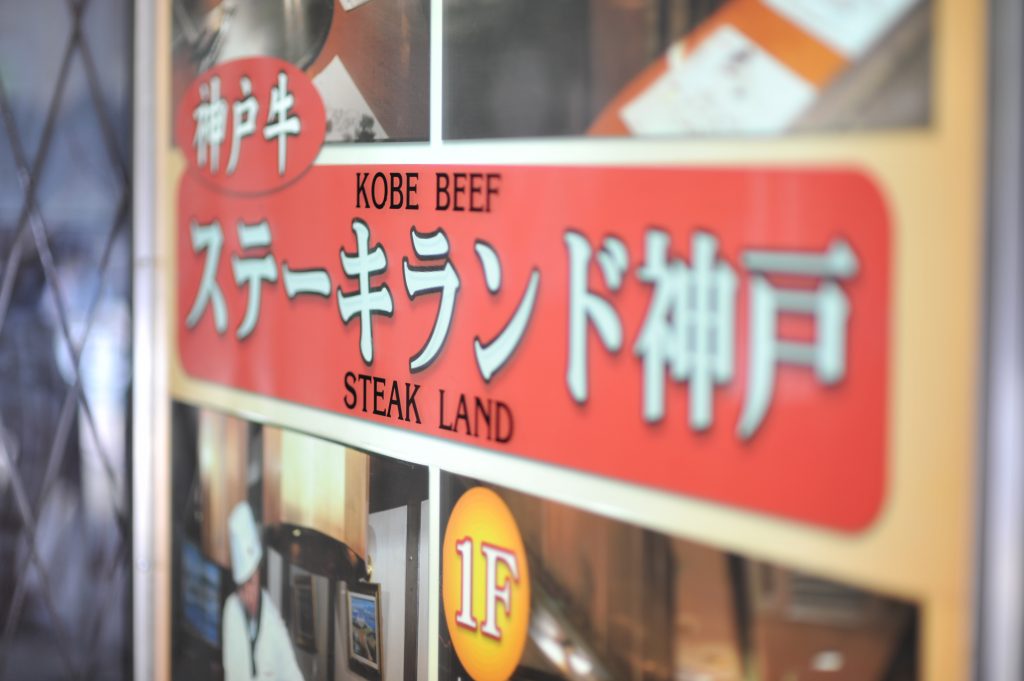 After feasting on some of the finest steak in the world we were off the HarborLand, the huge and expensive shopping and entertainment mall located on the harbor in the city of Kobe. Kobe is not a city that is frequented by Western Travelers but it is very much a destination spot for Japanese and HarborLand caters to to them.  We did not see a single Non-Japanese in the city all day.
The HarborLand to be honest was a bit of disappointment although it was quite grand and modern.  The attractions did not seem historical by any means rather like a theme park.  Eoin took some time to relax in front of the big Ferris Wheel that dominates the skyline in this district.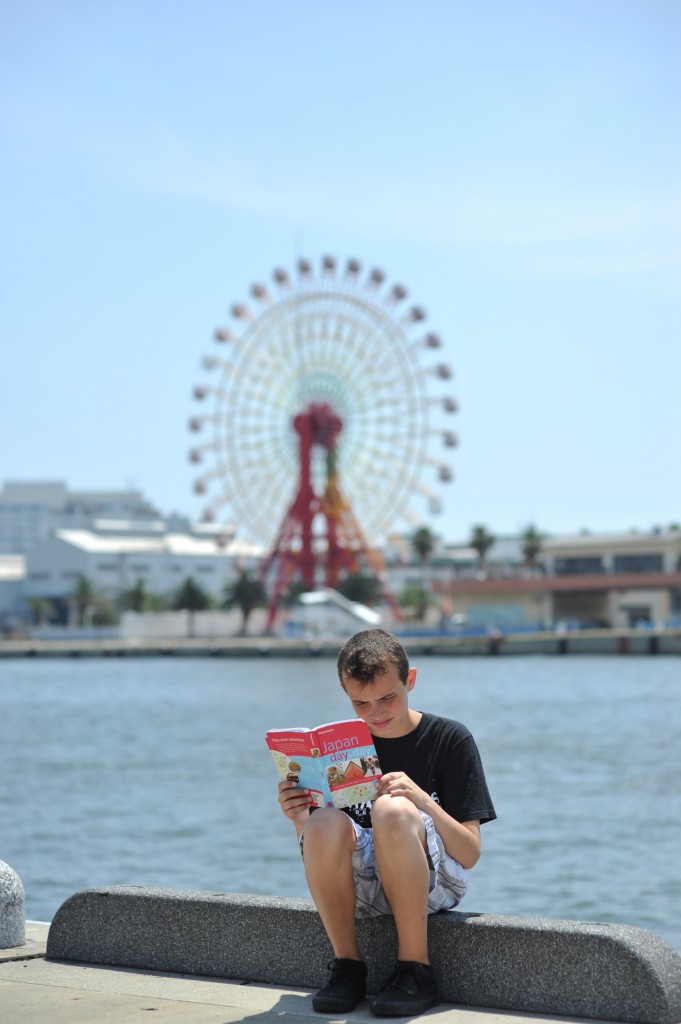 Kobe is actually quite nice.  It is a seaport town – a lot like San Diego so it was one of the reasons that we wanted to go and visit there.  We got a chance to ride up to the top of the sky-tower for about $3 each and it was well worth.  We got a 360 degree view of the entire city from 150 meters or so above ground.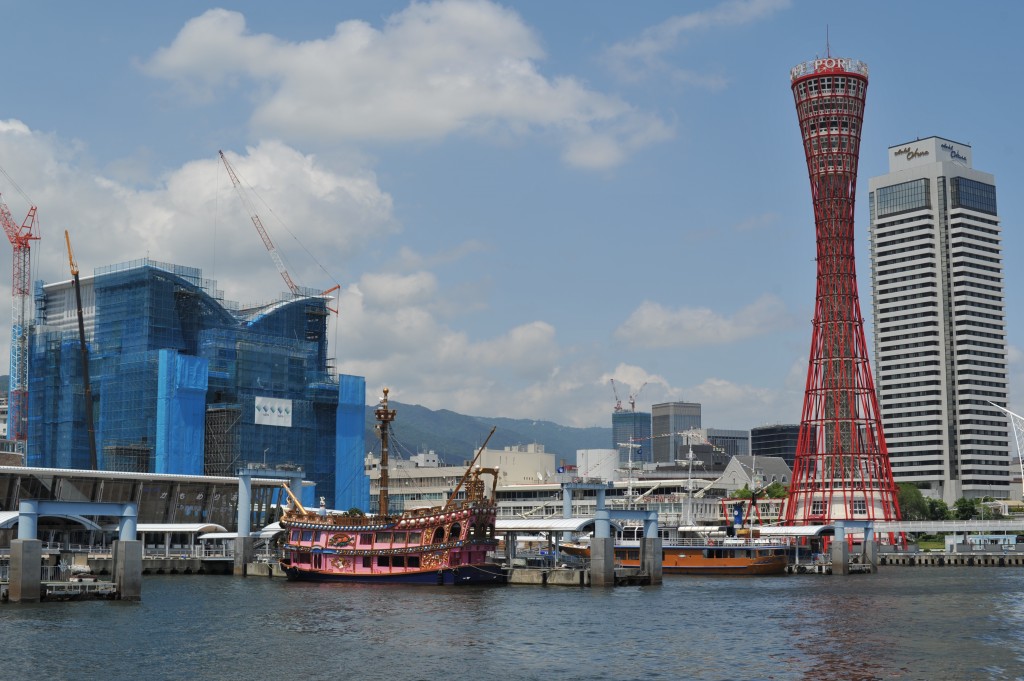 To put the icing on the cake of the day we decided to go to a Sake Museum, one of the oldest and still running Sake Breweries in the region and Kobe is known for producing great Sake.  We ventured back on the train to a very small area of Kobe and then got a chance to tour and absolutely beautiful old brewery.  Eoin learned all about the fermentation and filtering process.  He is an expert at Sake without ever having drinking a drop of the stuff.  It was interesting to see the process of making Sake in action at the Harakatsu Sake Brewery.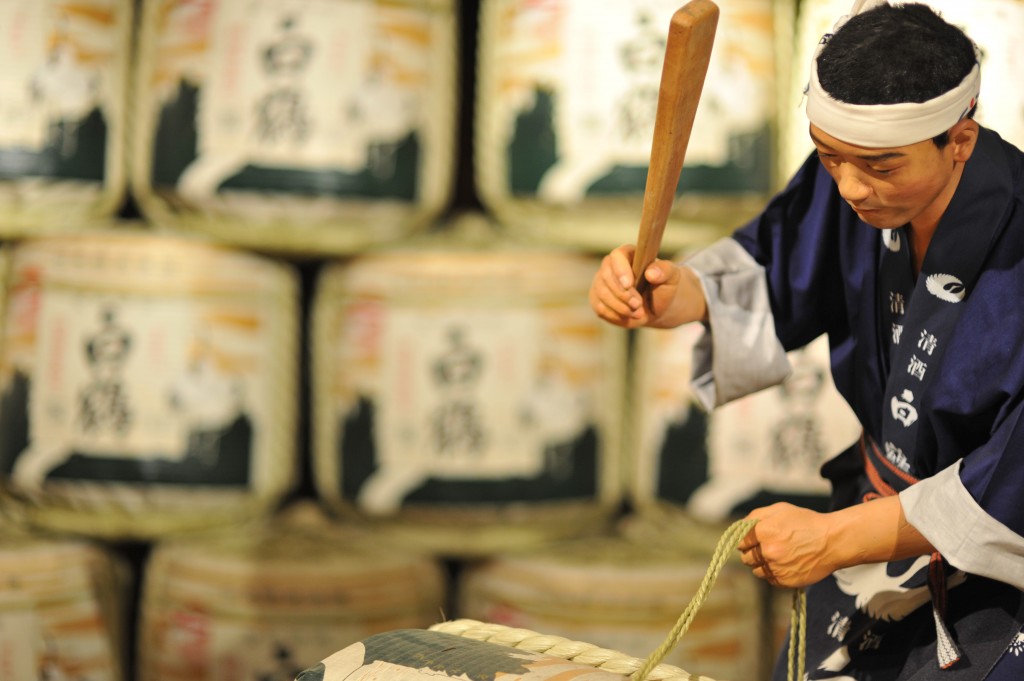 Workers strain to haul rice to floors above them so the Rice can be treated and cleaned for the fermentation process.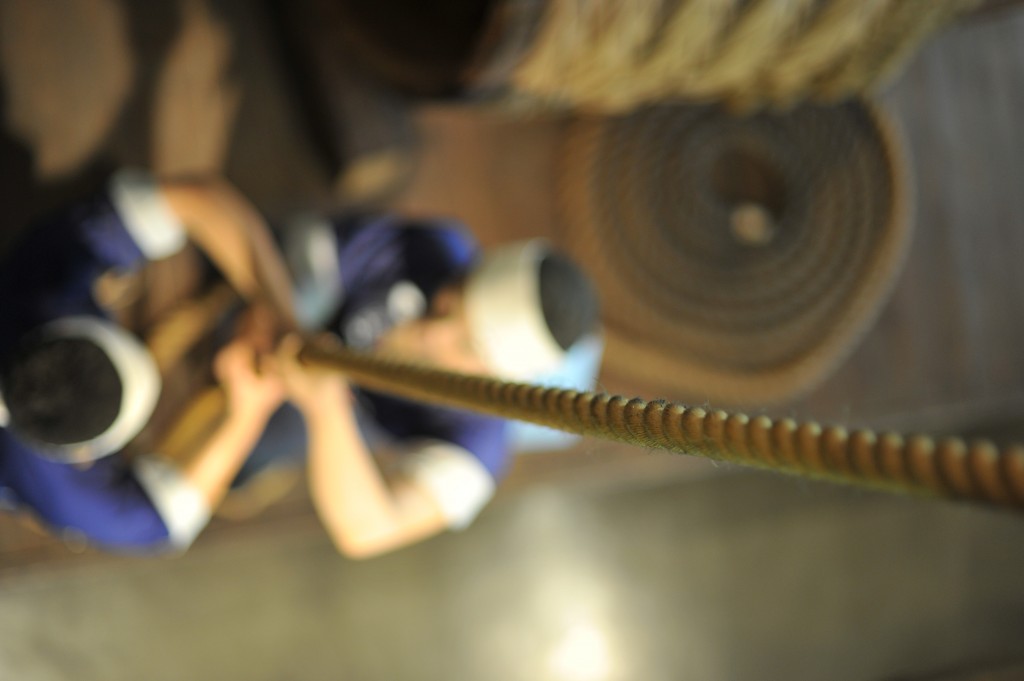 Kegs of freshly filtered Sake are lined up in wooden kegs ready to be shipped to destinations far and wide across the world.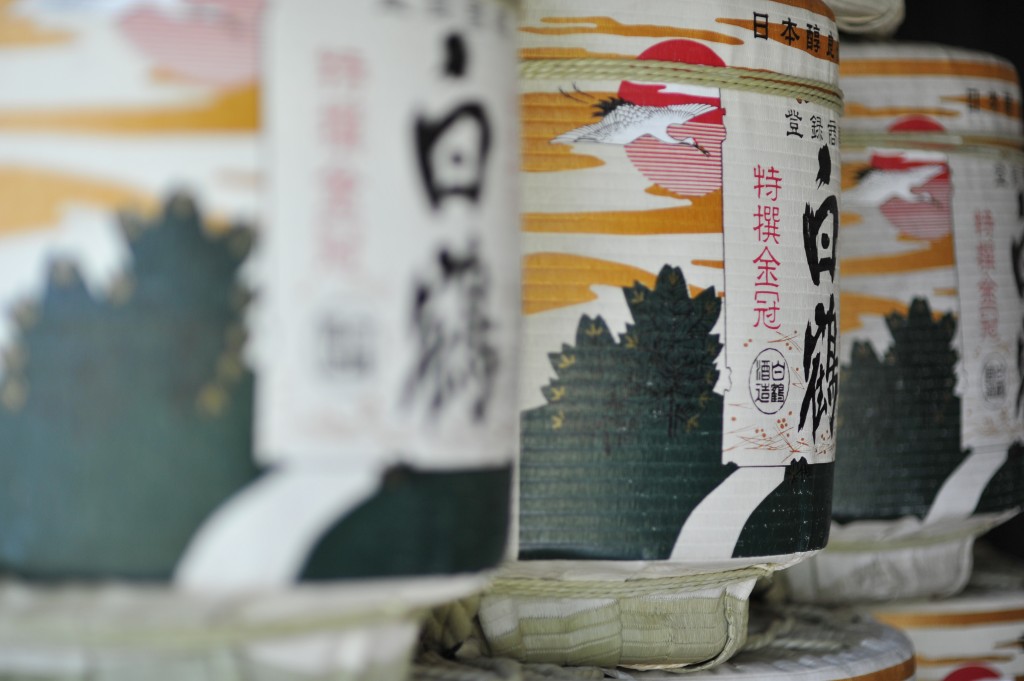 Another great day in Japan.  What new adventures await us tomorrow.  We don't even know yet.  We are going to wake up and see where the world takes us.  Should be interesting. It always is.