Tuna Fish, Fried Chicken, and Shady Capsules.
Today was an interesting day.  It started at 3:00 am (almost 17 hours ago). It began with big tuna and ended with the realization that somehow we managed to book 3 hotels for the same night. Let me explain.
This morning began in a torrential downpour as Eoin and I headed out to the Tsujiki Fish Market in a cab hours before dawn.  The fish market was one of the highlights of our a day and we took some cool pictures of huge frozen beheaded Tuna that were being auctioned off to the top sushi restaurants in Tokyo and the rest of the world.   We came back to the hotel after the auction because there was simply nothing else we could do.  It was raining hard and in spite of that there was probably nothing we could have done anyway since it was still 6 in the morning.
Here is a picture of Japanese guys poking around frozen tuna at 5 in the morning.  Hard to believe but some of them were taking pick axes to the tails of the frozen tuna and eating bits of frozen tuna meat out of them.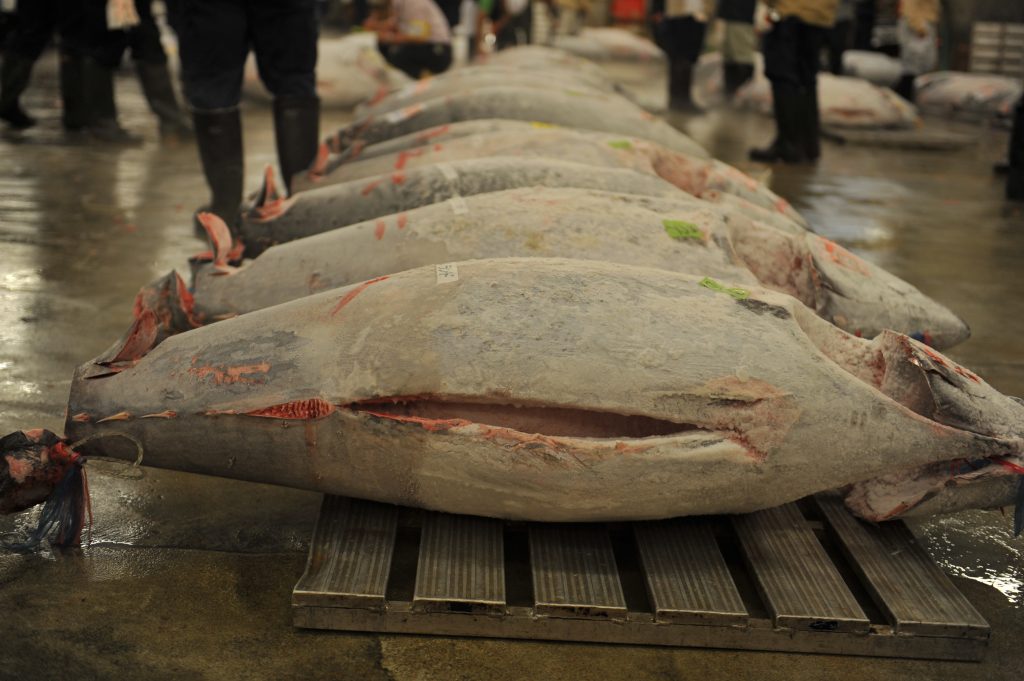 After a few hours of rest – I went to the gym and did some laundry and Eoin finished up season 1 of Breaking bad – we were out on the town again.  Eoin put together this little video blog which explains our encounter with Fried Chicken.
The rest of the morning was spent wandering the cool shopping districts of Shinbuya and the famed Hirajuku District.  The Hirajuku District actually took us about 1hour to find since the taxi driver dropped us off from it many blocks away and told us it was right up the street.  I find that the taxi drivers here in Tokyo do that quite a bit – drop you off a few blocks from your destination which might as well be miles since it is almost impossible to tell where exactly you are. Well the Hirajuku District was pretty cool but I think that the days of the Hirajuku Girls (made famous by Gwen Stefani and her songs and clothing line) are waning. It seemed like the Hirajuku fad wasn't as evident as we expected it to be.  We did see a pretty cute kid there though.  Check out this guy walking in his rubber rain boots and umbrella.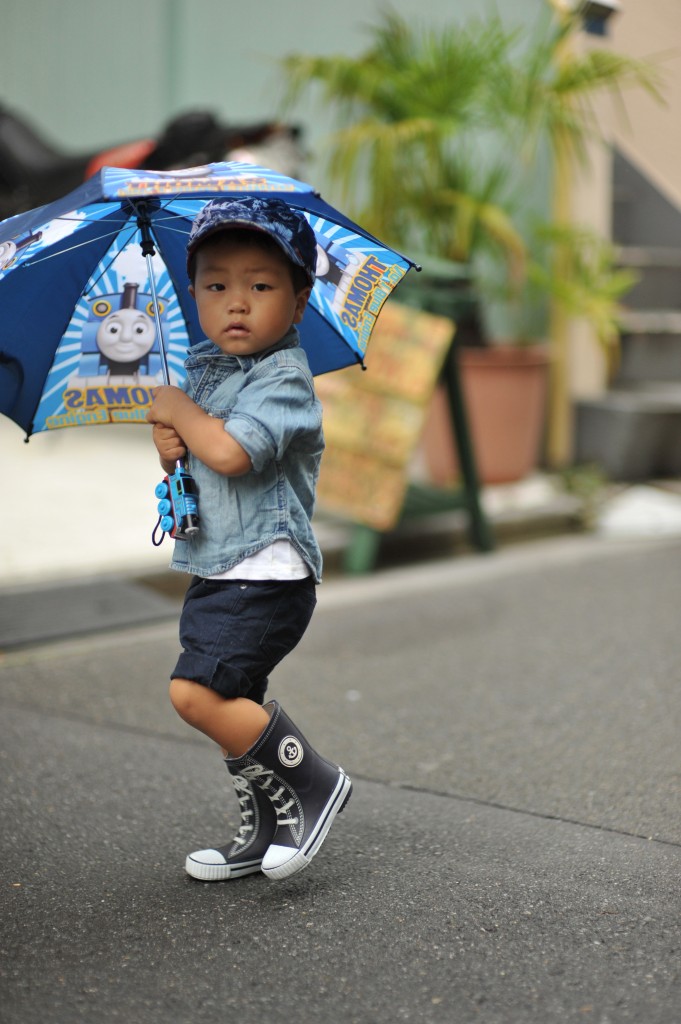 While walking back from Hirajuku and attempting to find a cab to take us back to our hotel, Eoin decided to do a little light reading and explore in his mind the magic of Japan.  Pulling out his trusted book "Japan Day to Day" he managed to annoy a few of the locals.   In any case, he did find some nice recommendations on where to stay in various parts of Japan.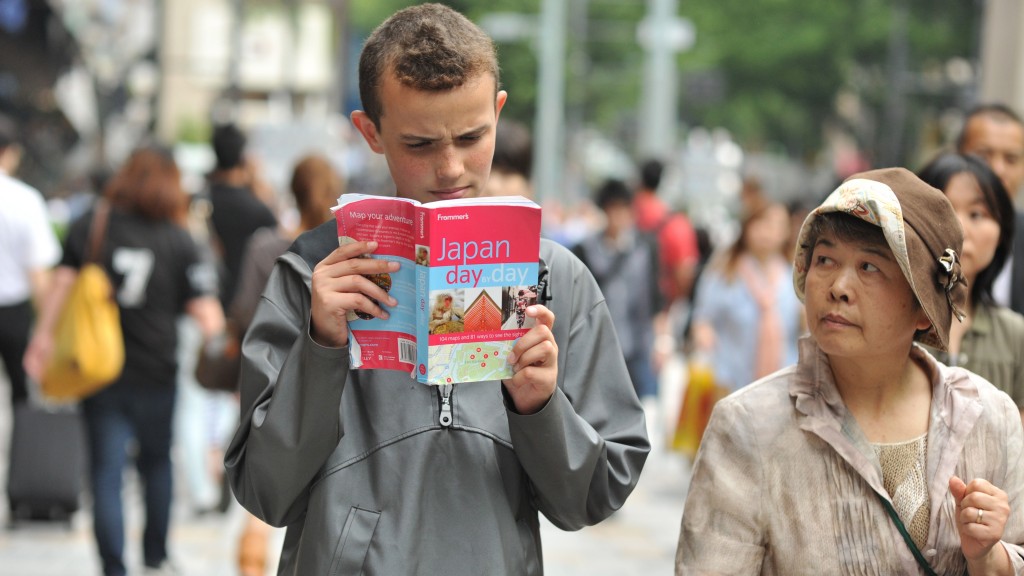 Well the day got pretty interesting when we decided to go to check into our capsule hotel. Now the capsule hotels seem like a pretty cool and quirky concept.  Instead of checking into a hotel room, you check into a small pod which provides just enough room to sleep and not much more.   The Pods are stacked one on top of each other – usually 2-4 pods high. It seemed cool and space age and all so Eoin and I decided to try it for the night. This place got high marks on trip advisor so we booked it http://www.tripadvisor.com/Hotel_Review-g1066457-d1083503-Reviews-Green_Plaza_Shinjuku_Capsule_Hotel-Shinjuku_Tokyo_Tokyo_Prefecture_Kanto.html.  We took a Taxi and when we got to the hotel the cab driver looked very surprised that we were going there and made some X sign with his arms.  Usually that doesn't mean something good.  Well we went to the lobby to check in and the place just seemed super strange.  It was all old Japanese guys and there was some sort of Spa attached to it.  The guy at the front desk asked how old Eoin was and I said 15 and he said that you had to be 18 to stay in the capsules.  Well that was enough and we were convinced it was shady.  But we had no hotel at this point so we were walking up and down the streets to find a hotel.
This is the neighborhood with where the shady Pod hotel was and where we walked around trying to find another hotel.  It looks a bit like Time Square.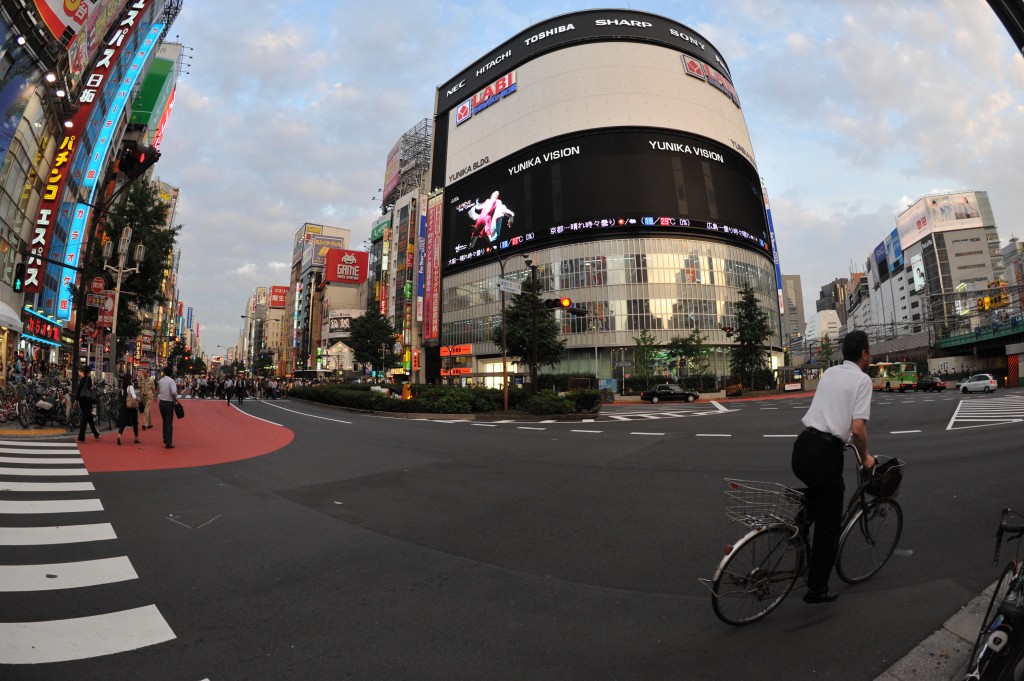 Well we did find a hotel eventually.  We actually checked back into the same hotel that we have been the last two days. I found a Wifi and just did a little searching online.  The funny thing during that search was that I realized it was Friday. I thought it was Thursday earlier in the day so I had booked a hotel in Kyoto for Friday since that is where we were planning to be the next day.  In any case that made a total of 3 hotels that we had booked and paid for the same night – Friday.  That's a first for me.  Well in any case we are safe and happy and above all happy to not being staying in any shady old Japanese man Pod hotel.  We're going to steer clear of those for the rest of this trip.
We'll keep posting on this blog as long as we can find internet access here in Japan which appears to be pretty regular so far.